Izorline XXX Super Co-Polymer Clear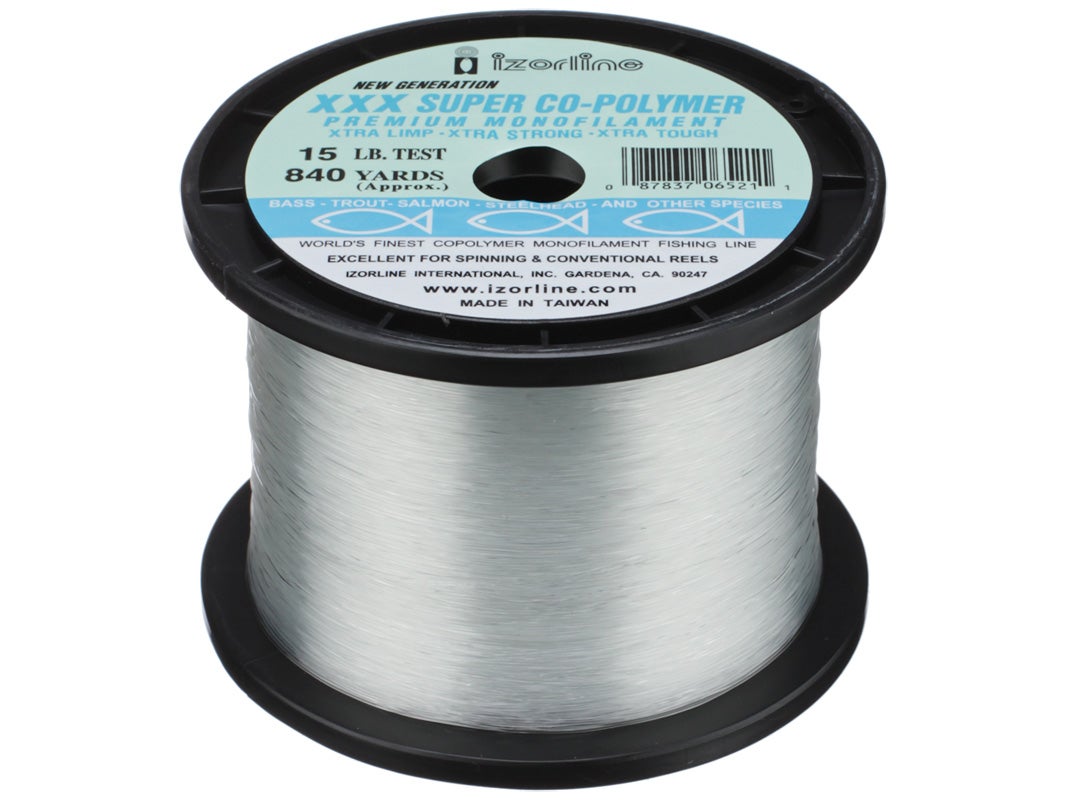 Engineered using some of the most advanced space-age materials available, the Izorline XXX Super Co-Polymer in Clear maintains three distinct characteristics that make it perform extraordinarily well.

For ease-of-handling, the Izorline XXX Super Co-Polymer in Clear is made to be Xtra limp, which makes it super soft and a breeze to tie. In addition, the Izorline XXX Super Co-Polymer in Clear is designed to be Xtra strong as well, so you can pull hard on big fish with an unshakeable confidence. Lastly, the Izorline XXX Super Co-Polymer in Clear is built Xtra tough for enhanced abrasion resistance around rocks and timber. Ideal for both spinning and conventional reels, the Izorline XXX Super Co-Polymer in Clear delivers "XXX-cellent" performance that anglers can count on cast-after-cast.

Place Your Order
More From Izorline Fishing Line
Customer Reviews
Comments: Izorline XXX is no joke! This does what the description says it does. EXTREMELY strong & smooth casting. Great bang for your buck. I will be buying more!
4/14/16

Comments: I love this line! If you tried Izorline Platinum & were put off by break-offs, don't give up on Izorline. Like others, I had breakage problems with Platinum, but not XXX- its strong! 12# is great for small plastics & cranking & the 15# is great for spinnerbaits & swim/wobble jigs. I used a lot of fluorocarbon last year for the above, but I'm back to Izorline XXX. It handles better, you don't feel like you need to respool if backlash and get a kink & its way cheaper.
From: Steve: Upper Bay, MD 3/29/16

Comments: This line is a great copolymer. Used #15 for football jigs. held up great. Can't wait to get out on the water again. Oh & did I mention that this stuff is stinkin cheap! Do yourself a favor and pick up Izorline XXX. You wont regret it.
From: Harrison: Helena, MT 4/11/15

Comments: Awesome fishing line. I'm a copolymer fan and have fished P line for the last several years but became dissatisfied with its lack of abrasion resistance and overall toughness. A couple guys recommended Izorline XXX to me and I've been using it exclusively this year and I love it. Extremely tough, sensitive, and casts great. I use 8# on spinning gear, 10# for cranks, 15# for chatterbaits/spinnerbaits, and 20# for flippin and I've been super happy with this line. Didn't think you could get all of these properties in one line but you can....Izorline!
From: Bob: West Bend, WI 6/15/14

Comments: Great Fishing line, Very Limp, low memory. I have used the same Fishing line For 4 tourneys and 6 pre fishing with out changing the line out and has still held up, I use the 10 lb xxx supper co-poly, it does not float so great for texas rig, crank baits and spinners. i also use the Platinum in green for top water as it tends to float.
From: Thomas: Middletown, RI 6/4/14