JJ's Magic Dippin' Dye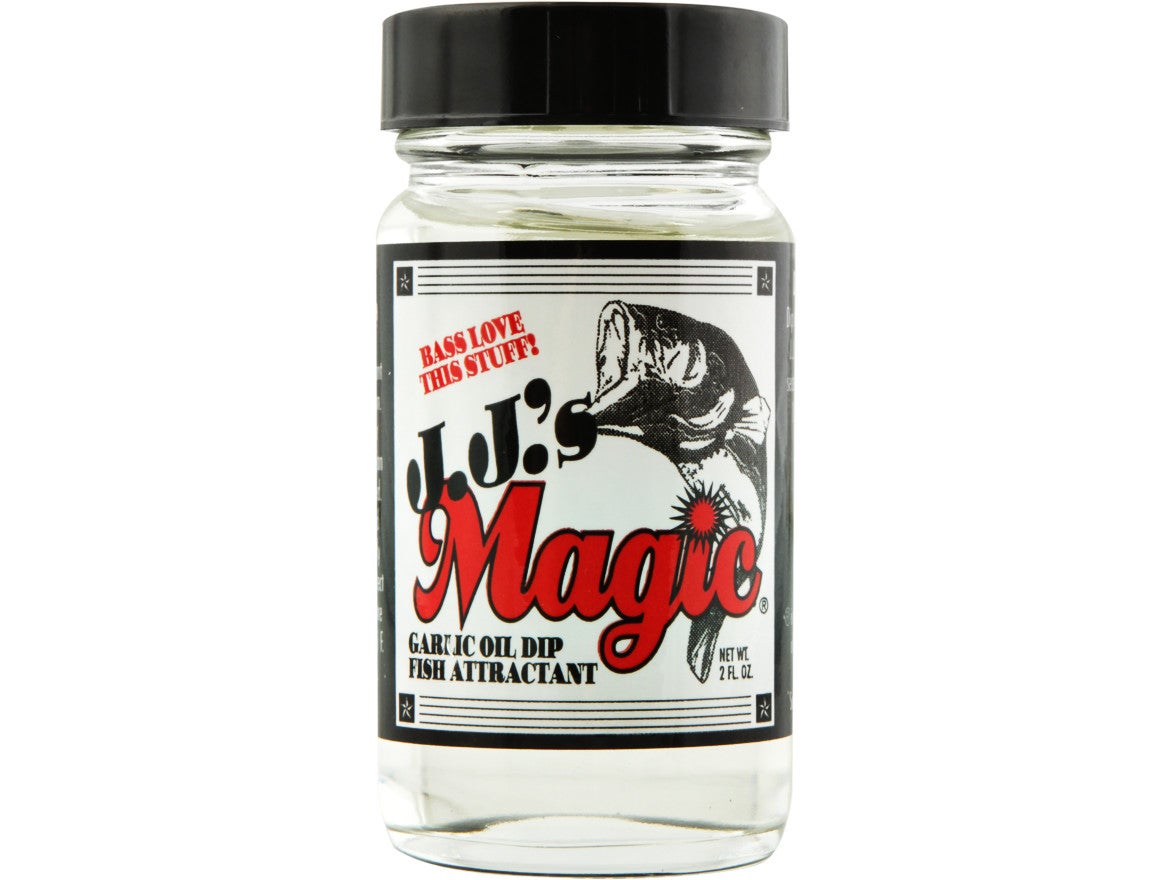 JJ's Magic Dippin' Dye is a quick and convenient dye solution designed to add additional color to your soft plastic baits. It penetrates quickly and also provides a fish attracting garlic scent. Chartreuse is the most versatile color in the line up, while Methylate and Red are especially good for fishing muddy waters. Blue is designed mainly for crystal clear water situations, and JJ's Magic Dippin' Dye even comes in a clear garlic oil dip if you simply want to add some scent.
Dippin' Dyes are an art, not a science. The more you try, the more combinations you will find that work in different conditions and fishing situations.
JJ's Magic MUST be kept out of direct sunlight & under 95 degrees Fahrenheit as chemicals will expand from heat
Please Note: Ground Shipping Only!
5 Colors
More From JJ's Magic Scented Dipping Dye
Customer Reviews
Comments: I am going to order this try it out then make another review. I fish at central park NYC. I only seen 2 largemouth bass get caught. I never caught a bass. They other fishers there say its very difficult to catch them, they are very tricky. So with this I hope to slay & catch every bass in the bond. All the reviews seem extremely positive so, I cant wait to use it
From: Terence: NYC2/13/17
Comments: This product is great.Just read what the lid says "Open slowly under pressure" but other than that this is a great product and if you like the smell of garlic this is for you.Also it dyes baits better than Spike-It and stays on longer and is brighter as well.
From: Tysan: LA 7/29/16

Comments: I'm not going to say this stuff is magic, but after dipping the tail of my stick bait in chartreuse I reeled in a fish that was latched onto the tail so hard (not hooked, he hit the stiko as I was reeling in) he was completely out of the water before he let go. I'm sold.
From: Dave: NH 6/11/16

Comments: Been using JJ's for about 2 years now. Ive loved it since first cast. So amazing. If you go to a spot with nothing on your bait & no bite, dip in JJs I'd bet within 2-3 cast get ready cause ones bout to knock your arm off. Smells perfect & truly dyes your bait. Not just sent. Kinda like you marinated a piece of steak. Last for days. Never had any issue with leakage. Open slowly, dip once, & put cap on. It's not that hard. Store in a cheap one layer tackle box with foam piece & cut out holes to hold upright in the bottom. Buy you a couple bottles (clear & chart) you won't regret it. Don't waste your money on anything else, JJ's is what your looking for.
From: Craig: TN 6/3/16

Comments: Great dye. Tried it out for the first time last night at a small pond & I ended up catching 20 fish (19 bass & 1 panfish)in around an hour & a half. About 10 of these were caught because of JJ's Magic (The other fish weren't caught on lures dipped in this dye). I was using Senkos with the Chartreuse & it worked amazingly. Great dye & I HIGHLY recommend!
From: James: DE 5/30/16

Comments: This dye is the best out there. The color stays on forever & don't even get me started about the smell. My lures now smell like garlic cloves, which is great because I never have to reapply. The only bad thing is that it reacts to some different soft plastics, my Elaz-tech was dissolved as soon as it touched the dye & my BPS swimbait split when I bent it to place the lure in the dye. Overall, this is a great dye, just be careful of what soft plastic you dip it in.
From: Max: Weston, FL 5/26/16

Comments: Been using for 3 trips to lakes. 1st time didn't notice any change but did catch more fish, 2nd time came in 2nd in a tournament, 3rd time caught a 35lb stringer for two days with one 9.1lb bass. Stuff works, fish hang on longer and strike harder.
From: Gary: San Antonio, TX 5/17/16

Comments: Just got my order of clear JJ's, can't wait to use it. I can vouch for trying to be careful with it, this stuff is strong, don't take it in your house and open it, it'll lead to a divorce. ;)
4/22/16

Comments: This. Stuff. Is. Awesome. My first time using this i had been trying to agitate a bass on a bed for about 10 minutes with no luck on getting him to take my senko, then i dipped half of my senko in JJ's (chartreuse) magic for the very first time & on the next cast the bass absolutely nailed it & i went from being skunked all morning to catching that bass & 2 more shortly after once i started using the JJ's magic. It works
From: Justin: Sacramento, CA 38/16

Comments: The best fish scent on the mkt bar none. The color and aroma will last forever. Don't believe the review that complains the tops leak or don't secure tight. Total non-sense. I've been using JJ's for years & never had a problem. Just need to be careful.
From: John: Germantown, MD 2/13/16

Comments: This stuff is the bomb, I will take each bait out of the bag, dip them & reinstall. U don't wanna waste this bass magnet.
From: B: GA 1/16/16

Comments: I love this stuff. Not only does it work incredibly well, JJ is just a flat out good guy. My favorite thing to do is to mix the Blue and Methylate. Sure, it can be messy, but that's only because it's so strong. If my boat doesn't smell a little bit like garlic, I'm not using enough JJs.
From: Brooks: USA 10/1/15

Comments: Something tells me that maybe they don't use plastic bottles because the will eat through it. Stuff is messy as it comes and stinks just as much. Keep away from carpet and gel coat as much as possible. Works great just be smart and take your time when applying.
From: Cody: AL 6/3/15

Comments: Just found out the hard way, do NOT pour JJ's into Plano liqua bait containers... JJ's ate its way through the container and proved that it packs a punch in a small package.
From: Danny: Winchester, CA 5/16/15

Comments: I really like this stuff and how well it works. Plenty of colors available, i use clear, methylate, and then chartreuse the most, probably in that order. Has a very strong garlic scent to it..which leads to my only complaint. The lids don't seem to work too well ..they tend to leak everywhere & it seems everytime i dip a plastic in it i end up with the dye all over my hands..or just a garlic smell that lasts a couple days if its clear jj's. I found a little rubbing alcohol will take the methylate dye off of a white reel (revo s, chronarch) or white rod (duckett) don't ask how i know. great product all in all.
From: Landon: Denton, TX 2/8/15

Comments: While getting my tackle ready the night before a derby, I dip my soft baits in the clear. I am not going to stop the first hour of a derby to make sure there is scent on my baits. I'm working for five! But knowing there is a little garlic on my bait makes me feel WAY better than with nothing on it at all. Plus it stays on FOREVER.
From: Jay6: USA 11/5/14

Comments: I'm a huge fan of JJs. I really love the ability to change the color of the bait in relation to the environment and I think it's just a confidence booster for me. I keep mine in the plastic package it comes in with a paper towel surrounding the lid just in case a little bit dribbles out. I keep it in my tackl box and I mainly bank fish so it does, but never has gotten to the outside of the package. Love this stuff, I can honestly say I atch more fish with JJs.
From: Seth: St. Louis, MO 9/1/14

Comments: I love how well this stuff works! I used to use Spike-It but then I did the math comparing me to my dad, and I out fished his Spike-It 6 to one with us both using chartreuse. The only two things I wish was that the bottle was plastic rather than glass and that I could buy it at my local bait and tackle shops.
From: Shane: USA 7/13/14

Comments: This stuff is great! I think that every angler should have some of this in his/her bag. Bass love this stuff. The only problem i had with this, was the bottle. I dropped my bag and the bottle broke. I wish that they would make the bottle plastic, now there is a chartreuse stain at the bottom of my bag. lol
From: Blaise: Shreveport, LA 5/11/14

Comments: JJ's Magic is the real deal. I used to use spike it, but JJ's blows it out of the water. The scent last ten times longer than spike it. It actually dyes through the entire bait, not just the outside but the inside too. It would be a lot better if they put it in a plastic bottle instead of a glass because when opening it sometimes spells or leaks easier. Overall this is a great product. Dip your favorite soft plastic in JJ's and hang on.
From: J.C: USA 4/29/14
Comments: I had some custom frogs poured and they arrived smelling like...plastic. I dipped one in the clear, and put it In the bag with the other 9. Snuck down to a local pond and after my 4th fish, it still smelled like garlic stankyness.
From: Jay6: 4/20/14
Comments: Works great dying light colored worms. Stinks to high heaven. Check out the tips here for handling with care. Great stuff.
From: Brian: Los Gatos, CA 3/5/14
Comments: Very good item, just take care not to use with elaztech soft baits (Z-Man, some Strike King): they dissolve in!
From: Fabrizio: Venezia, Italy
Comments: This is the best dye I have ever used it catches bass like crazy.

From: Jack: WV, USA

Comments: If your not using JJ's Magic on your frogs and swim jigs then you're flat out not putting as many in the boat as you could be. It IS the difference between a bite and a catch.

From: Daniel: Columbiana, AL, U.S.

Comments: After fishing next to a buddy that was getting more bites throwing the same plastics as I was, I soon realized he was dipping the tail into the chartreuse color and it made a difference. After I got a few dips I was back on track and started catching again. Great stuff!

From: MaxZmus: San Diego, CA
Comments: I am shocked to hear a dye has caused a mess. Kidding. Dyes ARE messy. Duh. Make a couple swoops areoud the lid and part of the jar with electric tape, and you should cure the seepage issue. I store mine in a big spinnerbait box. And out of the sun. C'mon, son, be smart with the crap you use. This dye is good, probably the best out there.

From: veggieball: southtown

Comments: Best dippin dye made. Way stronger smell and color than spike-it. I agree with everyone else though, the glass bottle is a terrible idea it gets everywhere. I solved that problem though by getting a empty spike-it bottle and pooring the jjs in the plastic bottle. Its much easier to deal with out of the plastic bottle, but that being said its awesome stuff.

From: Will: AL

Comments: Guys JJ's Magic is for real! They use a different chemical component to get the dye and scent to mix with the plastic. The result is the dye is brighter, and lasts longer as well as the scent. Treat the bottles with care and they'll take care of you on the water.

From: Greg: Wetumpka, AL

Comments: This a fabulous dye/scent product. Hands down the best garlic scent available. Just recently found a 4" Senko of which I had dyed only the tail in the back of my covered pick-up bed. Didn't know it was there until I dropped the tailgate and smelled the garlic. It had been left there for at least 3 weeks. Enough said as far as staying power goes Very happy that TW has chosen to stock it.

From: Mike: Aurora, IL

Comments: As advertised, this stuff is great! Also as advertised do not leave sitting on deck of boat. It is 100+ degrees here in TX and i left dye and Senkos sitting out. Stuck tail of Senko in Dye and and it foamed up like alka seltzer all over me and my buddys Ranger. Not Good! This time kept it in cooler no problems. Still worth the hassle but beware.

From: Alan: Mansfield, TX
Comments: DO NOT LEAVE THESE IN YOUR BOAT unless they are in a sealed water tight container! The chemicals that create this stuff EXPANDS and creates HIGH PRESSURE in the bottle and it WILL BLOW THE SEAL on the bottle and you will have dye EVERYWHERE! This happened to my Triton and i contacted the company about it and they are well aware of this problem. I wont carry this stuff in my boat anymore. Just not worth it.

From: Jared: South Carolina

Comments: Best stuff I have ever used. When the bite is slow dip and go. This stuff wont come off your baits, and you can put it on any baits hard and soft. Try it and you like it.

From: Steve: Moline, IL

Comments: This is hands down the finest soft plastic dye on the market! Once applied the color and sent is there. You don't have to re-apply like some of the competitive products. THIS STUFF IS SIMPLY AWSOME! Just as it is stated above. Get it, or get beat by it!

From: Gary: GA

Comments: The name says it all.... it's gets the job done. The clear dip is the perfect compliment to your favorite unscented soft plastic. It'll put somethin' on 'em that Ajax won't take off!

From: Alan: Adairsville, GA

Comments: I am gonna vouch for the clear dip. Stanky! I was fishing a jig when my boater offered me his bottle to dunk my jig in. This was a year ago. I just went out and smelled that jig, and it still has garlic stank to it. Im gonna get some for myself. I hope the Chart is bright, Im going to try that too. Little companies need our support!

From: Meatwad: Stankonia

Comments: Most bass fisherman in Georgia use JJ's. It is the best dye on the market. The clear is great if your only looking to give it scent and not color. WARNING: Do not let this stuff spill in your boat unless you really like the smell of garlic.

From: Mark: Conyers, GA

Comments: This stuff plain works!!! You get more bites and hookup better. Fish hold the bait longer and hooks are deeper in the mouth - just where you want them. I have used this stuff for years, great bunch of guys that stand behind their products - Thanks JJ and Carl.

From: Aaron: Georgia

Comments: This is great dye and scent. One dip and your soft plastic smells like garlic forever. Don't leave the bottle out on the deck of the boat though because it builds pressure when exposed to a lot of heat.

From: Josh: Paintsville, KY