JJ's Magic Dippin' Dye - $5.49

JJ's Magic Dippin' Dye is a quick and convenient dye solution designed to add additional color to your soft plastic baits. It penetrates quickly and also provides a fish attracting garlic scent. Chartreuse is the most versatile color in the line up, while Methylate and Red are especially good for fishing muddy waters. Blue is designed mainly for crystal clear water situations, and JJ's Magic Dippin' Dye even comes in a clear garlic oil dip if you simply want to add some scent.
Dippin' Dyes are an art, not a science. The more you try, the more combinations you will find that work in different conditions and fishing situations.
JJ's Magic MUST be kept out of direct sunlight & under 95 degrees Fahrenheit as chemicals will expand from heat
Please Note: Ground Shipping Only!
Comments: I'm a huge fan of JJs, I first discovered this stuff when watching 'Flukemaster' on YouTube. I really lovethe abiliy to change the color of the bait in relation to the environment and I think it's just a confidence booster for me. I keep mine in the plastic package it comes in with a paper towel surrounding the lid just in case a little bit dribbles out. I keep it in my tackl box and I mainly bank fish so it does, but never has gotten to the outside of the package. Love this stuff, I can honestly say I atch more fish with JJs.
From: Seth: St. Louis, MO 9/1/14

Comments: I love how well this stuff works! I used to use Spike-It but then I did the math comparing me to my dad, and I out fished his Spike-It 6 to one with us both using chartreuse. The only two things I wish was that the bottle was plastic rather than glass and that I could buy it at my local bait and tackle shops.
From: Shane: USA 7/13/14

Comments: This stuff is great! I think that every angler should have some of this in his/her bag. Bass love this stuff. The only problem i had with this, was the bottle. I dropped my bag and the bottle broke. I wish that they would make the bottle plastic, now there is a chartreuse stain at the bottom of my bag. lol
From: Blaise: Shreveport, LA 5/11/14

Comments: JJ's Magic is the real deal. I used to use spike it, but JJ's blows it out of the water. The scent last ten times longer than spike it. It actually dyes through the entire bait, not just the outside but the inside too. It would be a lot better if they put it in a plastic bottle instead of a glass because when opening it sometimes spells or leaks easier. Overall this is a great product. Dip your favorite soft plastic in JJ's and hang on.
From: J.C: USA 4/29/14
Comments: I had some custom frogs poured and they arrived smelling like...plastic. I dipped one in the clear, and put it In the bag with the other 9. Snuck down to a local pond and after my 4th fish, it still smelled like garlic stankyness.
From: Jay6: 4/20/14
Comments: Works great dying light colored worms. Stinks to high heaven. Check out the tips here for handling with care. Great stuff.
From: Brian: Los Gatos, CA 3/5/14
Comments: Very good item, just take care not to use with elaztech soft baits (Z-Man, some Strike King): they dissolve in!
From: Fabrizio: Venezia, Italy
Comments: This is the best dye I have ever used it catches bass like crazy.

From: Jack: WV, USA

Comments: If your not using JJ's Magic on your frogs and swim jigs then you're flat out not putting as many in the boat as you could be. It IS the difference between a bite and a catch.

From: Daniel: Columbiana, AL, U.S.

Comments: works well but smell so strong that you almost want to gag

From: Spencer

Comments: If you want to win use it, it's the best out there! and as far as the over-pressurizing- I never had a problem but I kept it in a cool place in my boat. It "boils at around 90-100 degrees so if you let it get that hot it will cause problems, but I love it! and I prefer the glass jars because the other brands leach out of and evaporate through the pores of the bottle but not JJ's it will last for years- my first bottle did and when it was getting empty I just opened a new bottle and poured half of it in the old bottle and kept doing this for 5 or 6 years. I just ordered some from JJ's before I saw TW had it, it is slightly less money on TW. Remember if you want them to bite USE IT! If not use the other brands!

From: James: lakesite,tn. usa

Comments: To All the People that are having problems or are worried about problems with JJ's Magic, I use it all the time. The best thing about JJ's is that you can dip all of your stuff before you leave on your fishing trip or tournament. You do not have to redip this stuff like that Spike-It stuff. It does not wash off the bait. And for the Clear dip I use an old eye dropper to add it to my bag of worms and stuff. There is really no need to use this on your boat, if you don't want to. Also Watch the videos they have great ideas on what to do with JJ's. Also if you do get some on something that you don't want it to get on. A little Grease Lightning and Vingear will help get it out. As one of the guys said "Get it or Get beat by it".

From: Marty: Covington Ga

Comments: After fishing next to a buddy that was getting more bites throwing the same plastics as I was, I soon realized he was dipping the tail into the chartreuse color and it made a difference. After I got a few dips I was back on track and started catching again. Great stuff!

From: MaxZmus: San Diego, CA
Comments: I made the mistake of underestimating this dye when I got my shipment in. I opened it up in my room and had to turn the fan on high and spray some febreeze cause this stuff is the strongest smelling garlic scent I've ever smelled. I felt like I still had that scent burned into my nose for about 2 hours after that happened. Then for some reason I had a pink/purple stain on my finger but I ordered the methylate color, it was a little weird. This stuff is strong strong strong, can't wait to use it.

From: Alex

Comments: For dye, I've been using Spike-it for years and this stuff is so much brighter and better then it. And as for scent, i've used the sprays, the gels, and the other dye scents but this stuff blows all the others out of the water. This stuff stinks forever. Just make sure not to keep it in the house and keep it out of the sun

From: Matt: AL

Comments: @Matt, Thanks for your response and will more than likely end up getting a bottle. I somewhat know of the results from this dye especially after Cliff Paced used the Methylate color to dip his jig trailers in route to winning the Classic. I was just worried about the disaster of having to spend hundreds if not thousands of dollars in repairs to my boat if the worst should happen, from the horror stories I've heard. But your advice of small cases and ice doesn't sound like too much of a hassle so I think I will give it a shot. Thanks Again!

From: Keith: CT

Comments: Keith, JJ's is not unmanageable! U do, however, need to take some precautionary steps to avoid disaster. For beginners, this stuff must be kept out of the sun & in a somewhat cool location. Second, I suggest u keep it in a plastic case of some kind in case a spill does occur. And last, but not least, open the lids slowly & cautiously. The contents of the bottle will pressurize over time and u must open them slowly allowing the pressure to escape in a slow, controlled manner. I personally keep my bottles inside a plastic case designed to hold index cards. In that case, I also keep an old rag that I use to clean any extra I might get on my hands. Then I place the plastic case, containing the bottles, and a small ice pack inside a small cooler. When I'm not on the water I keep the plastic case in a cabinet in the garage. Now, You're probably thinking at this point that this is entirely too much work for a worm dye. Well, I truly do believe this stuff is a game changer! To me, the results make it entirely worth the hassle. One last tip before I end this. After you dip your plastic in JJ's and let it dry for approximately 10 seconds, throw it into the water...do not sit it down in the boat and you will avoid dying & stinking up your carpet.

From: Matt: OH

Comments: I've heard this stuff is basically unmanageable. But always wondered just how bad is it? I don't want to buy if it's more trouble than it's worth. Feedback would be awesome, thanks!

From: Keith: CT

Comments: The best dye you can invest in. Stinks forever.

From: Michael: GA

Comments: I love this stuff! the garlic scent is strong and last forever. I read the other comments and have faithfully kept it out of the heat, and have had no problems. the chartreuse doesn't look too bright in the house, but in the water its really bright! great product, buy some!

Comments: This stuff is LEGIT. I open the jar in a plastic container using $4 wash cloths from wal mart to keep it off my hands and from dripping. Wipe the excess from the bait on a seperate wash cloth and throw your bait overboard. BINGO. No mess, fish on!

Comments: I am shocked to hear a dye has caused a mess. Kidding. Dyes ARE messy. Duh. Make a couple swoops areoud the lid and part of the jar with electric tape, and you should cure the seepage issue. I store mine in a big spinnerbait box. And out of the sun. C'mon, son, be smart with the crap you use. This dye is good, probably the best out there.

From: veggieball: southtown

Comments: Best dippin dye made. Way stronger smell and color than spike-it. I agree with everyone else though, the glass bottle is a terrible idea it gets everywhere. I solved that problem though by getting a empty spike-it bottle and pooring the jjs in the plastic bottle. Its much easier to deal with out of the plastic bottle, but that being said its awesome stuff.

From: Will: AL

Comments: Worth it in Potomac River. I love this dye. Only problem is it can make a whole lot of mess, but it still pay off bringing you big bass. Make sure you keep this in the house! So it won't blow up or make mess if you leave this in the sun. Learned my lesson after the heatwave lately. I have the chartreuse and methylate, but chartreuse works the best for me! Make sure you open the lid SLOWLY as labeled on the top of the lid and be very careful with it too, then you'll have no problem!

From: Billy: DC

Comments: Avoid this dye, not for the quality, because it is your typical good garlic dye, but this stuff is truly uncontrollable. It gets caught under the lid sealer and drips out all over your hands when you go to just open it up. I've dripped it on lanolin (sp?) floors and it does not come out. I cant imagine if I spilt this on a boat, would be a big expensive mess. They blow up (from pressure) in your tackle box all the time ( i keep them in plastic containers to keep it from getting everywhere). I used to think If I was careful this strong garlic smell was worth the mess but I'm sorry JJ's, this stuff is trouble. Repackage it and I will give you another shot.

From: Fishing: on the lake

Comments: Once I got this stuff on my hands, believe me, it got everywhere! Every bait I touched turned chartreuse. It's bright and the smell will never go away, but it's also uncontrollable once out of the bottle. They need to package this stuff some other way.

Comments: Guys JJ's Magic is for real! They use a different chemical component to get the dye and scent to mix with the plastic. The result is the dye is brighter, and lasts longer as well as the scent. Treat the bottles with care and they'll take care of you on the water.

From: Greg: Wetumpka, AL

Comments: This a fabulous dye/scent product. Hands down the best garlic scent available. Just recently found a 4" Senko of which I had dyed only the tail in the back of my covered pick-up bed. Didn't know it was there until I dropped the tailgate and smelled the garlic. It had been left there for at least 3 weeks. Enough said as far as staying power goes Very happy that TW has chosen to stock it.

From: Mike: Aurora, IL

Comments: As advertised, this stuff is great! Also as advertised do not leave sitting on deck of boat. It is 100+ degrees here in TX and i left dye and Senkos sitting out. Stuck tail of Senko in Dye and and it foamed up like alka seltzer all over me and my buddys Ranger. Not Good! This time kept it in cooler no problems. Still worth the hassle but beware.

From: Alan: Mansfield, TX

Comments: One of the best avantages to have on the water especially fishing for a check, tweak a soft plastic or spinnerbait skirt or change a color completely while adding a non greasy or oily attractant to your lure and the clear if you just want the attractant and not the color, great for scenting jig skirts and trailers!! I use JJ's Magic because it gives me that extra edge, it's an awesome product an it works, I keep every color in my boat an one of each color in my "Man Cave" to experiment with, Get you some, it works for fresh an salt water species too!!

From: Slick: Homosassa, FL

Comments: DO NOT LEAVE THESE IN YOUR BOAT unless they are in a sealed water tight container! The chemicals that create this stuff EXPANDS and creates HIGH PRESSURE in the bottle and it WILL BLOW THE SEAL on the bottle and you will have dye EVERYWHERE! This happened to my Triton and i contacted the company about it and they are well aware of this problem. I wont carry this stuff in my boat anymore. Just not worth it.

From: Jared: South Carolina

Comments: Best stuff I have ever used. When the bite is slow dip and go. This stuff wont come off your baits, and you can put it on any baits hard and soft. Try it and you like it.

From: Steve: Moline, IL

Comments: This is hands down the finest soft plastic dye on the market! Once applied the color and sent is there. You don't have to re-apply like some of the competitive products. THIS STUFF IS SIMPLY AWSOME! Just as it is stated above. Get it, or get beat by it!

From: Gary: GA

Comments: The name says it all.... it's gets the job done. The clear dip is the perfect compliment to your favorite unscented soft plastic. It'll put somethin' on 'em that Ajax won't take off!

From: Alan: Adairsville, GA

Comments: I am gonna vouch for the clear dip. Stanky! I was fishing a jig when my boater offered me his bottle to dunk my jig in. This was a year ago. I just went out and smelled that jig, and it still has garlic stank to it. Im gonna get some for myself. I hope the Chart is bright, Im going to try that too. Little companies need our support!

From: Meatwad: Stankonia

Comments: Its simple... Get it, or get beat by it!

From: Austin: Moline, IL

Comments: Most bass fisherman in Georgia use JJ's. It is the best dye on the market. The clear is great if your only looking to give it scent and not color. WARNING: Do not let this stuff spill in your boat unless you really like the smell of garlic.

From: Mark: Conyers, GA

Comments: This is the best dye on the market. Been waiting for TW to get a hold of it!

Comments: This stuff plain works!!! You get more bites and hookup better. Fish hold the bait longer and hooks are deeper in the mouth - just where you want them. I have used this stuff for years, great bunch of guys that stand behind their products - Thanks JJ and Carl.

From: Aaron: Georgia

Comments: This is great dye and scent. One dip and your soft plastic smells like garlic forever. Don't leave the bottle out on the deck of the boat though because it builds pressure when exposed to a lot of heat.

From: Josh: Paintsville, KY

Comments: This is good stuff. Impregnates deep into the plastic. Bright colors. Has that garlic smell fish like.

From: Ronnie: Lake Fork, TX

Comments: This is the dye you want. The other dye out on the market everyone thinks is so great isn't even close to this product. I have been using the "juice" for several years and it is all that is in my boat. This dye won't fade after a day of fishing. The "other dye" you have to keep dipping your bait in several times a day to keep a color on your soft plastic bait. One dip of the "juice" and it's there until you have to get a new soft plastic bait. It is full of garlic scent. The guys that own this company are top notch and super guys. If you use dye alot on your soft plastic baits and want to help out a couple of great guys, buy a few bottles of this stuff and I know you will feel the same way I do about this awesome product! Great American product!

From: Jim: Muskogee, Oklahoma

***Note: If you have questions about this product or need assistance with an order please email your questions to info@tacklewarehouse.com
View Large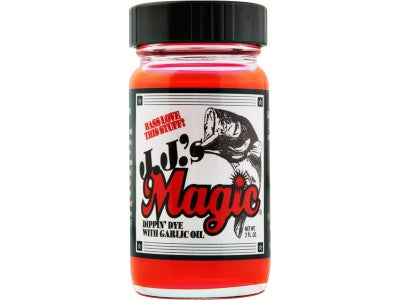 5 Available Colors
More JJ's Magic Scented Dipping Dye