Jackall Ammonite Shad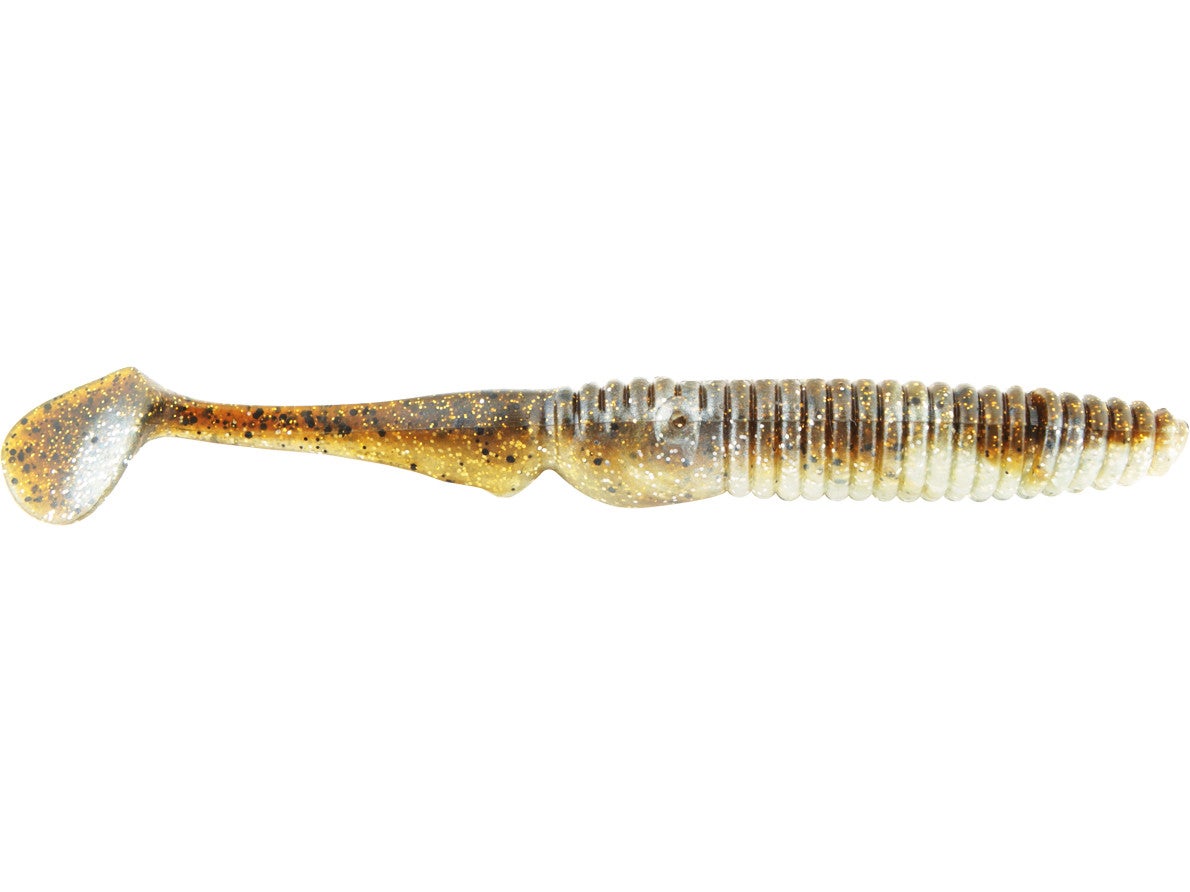 The Jackall Ammonite Shad is a super soft yet durable swimbait with a well thought out design that allows its tail to actually kick in a 360-degree motion. This tail movement and the Ammonite Shad's head and unique bulb above the tail cause the whole bait to wobble and swim like a real bait fish. Its ribbed body also helps it catch a lot of water, and you can even insert a glass rattle into the bulb section for added fish attraction. Available in several proven colors, rig the Jackall Ammonite Shad weedless on a 4/0 to 5/0 extra wide gap hook or even on a jig head - and go to work. It's a big bass killer.
2 Colors
More From Jackall Swimbaits
More From Jackall Softbaits
Customer Reviews
Comments: Very durable, nice action & you can insert rattle, got a 4lber when attached to a chatter bait.
From: Jim: Boca Raton, FL 8/9/15

Comments: Very durable, nice action & you can insert rattle, got a 4lber when attached to a chatter bait.
From: Jim: Boca Raton, FL 8/9/15

Comments: Probably the best swimbait for smallies I have ever used. Can fish on two baits all day and they catch em!
From: Mike: Detroit, MI 5/24/15

Comments: Pretty good long lasting bait if u put crazy glue on the slit under the head. When I first used with screw inn hooks it would tare after a catch hear and their but when I put the glue I've been using the same bait I haven't even switched.

From: Duke: Riverside, CA

Comments: this is a quality product. It catches fish anywhere if you are fishing it right. Screw lock hook or swim jig it. I will say I get similar, but heavier/better action from the evolve Darkstar Swimbait or sawamura one up.

From: Chris: Dublin, PA

Comments: Regarding the first individual to comment, well, his lateral line must not be working properly. That is, one can't visually dismiss this baits potential. Jackall did an excellent job priming this lures acoustic output. This bait warrants experimentation, as pertains to rigging options. It' all about getting the whole rigging to have wobble, rock AND yaw. Truly one of my favorites on a swim-jig. Additionally, and I probably shouldn't be saying this, take the blade off of a larger under-spin lure, namely of the horse-head variety, and rig as you would on any other swim-jig-head. Fish slowly enough (structure oriented) that the protrusion of lead (that normally accommodates the blade) constantly ticks and scathes the bottom. This causes the bait to flit and canter sporadically as commutes along.

From: BB: OR

Comments: These baits have great side to side action if you match the hook with the bait they also excel on a swim jig if you don't believe me refer to ninja tackle box Koto Kiriyama will show you how and when to throw it and any other Jackall lure for that mater...Good fishing and I hope the guy who wrote the previous review can use this info their great baits to just have them sitting around in your tackle box!! !! !!

From: Lee: Jackson, TN

Comments: Just used these for the first time day. I have really nothing good to say about them other then they are slightly more durable then its competition. If I were you I'd stick to Keitechs.