Jackall Aragon Crankbait - $14.99
The Jackall Aragon is one of the latest top-of-the-line Japanese hard baits to reach the U.S. Jackall baits are created using the latest materials and design technology. The prototype of each of these lures is designed on a computer to generate a 3D image. The image is then cut into the actual bait in a matter of minutes. This process allows Jackall to get the lure from idea to design to creation much faster, enabling them to get the baits into the hands of their pro staff in a matter of days or hours. This gives Jackall a great advantage; they are able to tweak a lure to perfection and present it for sale much faster than their competitors. Jackall is raising bass fishing to a whole new level with this sophisticated technology and their new materials and designs.
The Aragon is a two-piece, jointed crankbait that comes in two different diving depths. The SR, Shallow Runner dives to about 3 feet and the MR, Medium Runner will run about 8 feet. This innovative joint not only gives the Aragon more action, it also produces great fish-attracting sounds when the two halves of the bait knock together. The noise generated is similar to that created by the more successful wooden swimbaits. Super-sharp hooks round out the package, making the Aragon one of the most unique crankbaits you'll ever use.
| | | | | |
| --- | --- | --- | --- | --- |
| Jackall | Length | Weight | Dive Depth | Class |
| Aragon (SR) | 2.5 in. | 1/2 oz | 4 ft. | Floating |
| Aragon (MR) | 2.5 in. | 1/2 oz | 8 ft. | Floating |
Comments: If you are looking for a bait like no other, then I am thrilled to tell you...you found it. The sound this bait makes says it all. The life like action forces the bass to strike. It reminds me of a under water buzz bait. I don't think the bass see it as food per-say, they just want that noise to stop. The price might shy you from it, but you'll be glad you bought it! Black/yellow, Red Craw and Purple/Chartreuse are the baits to buy! Buy it! Fish it! Catch bass with it! You can thanks me later!

From: Kerry: Memphis, MO

***Note: If you have questions about this product or need assistance with an order please email your questions to info@tacklewarehouse.com
View Large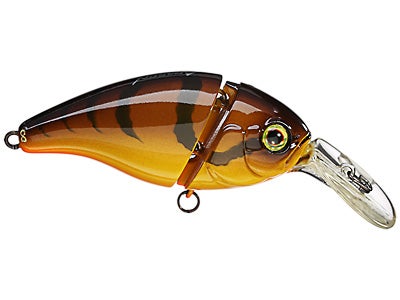 8 Available Colors
More Jackall Crankbaits