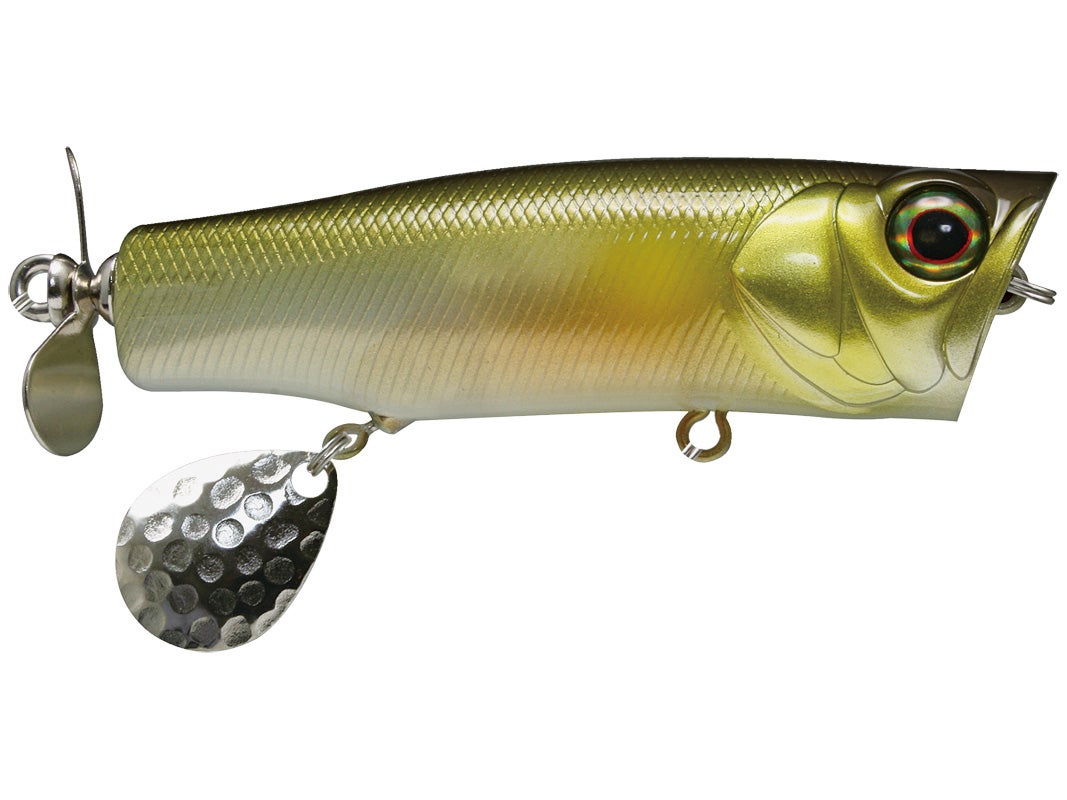 Offering the ultimate trifecta of splash, flash, and vibration, the Jackall Binksy takes topwater temptation to a whole new level. At the front, the Jackall Binksy features a shallow, cupped mouth that slaps against the surface to produce a prominent splash. Located along the belly and in-between two razor-sharp Owner trebles, the Jackall Binksy is fitted with a free-spinning blade that generates an attention-grabbing flash to further its attraction.

Whizzing and sputtering as it moves along the surface, the Jackall Binksy is equipped with a premium prop blade at the rear, which creates a strong gurgle and a complimentary spray. Complete with feathered rear hook that serves as a bite indicator, the Jackall Binksy delivers a big noise, big splash, and big fish appeal that will have your heart racing in anticipation.
| | | | | |
| --- | --- | --- | --- | --- |
| Jackall | Length | Weight | Class | Hooks |
| Binksy | 2-3/4" | 1/2oz | Topwater | ST36BC #5 |
6 Colors
More From Jackall Topwater Baits
Customer Reviews
Comments: It looks ridiculous, but this thing is all business. You can walk it & pop it, but just a straight, variable retrieve seems best. It wobbles, rattles, flashes, clicks, wakes, spits, pops & bubbles. Excellent hooks & finishes.
From: Tony: Yukon, OK 7/8/16

Comments: Super top water bait. Caught many fish towards dusk, the bait does all it is designed to do. The video that Jackall has produced regarding the design and use of the bait is outstanding. The bait will not disappoint. The hooks and design are first class.
From: Larry: Houston, TX 7/10/15

Comments: Used the Jackall Binksy 4/14/15 at a public pond at dusk. I'm a big fan of this lure upon initial use. The subtle clicking sound made from the underspin blade to the propellar in the rear is awesome. Caught 4 fish in 20 minutes at a pond at dusk using the Chartreuse Gill color just straight reeling it. I experimented with the various actions of popping, walking, and just straight reeling it. You can use all 3 actions with this bait. Also, this thing casts a mile and it is heavy enough to use it on a baitcaster. I hit a rock with one cast and bent the prop, but I bent it back, so I'm hoping it still runs true. Love the color of the bait and the detail is awesome, Love the action and due to the multiple actions(pop/walk/straight reeling), I feel this bait is well worth the $15, plus it works.
From: Mike: Pittsburgh, PA 4/15/15