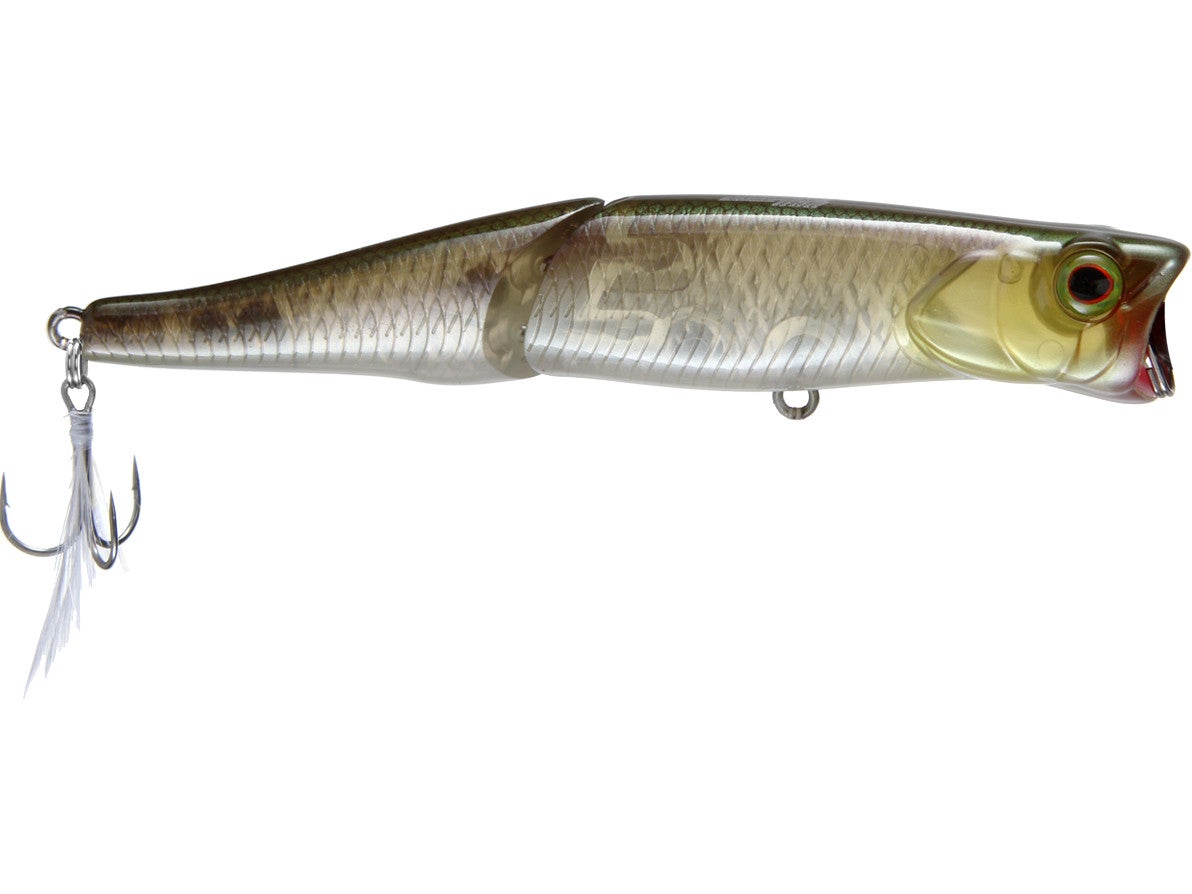 The Jackall Boil Trigger 100 is a topwater popper and walking bait all in one. It has the cupped mouth of a popper combined with a hinged pencil bait style body that helps accentuate its erratic, walking motion on the surface. Offering a winning imitation of a dead or dying baitfish struggling on the surface, you can manipulate its action in a variety of ways. On the pause, it also sits tail down to make it harder for fish to miss the super sharp Owner stinger trebles. The rear treble also has a feathered tail for additional lifelike movement. Available in a range of awesome colors, the Jackall Boil Trigger 100 is tournament ready right out of the package.
| | | | |
| --- | --- | --- | --- |
| Jackall | Length | Weight | Class |
| Boil Trigger 100 | 4" | 3/8oz | Topwater |
7 Colors
More From Jackall Topwater Baits
Customer Reviews
Comments: bought this lure expecting it to walk the dog, but it doesn't. I gave up on it but my dad tied it on and just started making long slow strokes with it, and the lure pops and dives and has a swimming action under the surface and that produce some very good strikes
From: Kendal: GA 9/10/14

Comments: Pretty good bait. It walks well with minimal effort and can do everything from slight pops to depth charging chugs. It does sit slightly sideways in the water, kind of looks like a dying/injured baitfish to me, it is not a downside. it does run true when worked. My only issue is casting it. It goes a good distance, but it is very inaccurate. Due to the jointed design the tail can act like a rudder and cause it to veer off in one direction or another. Frustrating when fishing it around trees and laydowns. Also the rear feather treble is poorly tied. After about 4 dinks gnawing on the feathers my rear feathered treble is now just a standard treble. Good lure, but not $16 worth in my opinion.
From: Ryan: East Wenatchee, WA 7/22/14

Comments: To me these are junk they do not work like they should, they flop on there sides and really look funny in the water, Just me maybe but it was a waste ,no advantage over a normal popper. if it stayed up rite and swam like it should it be good. 2 outa 10 for me .
From: Kevin: Johnson, KY 7/2/14

Comments: Great Topwater lure! I have yet to use this lure for Bass, but I'm sure it is excellent. I've been using the "Ghost Minnow" color for inshore, saltwater fishing. I've caught numerous Trout (BIG and small), Bluefish, it drives huge Ladyfish crazy, I've even caught large (and apparently aggressive) Pinfish and Lizardfish. I've only thrown this lure on my last 2 trips (mostly in the morning) and it has been the only stand out. More robust hooks are required though, if you plan to use more than 15# test.
From: Lew: Deltona, FL 4/17/14
Comments: I have this lure in the bluegill color. I try to just make as much noise and bubbles as possible when working this lure. Much to my surprise most of the fish I have caught have been dinks. I did catch a three pounder, but he broke off two of the points off the back treble. Great lure, but needs better hooks.

From: Ethan: Charlottesville, VA

Comments: Worth the $! Day 1 within 30 mins. of use I catch a 4.11 lbs LMB on the Ghost Minnow. Pros, action, sound and "catchability". Cons, hooks are sharp, but break easily.

From: Remington: Quad Cities, IL

Comments: this bait does exactly what the name says... Trigger boils. The fish haven't gone airborne for the lure, you just work it then it disappears with a ripple. Overall, it is an amazing lure that catches lots of bass.

From: Hayden: Allentown Pa

Comments: One word would describe this bait, AMAZING. This lure pisses off those fish, they are forced to attack. Getting four more today.

From: Chris: CO