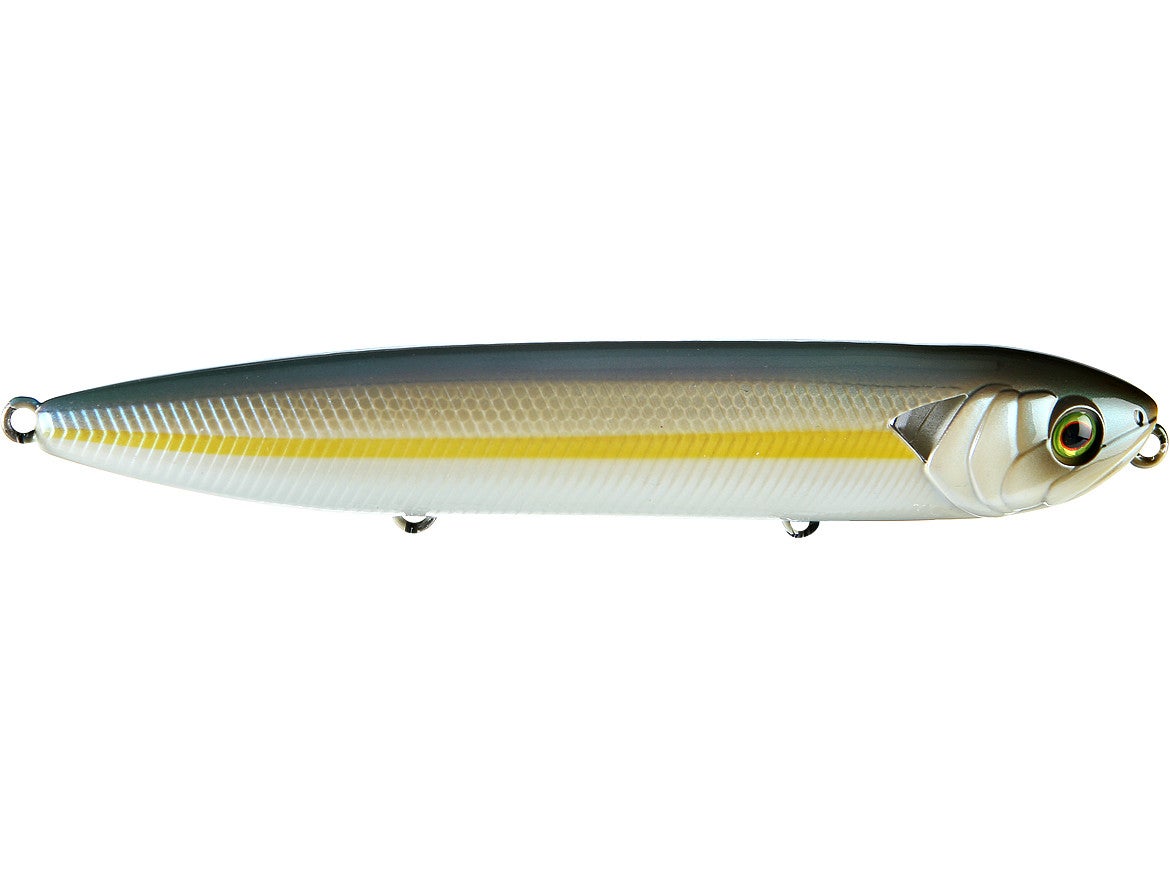 Click here to see some video on Jackall baits with Curt Arakawa at ICAST '08.
The Jackall Bowstick is the topwater solution when the fish want a big bait. The Bowstick features a specially designed gill tunnel that allows water to flow through, creating additional splashing and bubbling. The addition of a loud rattle helps to call in curious fish to the Bowstick from long distances. The Bowstick casts like a bullet and maintains a zigzag course even in windy conditions. Any fish that strikes this dog-walking beast is sure to be hooked by at least one of the three razor sharp trebles.
| | | | |
| --- | --- | --- | --- |
| Jackall | Length | Weight | Class |
| Bowstick 130 | 5.2" | 1-oz | Topwater |
8 Colors
More From Jackall Topwater Baits
Customer Reviews
Comments: Wow great plug here. Caught 5 quality bass within a half an hour at dusk dark. The third treble hook makes a difference. Best walking action of any other plug I've ever used. I will purchase more!!!
From: J.D.: Ironton, OH 7/1/15

Comments: Whether its largemouth, smallmouth, pike and musky, the bowstick calls them all in. Heck, I even caught a really nice sized walleye on it as well. It is one of the best topwater lures on the market. I just wish Tacklewarehouse carried the JDM colors especially the mat tiger color. Btw, it appears the color "Chartreuse Shad" has been changed slighty. I liked the older "Chartreuse Shad" color better.
From: James: USA 4/3/14
Comments: Jackall always gets it right. This bait is a larger stickbait. I love it when there's some chop on the water and you otherwise may have not opted for a topwater due to the rougher water...this makes lots of commottion. It's not suble. It calls them in. I have caught lots of hawgs on this bait. When it gets bit they commit too. Hardly ever short-struck. High quality components, easy to walk, flat-out CATCHES FISH...What more do you need?

From: Tanner: Southeastern, MA

Comments: Best spook style bait on the market. I can cast this thing a mile! Walks perfect, the hole in the side makes a bubble like a popper as it rolls on the twitch. I took off the middle hook, as I found it to be overkill. Worth every penny! Great quality!

From: Mike: Huntington Beach, CA

Comments: Very nice bait. Good walking action and nice size. Surprisingly nice amount of glide despite the spitting and scaled features. Turns well. This bait will fool and stick some toads. Stock hooks are very sharp and don't tangle. Well thought out and designed. Probably can't go wrong with any color.

From: TackleJunkie: Riverside, CA

Comments: i love this bait get it you wont be dissaointed cast a mile works great and the gillplate on the side is great

From: Luis: Castaic, CA

Comments: Very good lure, casts a mile, all around great topwater bait, hey try one you won't be disappointed!

From: Mrbond007: East Lansing, MI

Comments: This bait is a killer when you need the big fish. Casts a mile and you can hear the rattle knocking inside the bait all the way back to the boat. I have caught numerous big fish in the 7 and 8 pound range. I love the sexy shad and ghost shad colors best of all. Rough windy weather and they really excel. Grab you a couple of these boys and you won't be disappointed.

From: William: Hohenwald, TN
Comments: This thing kicks ass! I have the Ghost Minnow, and Sexy Shad. By far my most reliable go-to topwater bait in my collection! Casts a country mile, walks like a champ, and spits water when it leans over. A real attention getter!

From: Mike: Orange County, CA USA
Comments: The best topwater bait bar none... i've caught 7and 8lb bass on this lure countless time at FALCON LAKE, TX.

From: Albert: Edinburg, TX