Jackall Clone Fry 6pk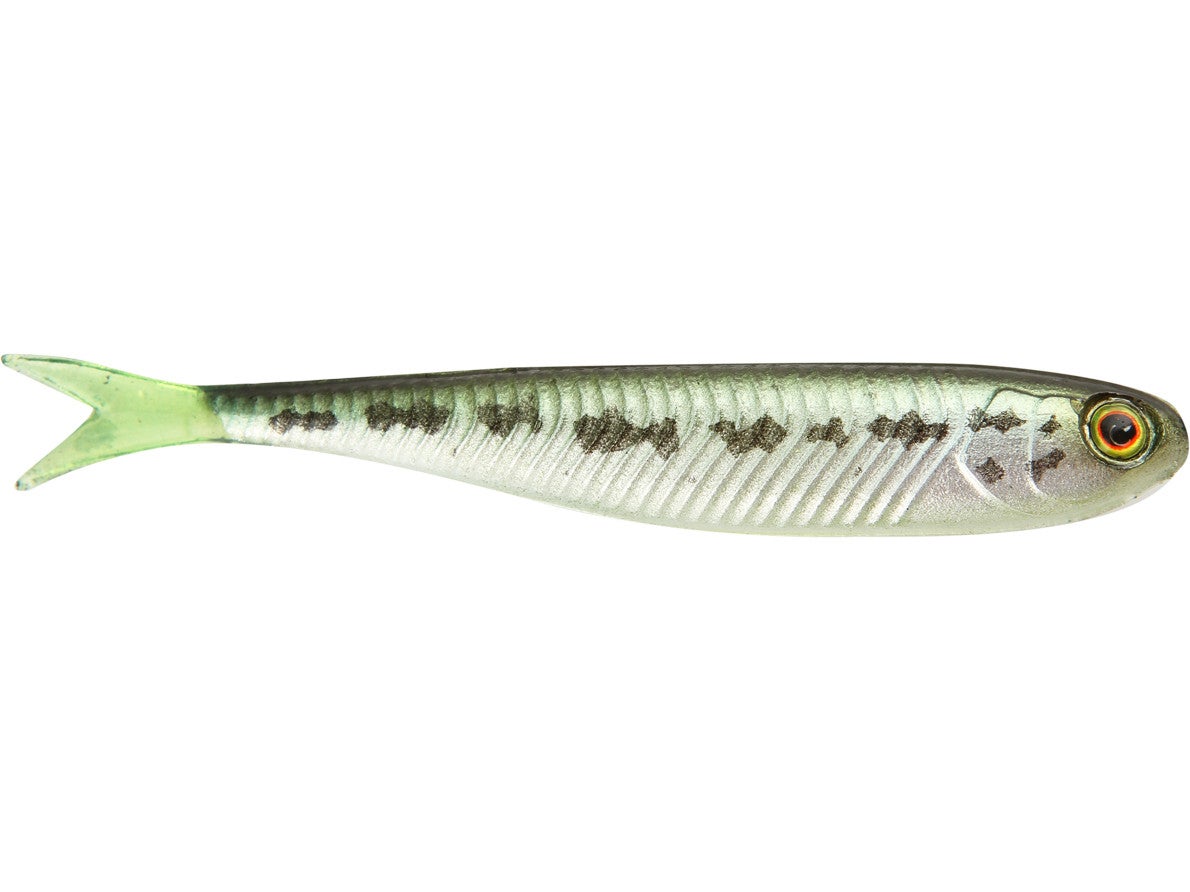 The Jackall Clone Fry offers a realistic profile and an incredible level of detail. An excellent choice on a drop shot, its tail is designed to produce a unique action that makes it appear as easy prey. Also a great bait on a round jig head, the Jackall Clone Fry is a lethal finesse bait that can generate bites in the toughest conditions.
Check out what FLW Tour pro, Cody Meyers, had to say about the Jackall Clone Fry at the 2011 ICAST Show by clicking the video icon below the main image.
7 Colors
More From Jackall Softbaits
Customer Reviews
Comments: Have worked very well for me, I suggest a larger hook tho. a 1/0 or 1,2 drop shot hook should be fine enough. They are a bit soft & tear easily, the material they are made of makes re hooking them in a new spot nearly impossible after tearing, normally don't need a new one till after 1-2 fish and/or snagging a few times. If you want to catch fish and the 9.99 for 6 isn't your issue than purchase these.
From: Ryan: East Greenwich, RI 8/5/16

Comments: Very Good bait works great weightless of with the weight only problem the skin/design fades after 4 to 5 fish hit it.
4/15/16

Comments: these are my fav minnow type baits i have ever used! yes ok the eyes do fall off but the are not getting hit because of the eye! for me it is the tail action on these things. I use them over live bait for walleyes and always have one either on a drop shot or on a jig head in every smallmouth tourny i fish in. all fish love these baits! i buy out my local tackle store everytime they get a new stock in. i give these a 10/10 and cant see ever switching to another brand unless something crazy comes out (doubt it will happen anytime soon) thanks Jackall for all the great fish i have caught and for all the ones to come!
From: Nick: Atikokan, Ontario Canada 8/25/15

Comments: The eyes fall off before you can get them out of the bag, they don't have much action on a drop shot. have never caught anything using these. bass don't eat dead fish, and this is what this thihng looks like on the end of a hook , just a dead motionless fish.
From: Slade: CA 8/26/14

Comments: Love this bait. Great look. I didn't really want to like them as much as I do because of the cost. You should have them in arsenal, but use when times are tough. They work well, but not well enough to justify the expense compared to a gulp minnow... I agree with some of the others, it would be easier to spend the cash if they eyes didn't pop off after 1 fish or tore up so easy... for 10 bucks, i want Z-man style elasticity with the cool life like graphics. I'm ordering some more, but i'm also ordering power minnows from Berkely.

From: Kenny: Pacific Grove, CA, USA

Comments: USE THESE!! Awesome baits caught 4 in the bluegill pattern on a pressured lake and a big fish of 7-3. Free line them nosed hooked or drop shot them. Don't complain about the price because after you use these you wont be disappointed.

From: AJ: Dont worry about it

Comments: Great stuff. MY buddy caught 6 bass with the same one and i caught two with my own. Held together very well and are still in great shape to go out again and use. Good job Jackall!!

From: Bear: CA

Comments: Each bait lasts 1 fish but thats fine with me. This is a bait for people with money to spend. It can't be cheaper because how much time and work it takes to make it, and i don't think it should be because normal looking stuff is hitting around the 5-6 dollar range.

Comments: looks like a great bait and it is very soft.

Comments: my friend used this bait and had big fish pull on his rod. It does work but it did tear at the head, I have good amount of these, plan to use them when weather is good, right now its winter. Good fishing guys!

From: Alex
Comments: in cabelas this bait is 11.99 which is a lot more then tacklewarehouse. Tacklewarehouse has good prices and deals. I used this bait with no fish yet. It looks good but way too expensive for little bait. Just shows you that fishing isn't cheap. God bless and love you. Good fishing!

From: Alex
Comments: fished it over the weekend both on a drop shot and a 1/16 oz VMC mushroom head. Caught a few smallies up to 2 lbs. The one eye did come out after about 2 fish. Other than that they seemed fairly durable. I will be buying more to add to my clear water arsenal

From: Scott: Scranton, PA

Comments: Totally overpriced for the durability level, these are worse than senkos. Yes the look great, they also catch fish, but they smell really plasticky (use scent to cover that up) and I have had small bass hit them and get them off the hook way too easily, likely leaving plastic in their gut if they didn't spit it out. Wish they had a harder nose area, and better glued in eyes.

From: Craig: Sunrise, FL

Comments: great little drop shot baits but they arent durable enough for 10 dollars. if the price was 5 dollars lower they couldent be beat
Comments: A little pricey. But, I caught 3 bass in the 2-3# range and the bait still looks brand new. Paired it with the VMC Spinshot hook and the action was amazing. I'll buy again!

From: Pwy_firecapt: El Cajon, CA

Comments: These baits look and work good but for the price your paying about a dollar a fish since they only last a cupl fish.. Great bait waaaayyy over priced!!

From: Mike: CA

Comments: I used the bait had great action caught fish but after just one fish the bait got tore up the eyes fell out for the price this bait should last longer.

From: Lompoc, CA

Comments: Insane baits for Jersey Smallmouth

From: Sucio: Somerset, NJ

Comments: Amazing. simply amazing. High detail, tough plastic, soft tail. Silver shad gets big and small fish a like. dont be scared off by the price!

From: Orlando, FL

Comments: i just got a pack of these from my friend and i was using the silver shad pattern im just shocked 5 th or 7th cast on the surf i caught my first legal halibut just 3 inches over the limit

From: Brian: Costamesa, CA