Jackall Clone Gill 2.5" 5pk -
$10.88
One of the deadliest bed baits to ever hit the market, the Jackall Clone Gill measures in at a small 2.5" nest-raiding size. Sure to infuriate bedding bass, it features incredibly realistic finishes, including anatomically correct, protruding fins and a life-like tail action in the water. Nose it along beds on a round jig head or drop shot, the Jackall Clone Gill is a bite-size bait that can catch huge bass.
See what FLW Tour pro, Cody Meyers, had to say about the Jackall Clone Gill 2.5 at the 2011 ICAST Show by clicking the video icon below the main image.
View Large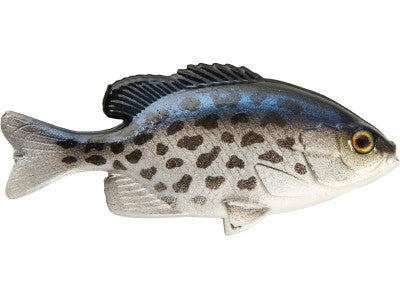 More Jackall Softbaits
Comments: seen this bait and I stared at the package for a really long time, like 5 minutes, paint job looked good. But then it started to peel,paints chips etc. I think I looked at it too hard. Peice of craaap! save your $$$$
From: RC: Los Angeles, 12/14/14

Comments: Junk product. I bought a pack because I like the profile of this bait. I peeled some of the paint off trying to slide the lure onto a jig head. The quality is garbage!

From: Kyle: MI

Comments: i've caught fish on it riggen on an 1/8th oz scrounger head but i agree with what everyone else said the paint falls off waaayyyy too easy for a 13 dollar bag of plastics. unless you have enough money to wipe your butt with dollar bills this isn't really worth buying.

From: Roberto: Faylor

Comments: the bait started peeling after 20 cast's. without any bite's

From: Andre: Rochester, NY

Comments: I bought two of these and the outer layer of plastic started coming off both lures after the first trip. This was after maybe 50 casts and no fish hooked. They look pretty coming out of the package but it is one of the least durable plastic baits I have ever used. Save your money and go buy something that will last more than a couple trips.

From: Bryan: Lake Forest, CA

Comments: looks great in the package but has poor action and the paint comes off way too easily

From: Mike: VA

Comments: DO NOT waste your money on this bait. It smells like paint, is as soft as a wet piece of paper, and has no real swimming action. If you are going to flip it with a leadhead, maybe you will have some success if the fish dont mind eating paint chips. If you intend to make and type of cast with it, you will learn that it tears and falls off the hook after the 2nd cast, on its own. If you happen to need to reel it in at any speed, you will destroy it. 5 come to a bag and even if 10 came per bag, it would be a rip off. This bait is worth $3 per bag of five. DO NOT WASTE YOUR MONEY.

From: Jason: Miami, FL

Comments: these are a hot bait for me already,just nose hook it,toss it out and start rippn it through the water.or get a jig head and bed bounce it.its the perfect little bite size for those hungry bass.i like the ghost bluegill and the threadfin.

From: Steveo: Windy City

***Note: If you have questions about this product or need assistance with an order please email your questions to info@tacklewarehouse.com