Jackall Cover Craw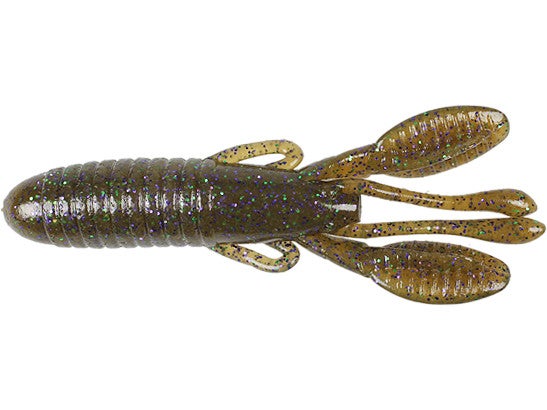 The Jackall Cover Craw presents a protein-rich profile in a compact soft plastic package. The Cover Craw is salt injected and filled with live bait scent to keep fish from spitting the Cover Craw out. The Cover Craw is ideal for pitching to overhanging brush, docks and spawning beds, due to the design of the bait which causes the Cover Craw to glide away from you. Take advantage of this unique bait before word gets out.
Click here to see some video on Jackall baits with Curt Arakawa at ICAST '08.
Hooks not included.
| | |
| --- | --- |
| Length | Quantity |
| 3" | 7 |
| 4" | 6 |
8 Colors
More From Jackall Softbaits
Customer Reviews
Comments: I fished these for the first time yesterday on the way home from work. Six fish and went through two baits...not bad. They look awesome in the water. I'm fishing clear little pressured bowls where six fish in five minutes from the bank means you are doing something right.
From: Jay6: USA 5/1/15

Comments: Used this fishing beds that were along the edge of a grass canopy. Not much action on these, but they slipped right through the grass even on a light 3/16 texas rig. Cola is a great all around color. Only complaint would be they are a one and done bait. First fish I caught ripped the bait to shreds.
From: Nick: Vineland, NJ 4/10/15

Comments: These are a good bait. I buy these primarily because they are offered in more colors then the KOMPAK Craw. If the KOMPAK Craw came in a more natural red and a candy colored pumpkin or something, I'd never buy these... too pricey.

From: Chaz: OHIO, USA

Comments: Incredible bait, will shoot 2-4 feet back under cover on a pitch (docks, laydowns etc) They are VERY fragile though, especially with little head thrasher rats. But they still work with 1 or even no claws!

From: Duzbass: IL

Comments: This bait allowed me to weigh-in at my last tournament...A friend gave me a bag of these to try and it was the "only" thing that caught fish that day! As everyone has said, these are good for a couple of bites and hook sets, very soft and tear very easily. The ability to glide these under docks and rocks is awesome! Toughen them up a little bit, and they would be a 10!!

From: Darren: Macksville, KS

Comments: Great bait for flipping wood. i flipped this bait in out of wood for hours on lakes and caught so many good size bass. great bait for murky water situations also.

Comments: not the most durable bait on the market, but it does catch bass

From: USA
Comments: 6 dollars for 6 fish is worth the money. Take the used crawa and use them as jig trailers ;)

From: Mike: CA

Comments: I have to agree with everyone else as far as how long these baits last. They don't last long at all...... but...... they are one of the baits I have ever used. The 4 inch size is a big beefy bait that slips very well through cover. The 3 inch size is the perfect size when you need to down size to get bit, and its killer for smallmouth on Carolina rig. There is one other thing about this bait that people need to be careful of, and that is the fact that the fish WILL swallow this bait if you wait too long to set the hook. If you think a fish has picked it up, set the hook. Hook sets are free, and it may save you a gut hooked fish that could end up costing you money in a dead fish penalty at the end of the day.

From: Dave: Cuyahoga Falls, OH

Comments: I got a package just before a wounded warriors tournament and i couldn't keep the bait int he water..fish killed it...but like everyone else..the bait DOES NOT stand up.. limbs fall off hooks tear the bait..one guy said he got 4 fish to a bait...damn i was lucky to get 2 hits to a bait..1 caught..new bait 1 caught new bait..but it seems to ROCK and ROLL the fish..

From: Big John: Stafford, VA
Comments: The heavy plastic and compact design allows this bait to excel as a pier skipping bait. The reverse fall can get into nooks and crannies other baits can't. The scent and texture are are one of a kind; however, the durability leaves a lot to be desired. My record is four fish on one bait. At more than a dollar a piece these craws don't take up a lot of room in my box.

From: Travis: Eagle River, WI
Comments:Just own my club tournament with this. Caught over 10 bass, 6 where keepers, biggest over 3 pounds. This lure is great but the problem is now my club members will be throwing it at the next tournament.
From:Frank: Hurlock, MD
Comments:One of my favorite craws to use when fishing under pressure. Its versatile and also easy to use when rigged right. I've caught many quality size bass ranging from 2 pounders to 5. I love how the fall of the cover craw sinks in the water. It actually glides away from you. Sick!!!! I also mention that the craw does not need any type of weight.....just rig one on and cast, pitch, flip or even skip the lure!
The only downfall or cons about this is the plastic tears up really fast when you set the hook on a fish. Also the tentacles on the head can be rip very easily if a blue gill or small bait fish gets to it. The prices on these craws are starting to rise.....wished it can be back at the original price of 4.49 and the quantities should be a little bit more higher rather than having 6 or 7 especially if you're paying 6.49 for them. All in all though, its an awesome lure to use and I would never doubt these craws.
From:Rich: Aurora, IL