Jackall Crosstail Shad 8pk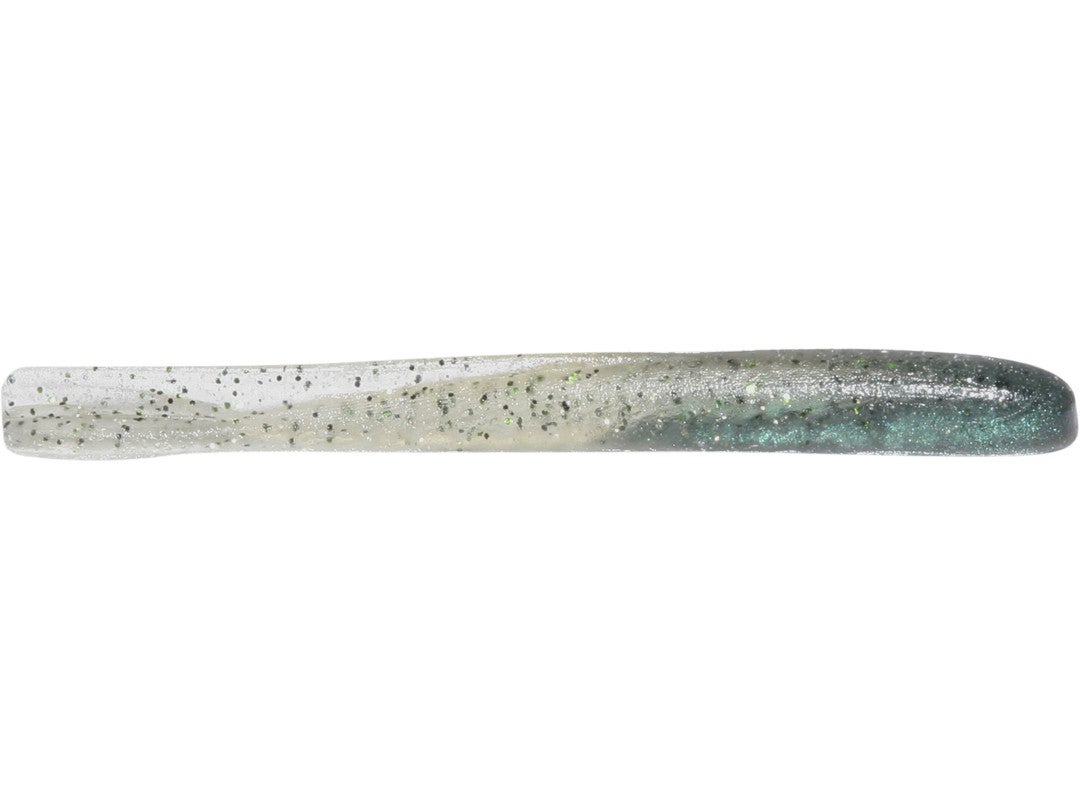 The Jackall Crosstail Shad was the very first soft plastic bait developed specifically for drop shotting. Since its introduction to the bass fishing world in 1999 the Crosstail shad has been a staple for Japanese anglers. The Crosstail Shad has now been made available to the United States and should be in every serious bass fisherman's arsenal. Jackall's Cross Tail Shad was designed to match the natural characteristics of baitfish throughout the country.
This 4" soft plastic bait has the profile and action of baitfish when fished correctly. The Cross Tail Shad has a rounded large head that blends into the slender top side of the bodygiving it the realistic action that fish desire. This bait is extremely effective when nose hooked on a drop shot rig and fishing it around suspended fish that are near balls of bait. The Jackall Cross Tail Shad comes in a variety of fish catching colors that are salt impregnated to give anglers confidence when fishing is tough. The Crosstail Shad is hand poured and is the perfect drop shot bait!
Kota Kiriyama drop shotted suspended fish over 30-90 feet with the Jackall Crosstail Shad, A.K.A. Crazy Ninja Worm, soaked in Berkley Gulp Spray en route to his first B.A.S.S. Elite Series victory at Lake Erie.
| | |
| --- | --- |
| Length | Quantity |
| 3" | 8 |
| 4" | 8 |
15 Colors
More From Jackall Softbaits
Customer Reviews
Comments: To say the smallmouth hate this bait (or love it depending on your perspective) is a heck of an understatement. This bait flat out puts big bronzebacks into the boat!
From: Lucas: MN 6/6/16

Comments: This bait flat our catchs fish. Sometimes I don't even shake the lure. I just let the current do the job. This has out beat other bait in the boat when fishing side by side on drop shot. I recommend this to anyone wanting to get into dropshot. My favorite set up is abu garcia veracity 6'9 ML pair with pflueger limited edition president reel in sizes 30. This is light and sensitive for drop shot.
From: Phong: USA 4/5/16

Comments: My new dropshot go to bait. Has insane action in the water when nose hooked. Slayed some lock jawed largies with it. They wouldn't touch anything, senko, bento minnow, jig, beaver, spinnerbait, etc. Put this on and proceeded to catch fish. Pretty durable as well, managed 5 fish on one before I was broken off on my 6lb line.
From: Ryan: East Wenatchee, WA 5/22/14

Comments: Roboworms and this bait are some of the most effective finesse baits made. The flat bottom makes the bait glide a big, and like a robo its super soft. Let others buy $10 packs.of super exact baits. The action on this bait will almost always beat out a super detailed imitation

Comments: not just for dropshot, Billy. Many more uses, which I will leave up to u to figure out. Downside: spendy. Upside? Trendy!

From: meatwad: not trendy

Comments: Wow! These baits really put 'em in the boat when it gets tough! Unassuming little things, but they kill on a drop shot. Love the baby bass color.

From: The Whiz: Henderson

Comments: This bait is a killer for bed fishing i caught so many bass with this tiny bait one of bait out in the market thanks to Jackall!!!

From: Mengo: CA

Comments: This bait is awesome and murders bass when drop shotting!... the baby bass color actually looks kinda like a shad and occasionally even big trout will eat this bait!!!

From: Anthony: CA

Comments: Excellent baits for dropshotting Erie smallies. It gives a great goby profile that they eat up. The only negative is they are not durable at all. I went through a whole pack in about 30 min, but was catching fish about every cast so it's almost a fair trade off.

From: Destin: Erie, PA

Comments: I DONT KNOW WHAT THIS LOOKS LIKE TO A FISH, BUT THEY FLAT OUT EAT IT !!!!!!!

From: IDREDFISHIN: Norwalk, CT
Comments:This bait is awesome. Has an unique "shake to it" when you move the rod. The ayu color has a little patch of color and it seems to have some glow in the water and really sticks out. Looks Great.
From:
Comments:The Best Drop Shot Bait I have ever fished. This is my go 2 bait, constantly produces smallmouth and even northern. Soak it in the gulp and they can not resist.
From:B: Buffalo, NY