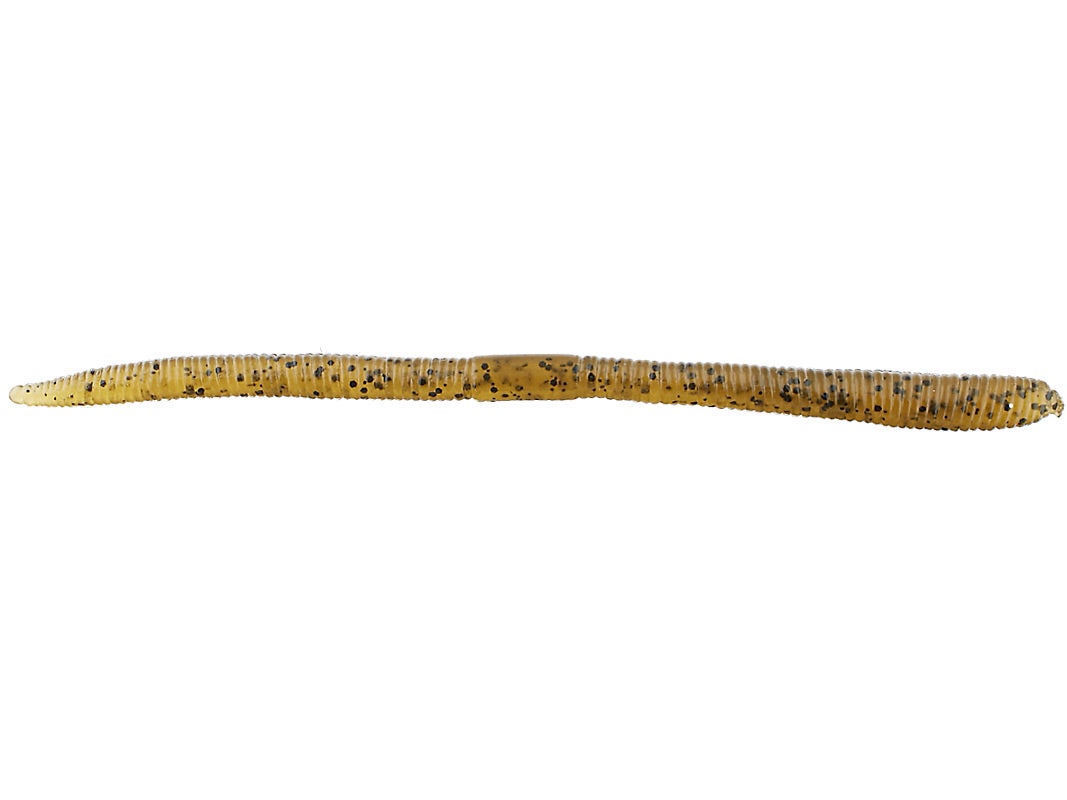 Jackall has developed a specific Flick Shake Worm and Wacky Jig Head, which work together as a system. The Jackall Flick Shake Worm has a built in curved design, which creates a squirming action that the fish cannot resist. The Flick Shake Worm is also salt injected and has a live bait scent. The jig head's eye is designed at a ninety-degree angle for better hook setting and less snags. The hook has a short shank to allow the worm more action. The tungsten weight allows the worm to sink faster and has a smaller head to create the right action. Jackall mastermind Seiji Kato used it to win the co-angler title at the 2007 Amistad Bassmaster Elite.
Jackall Weedless Wacky Jig Head
Try fishing the Octopus Rig, the newest way to fish the Jackall Flick Shake in Japan. Use two Jackall Flick Shake Worms, offset at 90 degrees, on a Jackall Weedless Wacky Jig. After rigging both worms on the jig head rotate the first 90 degrees and run it back onto the hook, creating an "X".
Click here to see some video on Jackall baits with Curt Arakawa at ICAST '08.
| | |
| --- | --- |
| Length | Quantity |
| 4.8" | 8 |
| 5.8" | 7 |
| 6.8" | 7 |
11 Colors
More From Jackall Softbaits
Customer Reviews
Comments: I have been using these since mid season 2016. They are AWESOME! The number of 5+ pound bass I have caught on these is staggering. Pretty much every single time I go out. I had to switch back to worms when the bass at my local honey hole stopped hitting crankbaits. I was using Berkley Power Worms, but they weren't quite cutting it. I bought the Jackall Flick Shake's on a whim at a local tackle store and decided to try them out. It wasn't long before the big girls started gobbling them up! They love these things! The only "con" is that these worms are very fragile. But the the way they are made is also why the bass hit them! They evidently look irresistible in the water. I mostly rig these on a shaky head and tick/hop them across the bottom in brush or at the edge of grass.
From: Jason: Cape Girardeau, MO 12/27/16
Comments: 4.8 for smallies when I can't get a bite. Worm like no other. Narrow river with a little bit of current and these things shine. Small split shot or 1/16 Oz wacky head and just let it drift in the current. Usually doesn't take long for it to get smacked and choked. Not necessarily a big fish bait, but it can turn a bad day around for sure. I prefer it to the Senko in most scenarios.
From: Mark: USA 7/13/15

Comments: These things will catch fish when nothing else will. The only down side is durability but I have figured out a trick. Take two o rings and tie them together with the wire from a bread bag twist tie and run your hook through the wire this will make them last for several fish
From: Dave: Sykesville, MD 7/11/15

Comments: I use 7in Camo and Green Pumkin wacky style and these are bass slayers. The action on these drive the bass nuts. I have to agree though the durability of these are very low basically only get 1-2 fish on each worm before needing to replace it with a new one. In my eyes its worth it because i'm catching fish.
From: Bob: NJ 6/10/15

Comments: they are absolute bass slayers. If I'm fishing for numbers, I go with the 4.8 but the 5.8 in watermelon red flake just seems to get me the bigger ones out of the Ohio. The only thing that sucks about these is they tear super easy because they are super soft but that's what makes them work so well I think.
From: Jesse: VA 6/2/15

Comments: This is a great product. I use the 4.8 in a cola color and absolutely smash them at one of my favorite ponds for bank fishing. I caught 15 in about a hour and a half. I throw it on a 6'8" St Croix Mojo spinning rod with a Shimano Symmetry 3000 and 6lb Seaguar InvisX. Rig it wacky and weightless with a 1/0 VMC wacky hook. Deadliest combo for finesse fishing in clear water.
From: Nick: NJ 12/2/14

Comments: These have been out for like 32 years, so they are not new...but they are still catching fish. They work, no matter how you wanna rig them. So buy them. If I say they work, they work. You can trust Uncle Jay.
From: Jay6: USA 10/8/14

Comments: I got these after reading a few reviews and watching some videos. I never really caught anything on them, just little bites from little fish. I was going through my stuff and wanted to use up some of my opened plastics before winter. I took all my Fick Shake Worms and 1/16th oz Owner Wacky Jigheads. Holy $%@# balls! I caught 12 fish, all of them on the flick shake 4.8 and 5.8 Cola and few on the 4.8 and 5.8 junebug. I hooked at least another 12. This thing works! I was catching bass, catfish, bowfin, bluegill, yellow perch and white perch all on one bait! Just wished they lasted longer on the hook.
From: Cal: Virginia Beach, VA 9/29/14

Comments: This is my go to soft plastic! Bass absolutely love them. I use the "inchy wacky" method on bedding bass, and they slay it! My wife recently received orders for Germany, and I've been using them over here as well. Slaying Pike, Zander, and Perch. The sell a 3.8" version over here. I wish Tacklewarehouse carried this size. They are great on finicky fish, and after cold fronts. I'll have to stock up before we come home. I can't say enough about this bait! Amazing action, and they just plain work! Get ya' some!

From: Phil: Landstuhl, Germany

Comments: Holy Crap! this bait works! Rig it wacky on the jackall tungston weedless jighead. Tons of bites, i went through two bags in a day catching 15 bass. The plastics on this bait is durable, just make sure to re-rigged it every two catches or it might slip off the hook though.. This bait outfishes Zoom's trick and finesse worms.

From: Tim: NC

Comments: holy crap.......freakin amazing bait....went though a pack in 50 minutes....the catch tons of fish........big and small......not durable, last maybe 2 fish max.....still worth it

From: Mitch: s, WIherwood

Comments: Awesome! Fish em the same way as a senko and you'll kill em. Produces big fish as well. The place where I fish, bass wont touch the senko, but love this bait.

From: Mike: Chicago, IL

Comments: these were one of my go to baits i would catch 7 fish in only 2 hours and 30 mins my favorite colors were camoflauge sun burn punkin pepper

From: Brian: Costamesa

Comments: QUICKLY becoming my go-to straight tail. A friend tossed me a pack to try about a month ago. Thanks to him, I am ordering more, and hese turkeys aint CHEAP. But ya know what, kids? They are pretty durable.

From: Meatwad: Keeping Japan's economy goin strong.

Comments: AUSOME! Best lure ever designed! Use it for whatever the situation calls for, they all work great. Fish suck em' up and just swim away with em'! I wish there was a chartuese pepper color. I just wish they would stay on the hook longer!

From: Jerry: Blue Island, IL

Comments: I used this all year last year and they are a lil pricey but i love em. I used the zoom finesse worms instead bc they r cheaper but i they arent the same. These in my opinion are the best wacky worm with the smallest wacky jig head. I have caught 28 bass with in about 2 .5 hours. Good worm for anyone!

From: Ryan: Lincoln, NE

Comments: These work. In my opinion, it is a bit of a toss up between these and the Zoom Trick Worms... Most days, I'm throwing the Trick Worm (E.g. Wacky Rigged), but some times/days, the flick shake worms seem to work better for my friends and I. Don't ask me why or how this happens, as I'm not sure myself, but it does. Not often, but it does. The Watermelon colored varieties work best for me and my buddy, on most days (E.g. Central Florida ponds and lakes), but some odd days the June Bug or Candy Bug colors work better... Mileage - I.e. success, with colors in your area will likely vary, so start with colors close to what works in your neck of the woods...

From: Shawn: Tampa, FL

Comments: You have to fish it with a weight, i like to fish my wacky worms weightless just based on the lakes that i fish and these sink way too slow. good worm but would be awesome if they made one that you could fish weightless

Comments: best wacky rig worm on the market period. The best color for me is Cinnamon solid.. Buy them you will NOT be disappointing!!!!

From: Jason: USA

Comments: All I have to say is wow, I've never caught so many bass in an hour ever before. 10 bass in an hour, biggest being 4lbs 3oz. Just pitch it into any kind of cover, be it timber, a weed edge, drop off, etc, twitch it a couple times, and hold on. I had the best luck with the bluegill color.

From: Mike: Waukesha, WI

Comments: this my fellow ninjas is the bomb! i have caught 27 large mouth in about 3 hours biggest being 9 lbs. use the 6.8 inch with 3/32 jig head wacky style and get ready for the big fish.

From: Bob "big boy" Pham: Auburn, AL

Comments: This is my first full season fishing bass. On my second outing this year (6/5/11), I caught a ~4 pounder, a slightly bigger bass than the previous weeks personal best. I was using a 3/16 oz. wacky jig I bought off of eBay with the Flick Shake worm in Watermelon Red Flake. My first two bass of the season were both new personal bests!

From: Austin: St. Paul, MN

Comments: All I can say is man, this bait is the $%#!!!! It catches bass, when nothing else will. I buy them quite frequently because
they get blasted when the big bass hit it. I dont mind this bait is awesome!

From: Brian: Akron, OH

Comments: This is my go to bait when nothing is working. Caught a pile at KY lake last weekend under very tough conditions. I take a small piece of shrink tubing and slide it over the middle, run the hook through that, last 5X longer...

From: Dave: Kentucky

Comments: What a great spawn bait. Jiggle it on the bed and POW! Caught 20 + lbs in 3 hours on a very heavy pressured lake.

From: Matt: Fredricksburg, VA

Comments: I fish this bait texas style with great success. I try differnt colors and and retrieve methods depending upon conditions here in south florida. This and chompers are my go to baits when conditions are rough. Caught many 5 to 10 pounders. Junebug and cola seem to be the best colors. Much cheaper than the senko anf the action is great. Thanks Tackle warehouse for introducing this bait!

From: Larry: Coconut Creek, FL

Comments: This bait was designed for wacky fishing and "inch'wacky", and it really is one of th ebest ever for those 2 technics. Its molded bent body provocate great action inch'wacky rigged on a 1/16 or 1/8 oz zappu inch'wacky head. Perfect for high pressured bass.

From: Fab: France

Comments: Amazing! A little pricy and they seem to only last for a few fish but definitly a bass catcher.

From: Mike: Georgia, USA
Comments: I think it is safe to say it makes all other finesse worms obsolete. The only bad thing is for 5 dollars you only get about 7 worms? BUT you gotta pay to play. I like the 4.8 for drop shottin, 5.8 for shakey heads and the 6.8 for the wacky jighead technique. Big bass love the 6.8 so get ready. Dont be afraid to fish em on light line sometimes I go as far down to 6lb test fluorocarbon. Invizx is good, you will get a ton more bites.

From: Juan: Annadale, VA
Comments: This worm is really a bait because it always will produce a bite no matter the conditions or season. Only problem is that are quite expensive and are really soft which gives it the great action but also leads it to fly off the hook after just one fish :(

From: Sean: Rahway, NJ
Comments:I love the flick shake worm. I use the 4.8" on a Luck E Strike 1/16 oz perfect finesse weighted hook. The added weight allows for better casts and makes it a bit easier to control and detect the strike when fishing weedless around brush and wood. I fish a lot of pressured water and this worm has produced fish every time.
From:Frank: Birdsboro, PA
Comments:I've had some good fish (bass and pickerel) on the 4.8'' green pumpkin pepper on the 1/8 oz. wacky rig jig head. Still have to try the 5.8'' I have in the black red flake.
From:Joseph: Liverpool, NY
Comments:I caught 17 largemouth's in 90 minutes using this Worm. And I live in NJ of all places. This combo of Flick Shake Worm and Jackall's shaky head hook is amazing. I use no other hook and worm. And I mean never.
From:Peter: Lyndhurst, NJ
Comments:I am yet to catch fish on these Wacky rigged but on a shakey head they are deadly.
From:Andrew: Mission Viejo, CA
Comments:The 6.8" worm is a big fish magnet, I fish it with a 3/8oz. shaky head. All I can say is WOW.
From:Eddie: Georgetown, KY