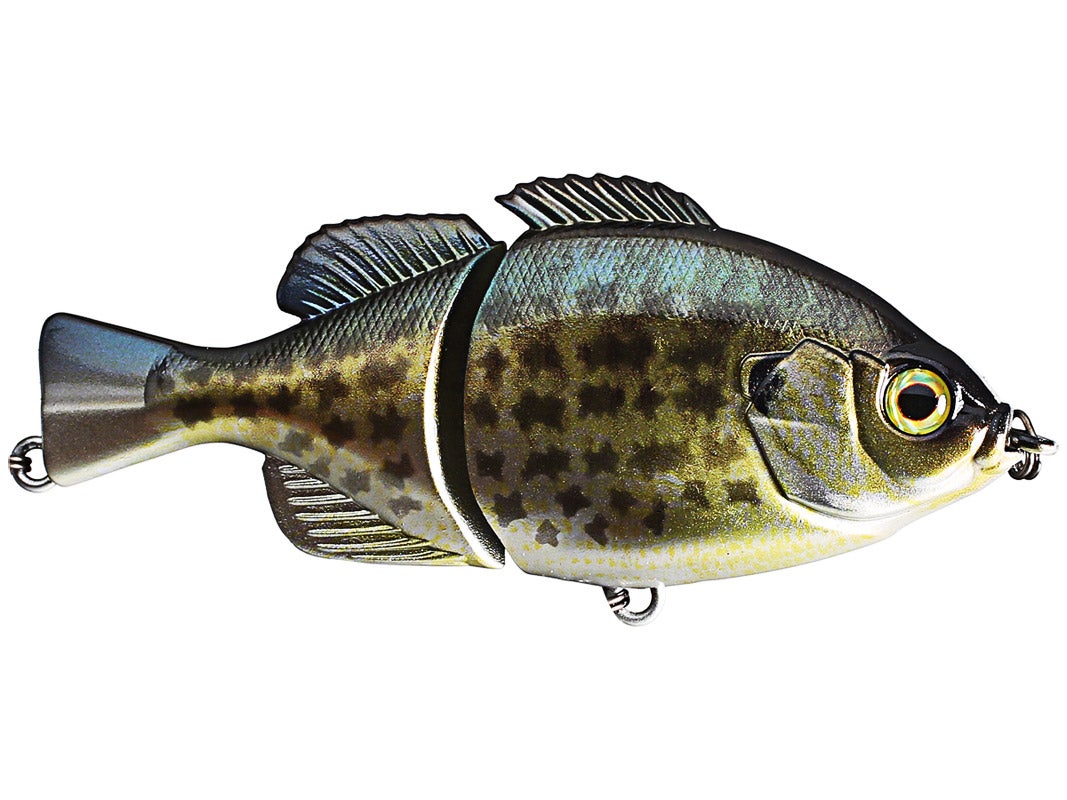 Once fish have been sore-lipped or disrupted by weather changes, they can become temperamental and hesitant to feed. Every angler knows how frustrating this can be. Even when fish become weary, the Jackall Giron retains the ability to put fish in the boat because of its supreme versatility. Slowly retrieve the Jackall Giron until you can barely feel its vibrations, and it delivers a methodic s-curve motion that perfectly imitates the look of a swimming panfish. When worked with a steady twitching, the Jackall Giron provides a lethal "walk the dog" action underwater, which is great around more aggressive fish and murkier waters. The jointed construction of the Jackall Giron comes in a number of highly detailed colors that perfectly replicate crappie, bluegill, and threadfin. No matter what body of water you happen to be fishing – if panfish are prevalent – the Jackal Giron has the potential to get you onto the podium.
| | | | |
| --- | --- | --- | --- |
| Jackall | Length | Weight | Class |
| Giron | 4" | 3/4oz | Slow Sinking |
8 Colors
More From Jackall Swimbaits
Customer Reviews
Comments: So I must say I was excited to have received my first giron a few weeks ago. I ordered the ghost bluegill & it has been slammed every time I go out fishing. Honestly it has become my go to bait. Just ordered 2 more one threadfin & one regular bluegill. I wish jackal would produce these in a large size. An 8" would be amazing.
From: Hokunaokala: Orlando, FL 5/11/16

Comments: I got one of these in the RT Ghost Bluegill color. Overall I am very impressed. The swimming action is really great at fast or slow speeds. It stands up very nicely on the bottom like it says. If you stop it just right on the retrieve you can get it to turn around & look at whatever might be following it. My only complaint is that like others have said it does tend to helicopter on nearly every cast. But considering how it performs after it hits the water I can easily overlook that. Worth every penny if your lake has a lot of bluegill in it.
From: Ryan: MA 7/26/15

Comments: great swimbait overall. Just one thing, the eye came off on the third cast. That's the only con to this bait. Haven't caught anything yet but I've had some nice strikes. Tight lines!
From: Trey: NC 4/3/15

Comments: I have the bluegill giron and the action is awesome, I swim it right underneath the surface at a decent speed and bass and big pike crush it. great lure and it's worth the price
From: Mike: Milwaukee, WI 6/29/14

Comments: I spent the money hoping this bait might save me from catching live blue gills for bass fishing. On my second cast I got hit by a two pounder and I was just trying to see how it moved in the water. It's a gorgeous bait. Slow sinking , runs true, and looks just like a gill swimming by. Water is still chilly so I'm betting this will produce even better when I swim it through a ball of fry being protected by a big old bass. I think it will be worth the money. I fish a small pond, skinny water, pretty stained. I was using the Orange belly version. Bought another one just in case I get hung up.
From: Chuck: Bergen, NJ 5/23/14

Comments: Bought a few of these last year just to try them out. Well I have to say these little babies just work. The post spawn smallies just crush these things. I have caught some largemouth on them but I just can't believe how the smallies crush these things.
From: Bill: WI 4/14/14
Comments: I don't use it as a swim bait. When the Smallies are on the beds, and I mean the 5+ gals that won't take a soft bait, just drop any one of the Bluegill colors in and they just come unglued. The key is that the lure sits upright when the trebles hit the bottom.

From: Bruce: Hubertus, Wi

Comments: one of the best small hard swimbaits out there. I fish the ghost bluegill color and it's outfishing the baits I usually throw in this pond. Very durable, and you can walk the dog with it or pop the rod and it will reverse and face a follower. It gets CRUSHED!

From: Daphne: Rhode Island

Comments: Not a Fan, Ill stick with Spro.

From: Tim: CA Delta

Comments: my go to swimbait got 7 of them I want to sell 2 of them someone let me no, there in there in the package

From: Patrick

Comments: Well, I bought this lure and it was the very first time I'd ever tried a hard bodied swimbait. I use the RT bluegill color in a pond where bluegill are the primary food source for the bass there. Consistently produces fish for me, and this bait is responsible for my personal best bass that weighed 10 lbs 2 oz. The bait is durable. No chipped paint, no bent/damaged eyes/rings/hooks. I'll be investing in a few more of these.

From: Zach: Pittsylvania, VA

Comments: Awesome swimbait. I had no experience with these types of baits and was able to pick off some chunky bass first time trying it. The action is very realistic and as someone else said the strikes are pretty strong!

From: Will: Waltham, MA

Comments: Great swin bait, in two hours i caught several 5 pound crappies and bass (Great Lure)

From: Gerald: Fairfield, NJ

Comments: The weather finally broke, I did not plan on catching any fish this time of the year; I just wanted to check out the action the action and its GREAT! I bought the RT Bluegill, and man I have to say I could not believe my eyes.. I think this is going to be a fun bait to test this year.

From: Brett: Rochester

Comments: Plan to use this bait this year. Its looks better then bbz. The bbz works but this is better quality. Action is different then bbz. Check the videos. Takes some skill but i will work it this season. Good fishing and give one a try!!

Comments: i use the rt bluegill color and it works really good during the spawn work it like a bbz spro twitch it,pause it and boom set the hook!!

Comments: If you want a nice hard swimbait that has a different action then most this is it. Like others have said it is better on a slow retrieve. I wish TW would start selling the baby size for smaller fish like crappie and white bass.

From: John: MO

Comments: Great profile and appearance, decent action when at a slow retrieve. One of the better hard bodied swimbaits I have used.

From: Mark: Spokane, WA

Comments: Great action, just don't work it too fast. The bass in my local lake slam this thing in the ghost crappie color.

From: Dave: SoCal

Comments: Definitely one of the best wakebaits out there!

Comments: AMAZING!! I got one (the bluegill) to test it. it was rated the worst color and due the conditions of my pond, i thought it was going to be TERRIBLE. I bike to my pond, throw 5 casts, on my fifth, i get a monster 11 pounder!!! the hooks didnt bend, break, snap, or anything! ***** five stars! my tester made me fall in love with the giron and i immedately got the black crappie, ghost crappie, RT black crappie, and SG threadfin. Ive only used a few but the ones i used have got me fish no less than 3 pounds, im telling you, you HAVE GOT to get some of these (my personal favorits are RT Black Crappie and ghost crappie. maybe in hard conditions ill use the bluegill, but not really.

From: Peter: United States of America
Comments: I have caught quite a few bass on my ghost crappie. The biggest was 8lbs in a private pond but it does well in pressured waters too. Great bait and the strikes it gets aren't for the faint of heart.

From: Danny: Milan, TN
Comments: i have a box in my garage filled with nothing but these lil swimmers, thats how much i like these and how much they work and produce for me. they are killer for smallies, bucketmouths and ive even had some decent musky chase these down. they are like a timex. takes a lickn and keeps on tickn. and ill add weights to mine to make it a bottom bouncer feeding along the bottom and BAMMM ill get slammed by bass working to protect there nests in the shallows. these and the lucky craft real vib are my fav. lil swimbaits. they produce everytime and produce quality fish.

From: Sam: Orland Park, IL
Comments: Decent swimbait. Nice action at medium retrieve speeds. A quick jerk will make it turn around on itself. However, retrieve it too fast will make it roll over.

From: Rowland: Newport News, VA
Comments:Awesome lure! Almost TOO good, I hooked a 7 lb carp first hour using it. Don't get me wrong, the last thing I'm trying to do is hook those sea donkies, but it just goes to show the effectiveness of this across all species. Later the same day I hooked a nice 16" largemouth. I'd recommend any bass angler to buy 3 of these puppies. Ghost Bluegill, Black Crappie, and Noike Bluegill. Avoid fishing near cover, a snag or break-off is costly.
From:
Comments:This little swimbait is killer on big northern pike and largemouth bass, vary your retrieve speed fast then slow and so on. If you live by water with northerns in it, pick up this bait,its a killer!
From:Mr. BondEast Lansing, MI
Comments:Awesome swimbaits! Unbelievable Action!
From:Joshua: Minneapolis,MN