Jackall Iobee Frog - $12.99
Meticulously designed and tested to provide all the attributes serious anglers are looking for in a hollow bodied frog, the Iobee's body is actually molded around its super sharp, custom-made hook to keep it completely weedless and deliver excellent hooking capabilities. It also casts like a bullet and walks with ease thanks to its specially balanced weight system. The Iobee's unique rubber legs even offer a slightly different action than traditional silicone legs for additional fish attraction. Nothing is more exciting than having a largemouth come flying out of the water with your frog in its mouth. Try the Jackall Iobee Frog today - you won't be disappointed. Engineered to perform perfectly right out of the box, there's no tuning necessary with the Jackall Iobee Frog.
| | | |
| --- | --- | --- |
| Jackall | Length | Weight |
| Iobee Frog | 2-1/2" | 1/2oz |
Comments: I think this is a cool little frog, it has it's pros and cons and it's not my favorite but it's a great frog for open water forgging. The best feature of this frog is the hook up ratio but it's cons are the legs get hung up in the hooks and if you walk it to fast it begins to sink, not the best frog for sloop due to the hooks expoosier, I'll huge it a 6/10 overall but a 10/10 on the paint job
From: JT: USA 8/24/14

Comments: I thought this frog was complete junk. I loved the color schemes. Especially the bluegill. However, after my first strike on this frog, it sunk like a rock. I threw it away after 15 minutes of use. The body was way to soft. Maybe I just got a defective frog. With the quality of all other Jackall baits I've tried, I'm assuming that was the case. However, I'm not willing to take that chance again when I can get frogs I know that work great for 1/2 the price of this one.
From: Tim: Daniels, WV 7/17/14

Comments: These frogs are very good but some will not walk as good as others. I have not been able to figure out the difference but they are not created equal. Wish for the money they were more consistant.
From: Matt: Knoxville, TN 4/15/14
Comments: the top water bite has been awesome for me the past couple months and I went crazy buying every popular frog out there. The jackall iobee frog being one of them.

Pros: Good in wood cover, this frog skips amazingly! I fish a lot of overhanging trees and I can get this frog 15ft-20ft into super heavy wood cover. Hook up ratio is good out of the box.

Cons: the legs constantly get hung up on the hooks! It's just annoying to have to stop fishing to free them up very couple casts. The walk on this frog is really weird it seems to bounce more than glide side to side. Also If your fishing slop this frog constantly gets hung up its not a good frog for pads, grass or tulles.

Overall: there's better options out there

From: Sergio: CA

Comments: This is more of a open water frog.The frog is really soft so if your throwing it into heavy or grass beads you will be likely to snag up on grass. Other than that this frog is great and catches fish!

Comments: Very disappointed in this frog. Seriously in heavy cover or grass bed it snags grass every cast. Nothing weedless about it. Threw it in the garbage!.Sticking with the Ish Phat Frog from now on!!!!

Comments: The skirt gets caught in the hook a lot and it snags more weeds than most frogs. But worth putting up with because it walks awesome and hooks fish great. Had best luck on the chart and bluegill. Not so much on black.

From: Donk
Comments: These frogs are one of the best frogs on the market. I had a problem with the first frog I ordered and I contacted jackall about it and let's just say there customer service is excellent they sent me two replacement frogs in the colors of my choices for the troubles. This frog is the best in open water around standing timber, laydowns, and of course docks! Doesn't come through the thick stuff very well but that's alright for me. I have better success punching the thick stuff anyways. Great frog by a great company JACKALL FOR LIFE!!!

From: CJ: PA

Comments: This isn't my favorite heavy cover frog, but it is easily my favorite open water/dock/sparse cover frog. They do take a beating, but they seem just like the spro in that regard. Either way, I love this frog and will definitely keep it in my arsenal. Great bait from Jackall!

From: Ryan: IA

Comments: Great open water frog with excellent hook up ratio, very soft out of the box, love spros but this will fit into the arsenal as well

From: Chris: San Jose, CA

Comments: this frog walks much easier than others for me. Soft, strong hooks and the hookup ratio has been very good. Another quality product from jackall

From: Jacob: Atlanta

Comments: I love this frog! easy to walk and hook-up is superb! I use this frog a lot. The frog is very soft and can cast in the open water very far. Thinking about getting another color.

From: Brian: CA

Comments: Easily Best frog on the market, wish they were more durable go through a lot of them but you gotta pay to play in this game. I can't believe people are saying that the booyah pad crushers and spros have better action than the iobees's and don't draw water that is not true all frogs take in water. Bluegill is my favorite pattern. They fish slightly different than other frogs, the walk the dog action on these is incredible and the hook up ratio on these is nearly 100 percent. Bass absolutely choke these frogs!

Comments: Well, here are my initial impressions of the bait. I do quite a lot of frog fishing down here and have sampled most of the more popular makes. Colors are nice and finish is pretty durable. Does take in water but not much different from the SPRO in that regard. Walks just fine; better than the Spro and comparable to the Ish frog. Comes through the spatterdock type pads we fish better than any other frog; more slender front profile slips through the "pad cracks" effectively. Pretty useless around any vine type cover though, with a tendendy to roll and expose the hook. We fish a lot of knotgrass, needlegrass and maidencane so thats not good. Did catch fish although its not really frog season right now. All in all a worthwhile addition if not a replacement for my spro and snag proof arsenal.

From: LD: Hollywood, FL

Comments: id much rather use the kvd sexy frog takes in no water walks really well and has much more colors for a cheap price

From: Noah: Hidden Valley Lake, IN

Comments: worth the money. very good at walking the dog.

From: Peter
Comments: I have a bluegill,haven't try it out yet,but it look so good and walk good (in the bucket).

From: Dophahato: HCM/Vietnam

Comments: Hookup ratio on this frog is above average. Sits low in the water and bass just suck it down like a toilet with a strong flush! Nice sharp hooks, so get your pliers ready because it goes super deep inside the mouth of the bass (i think its due to its skinny width). I did find that trimming the legs to the length of the frog itself helped it walk so much better.You'll also find that with enough practice, this frog can be walked in place, which irritates the hell out of bass and they just want to destroy it.. but don't be fooled by the "weedless" description because that is bogus. It does go over pads fairly well but over nastier stuff, it will get tons of spinach and its own legs as well. Also, if you use it for an extended period it will definitely take in some water. Just reel it back and squeeze the water out, not a big deal. Overall I will say its not the perfect frog but its one of the better ones out there. I'll give it and 8 out of 10.

From: Shake That Bass: Orange County, CA

Comments: Went out with a popular brand frog. It was too hard missed every fish. Did some research and decided to try the Iobee. Bought 2, hook up ratio went way up and all fish were 3lbs plus and a couple of 7 pounders. After the 7th fish it is looking a little worn but still works. Kinda expensive but I am catching nice fish, a few more fish and we will call it even. Good stuff

From: Noah: Channahon, IL

Comments: This is a nice frog but not "worth" $12.99. Booyah Pad Crashers are half the price and just as good. If money is no issue, buy what you want.

From: Chris: Indianapolis, IN

Comments: great frog is the beast frog i have this is my go to frog

From: Jon: Charlotte, NC

Comments: I bought one of these to compare with my Spro popping frog and Slither K Deps frogs. It walks very well, and is super soft like the Deps. It does not skip very well, like the Deps it is too soft, and fouls up when skipped. I also noted that after five or six fish, that it is starting to sink. Not super impressed, the Spros are much more durable, and walk just as well. These baits have the best finish I have seen, and the hookup ratio seems to be good with no modifications. Needs to be a little tougher, and needs to be a little more bouyant--in my opinion.

From: Brad: TX

Comments: Best frog I have used. Body shape and softness make for better hook-ups. The detail is great. Bluegill is a great color, though hard to find. I have bluegill and chartreuse. Both have caught a bunch of fish. I dont think the bass care about the colors as much as we do.

From: Mike: CT, USA

Comments: In review of my comments earlier, I can't say enough about the quality of customer feedback from Jackall. Great company and will order more of their products for sure!

From: Lee: York, VA

Comments: Easily the best frog on the market in my opinion. It walks like a spook with ease and comes through cover like a champ. The hook up ratio is extremely consistant too. I skipped this frog under a pontoon boat and hooked into a six pounder but my line broke because the fish shot under the boat which was rubbing my line against the underside of the boat. I plan on ordering many more!

Comments: After now fishing this frog on multiple occasions I have both a love/hate relationship. I guess with all lures they have specific applications.

Cons: In windy conditions the you loose sight of the frog under the water and it does pick up a lot of vegetation if you are fishing in heavy cover. Under certain conditions depending on the color of the frog you can loose sight pretty easy on long casts.

Pros: To Ben who says you cannot walk this fast, this is a PLUS it, you can burn the crap out of this this side to side but it stays in the strike zone much longer. I have no problem walking this frog, it is a thing of beauty. Super sharp hooks, and the shape of the body make hook sets a breeze.

I really noticed the frog shines when the bite is slow and around sparse vegetation, my hook up ration was 100% on 7 fish the other day.. I think the reason is because the frog sits so low in the water, it is much easier for them to just suck it in rather than hitting it. My hook set was more of a light sweep to give them time to swim away with it. I could not hook up with a koppers live target 65T I don't like the 55T bc its too light and does not walk the dog very well. In throwing both frogs the Kopper sits much higher out of the water, I think reason being they do not collect as much grass but also limits hook sets on not so active fish who are almost just inspecting the frog not so much looking for something to eat; again this is where I saw this frog shine for me. With that being said this frog is EXCELLENT in open water and in sparse vegetation.

Comments: This frog i give a 4 out of 10. It walks good in open water but sucks in any moss it hits. the hooks get mossy fast and they get snagged on trees and lay downs when you bump them. they go under water when you walk it fast and you still have to squeeze water too. i had 5 bits and missed them all, and one bass looked easily over 5 pounds. Spro's walk better in my opinion, and puts out more splashes and better hook up ratio. I'm staying with spro frogs

From: Ben: St. Peters, MO

Comments: Love this frog. Walks great, pops very nice as well, with the keel it seems to jump out of the water. 3 open water bass in 30 minutes and 5 out of 5 hook ups so far (which is just insane for me, usually its a 1/5 kinda deal). One issue I have with it is the first bass popped the hook out of the back so its picking up a good bit of water.

From: Lee: York, PA

Comments: This frog is a killer!! I was walking this frog until I heard a dog bark right after I turned back to look, I walked it twice and anice 4 pounder smashed this thing! I'm definitely going to buy more.

From: Michael: Merced, CA

Comments: My new favorite frog from my long time favorite company. Jackall may be a bit pricier than others but to me, the design n research they put into baits is obviously why...this frog is near perfect. GREAT hook up ratio for a frog, walks the dog well...just a nice frog. And all you people talking about weeds, be more versatile w/ the frog...standing timber, laydowns, and especially cast under overhanging trees---frogs skip very easily---these things are NOT just "pad sloshers"...u can keep them in the strike zone indefinately...it can be cast into the tightest pockets w/ out fear of hanging up..it can entice a strike when other baits won't. Broaden ur idea of the hollow body frog. "Slop-skimmin/sloshin" is why you miss so many hook ups...they're great in the thick stuff too but punchin usually out performs frogs for me in that...

From: Tanner: Cape Cod, MA

Comments: Am convinced that the hook up ratio beats all other hollow body frogs that I've fished in the past. Because of the body desigh, which allows for the better hook up ratio, the hooks tend to catch vegetation somewhat but certainly worth a small amount of aggravation when the bottom line is when you do get bit, chances are its coming on the boat!!

From: Richard: Columbus, GA

Comments: This frog is the KILLER!!!!.....at the pond!!.....caught 38 bass for the whole day and mosting all the bass are 3 or 4 pouder but the biggest one I caught was a 6 pounder!!!!....

From: Pao: Merced, CA

Comments: Great frog,best frog ive used only one problem,after two fish the belly were the hook comes out tore and now it sinks,$13 two 3 1/2 pounders cmon now i know its designed to be soft but it also needs to be durible still an awesome frog,guess its going to be $13 more for another one

From: Vaslim

Comments: good open water frog (walk the dog) but not so great in heavy weeds/mats.

From: Leng: Arkansas

Comments: well this frog is great have caught bass on them all ready here in ohio walks the dog easier then any other frog only bad thing is it catches some weeds on the hooks but it is now my go to frog

From: Mike: Akron, Ohio

Comments: caught a 3.5 and 3 on this frog last weekend and it held up very well. Walks the dog like a champ and is virtually waterproof. The only thing I didn't like about it is that the hooks sit up a little too high on the butt of the frog which causes it to catch a few weeds as it has a habit of flipping over. Overall I liked the frog but I have to say Kopper is my favorite HANDS DOWN.

From: Nicholas, Montz, LA

Comments: Jackall has done it again. They are always coming up with lures that are a step above all the rest. I got 2 of these frogs and I can say this that they have the best walking action I have ever seen. I can't wait to hit the water this spring. I own all of the Jackall lures and I can say this much about them they will all catch fish.

From: William: Hohenwald, TN

Comments: bought to of these in brown and bluegill very nice looking frogs and they r very soft come spring I think I will catch lots of bass on them

From: Mike: Akron, Ohio

Comments: this is the BEST frog i ever have!..>.
From: Pao: Merced, CA

Comments: this lure is so good i even caught one during the winter

From: David: Cali

***Note: If you have questions about this product or need assistance with an order please email your questions to info@tacklewarehouse.com
View Large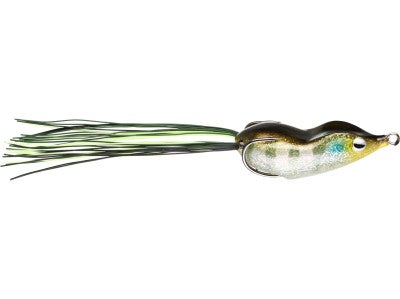 6 Available Colors
More Jackall Topwater Baits