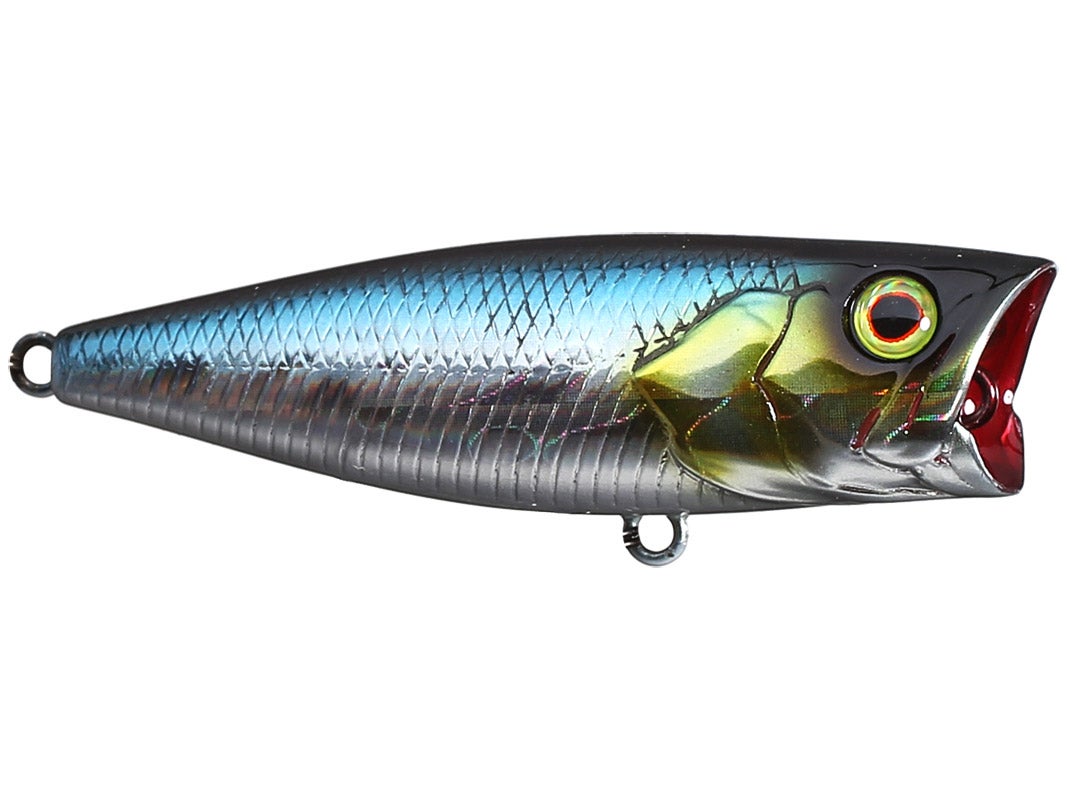 The Jackall Pop Grande is one of the latest top-of-the-line Japanese hard baits to reach the U.S. These Jackall topwaters are created using the latest materials and design technology. The prototype of each of these lures is designed on a computer to generate a 3D image. The image is then cut into the actual bait in a matter of minutes. This process allows Jackall to get the lure from idea to design to creation much faster, enabling them to get the baits into the hands of their pro staff in a matter of days or hours. This gives Jackall a great advantage; they are able to tweak a lure to perfection and present it for sale much faster than their competitors. Jackall is raising bass fishing to a whole new level with this sophisticated technology and their new materials and designs.
The Jackall Pop Grande is a beautiful popping bait with clear, attention grabbing glass eyes and detailed paint schemes. The naturally shaped mouth is cupped deeply with an extended upper rim to spit water out in front of the bait. The slightly distended belly will enable the bait to walk on lighter line. These exciting popping baits will entice heart-stopping explosions!
| | | | | |
| --- | --- | --- | --- | --- |
| Jackall | Length | Weight | Class | Hook Size |
| SK-Pop Grande | 2.6" | 5/16 oz | Topwater | # 6 |
7 Colors
More From Jackall Topwater Baits
Customer Reviews
Comments: BEST POPPER. I have tried almost every popper I can get my hands on, this is the best I have used for sure.
From: Paul: Norman, OK 3/30/16

Comments: This has become my favorite popper! Something about it just works! Not sure if its the shape, sound, or action or all of them combined but it flat out outfishes all the other poppers in my box including ricos, g-splash, and my beloved sugoi splash poppers! It would be a mistake not to have at least one in your arsenal.

From: Justin: Huntington Beach, CA

Comments: looks like a great bait just bought three of them can't wait to try them out on smallies on st.croix

From: Josh: Lakeland, MN

Comments: Best popper Ive used in my life. Ive thrown rebel, strike king, xcalibur, etc. This is definitely the best. Great color options, best action, great durability, nice hooks.

Comments: I have fished poppers for years and from all the major brands. The SK-Pop Grande has been a true top producer with detailed finishes and excellent durability it is a superb bait. Often times it will be taken on the drop or while sitting static on the surface. A great bait for river Smallies producing large fish often and consistently. Well worth the investment for a great topwater lure.

From: Rory: Windsor, CA

Comments: DO NOT BUY THIS BAIT! Cause then I can continue to hammer fish on this popper! Simply one of the best lures I've ever owed, on the first morning I tied it on it has been producing quality fish. I have a hard time putting it down, well worth the money!

From: Brian: Yuma, AZ

Comments: Incredible product. Best popper I've ever owned. Caught 10 fish in an hour. Most of them hammered it the moment it hit the water. I have never fished a lure this consistent for creating strikes. It's worth every dime.

From: Zach: Pittsylvania, VA

Comments: This is a great Bait. It moves the perfect amount water, it wont put a huge pop of there. You can also walk it and that's a big plus when it is in tight to cover. I have caught well over 50 fish on this bait in the last month. A+

From: Andrew: SoCal

Comments: Plop Plop Plop! Makes a great racket and moves the water. Typical Jackall quality - great hooks, finish, overall quality.
From: Rowland: Newport News, VA