Jackall Spade T.G. Jig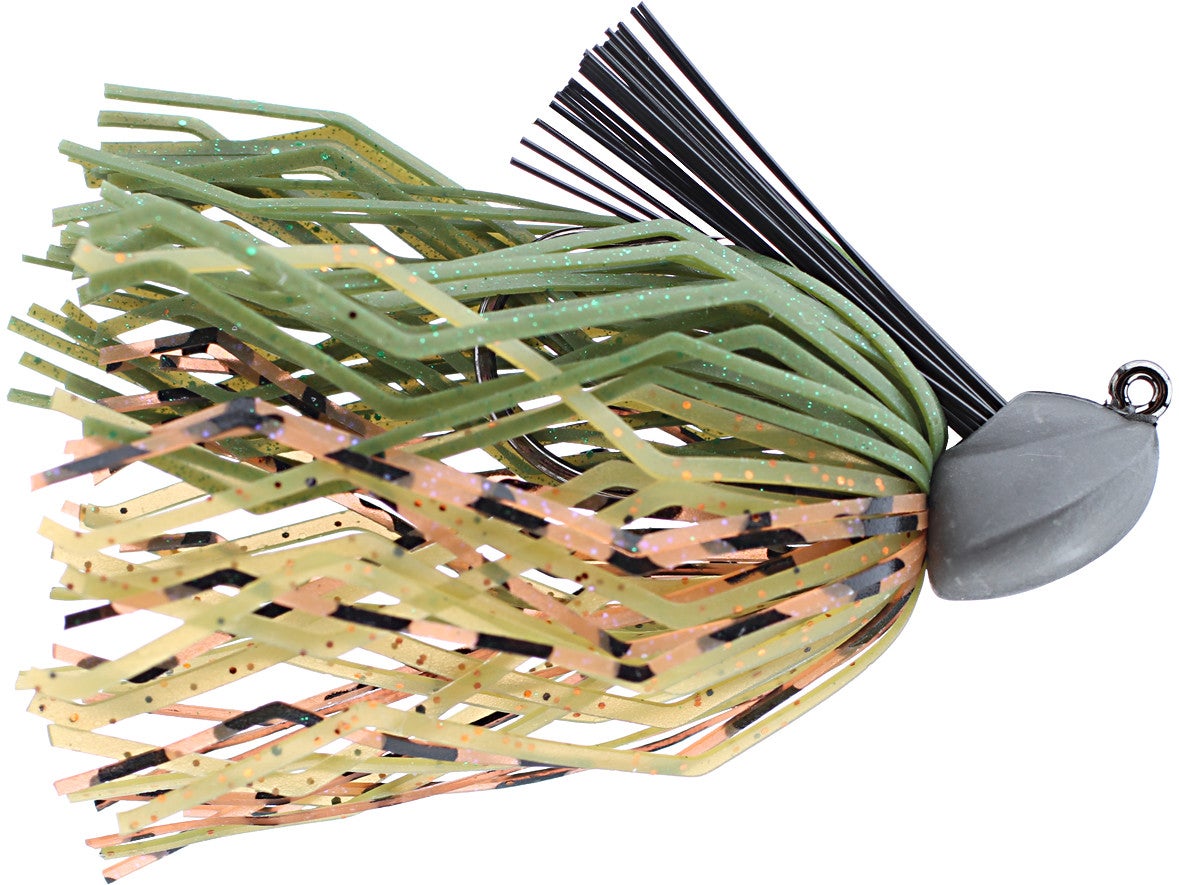 Made with Jackall's pre-bent, "spider leg" skirting, the Jackall Spade T.G. Jig moves through the water with a full-bodied, fluffed-up action that's unlike anything U.S. bass have ever seen. Designed with a unique spade-shaped head as well, the Jackall Spade T.G. Jig is built using high-quality tungsten, which makes it harder and more compact than lead. These properties allow the Jackall Spade T.G. Jig to have more maneuverability and more sensitivity than lead jigs of the same weight. When worked along the bottom, the Jackall Spade T.G. Jig forces trailers to stand up and deliver an irresistible presentation that is enhanced by the wild action of the "spider legs." Equipped with a fiber weedguard, the Jackall Spade T.G. Jig delivers a highly individualized look that will have bass doing a double take before they take the bait.
8 Colors
More From Jackall Jigs
Customer Reviews
Comments: I've used this jig last summer with a dart hog at first, and switched to the new chunk craw. The chunk craw was awesome! I agree the price is high compared to others but if you are in a tournament, you want that money maker lure on your line. My best results was on the black and blue, also the black and purple. Thank you
From: Pierre: Montreal, Canada 2/19/16

Comments: The best jig of the market. The Amber Craw pattern is killer. Has caught me so many bass, I highly recommend this to anyone looking to spend a lil extra money for a great product! Jackall knocked it out of the park!
From: Jack: Frankfort, IL 5/12/15

Comments: Although small jigs can produce some good fish, this jig is too small and the hook is not big enough. Not a fan of the price either for this jig. Its just a name brand. I would not recommend this jig at all.
From: Alex: Markham, Ontario Canada 3/20/15

Comments: These jigs are the best on the market. The head provides a perfect combination between a football and casting jig. They drop quick (football jig style) but can be fished smoothly (casting jig style) The other day i was fishing with the black and purple color and hit a nice size pike. Biggest Ive ever catch it was about 30 inches long. The jig is still in wonderful condition and the hook is still sharp as ever. I highly recommend these jig. These are the only jig i will use. I have them in almost every color and they all work great. The skirt is like nothing on the market. it is not straight like the rest it has a different shape which gives it added action when fishing it football style.
From: Mike: IL 9/29/14

Comments: The hook on this jig is the smallest I have ever seen and is inappropriately sized for what is supposed to be a bass jig. The head design is nice multipurpose design similar to the Buckeye Mop jighead and the skirting is decent. While it's silly to complain about the packaging, this $10.00 jig comes in what is basically a candy wrapper. Not what I would call premium packaging on what surely is supposed to be a premium jig product.
From: Daren: Iowa 8/23/14