Jackall Super Eruption Spinnerbait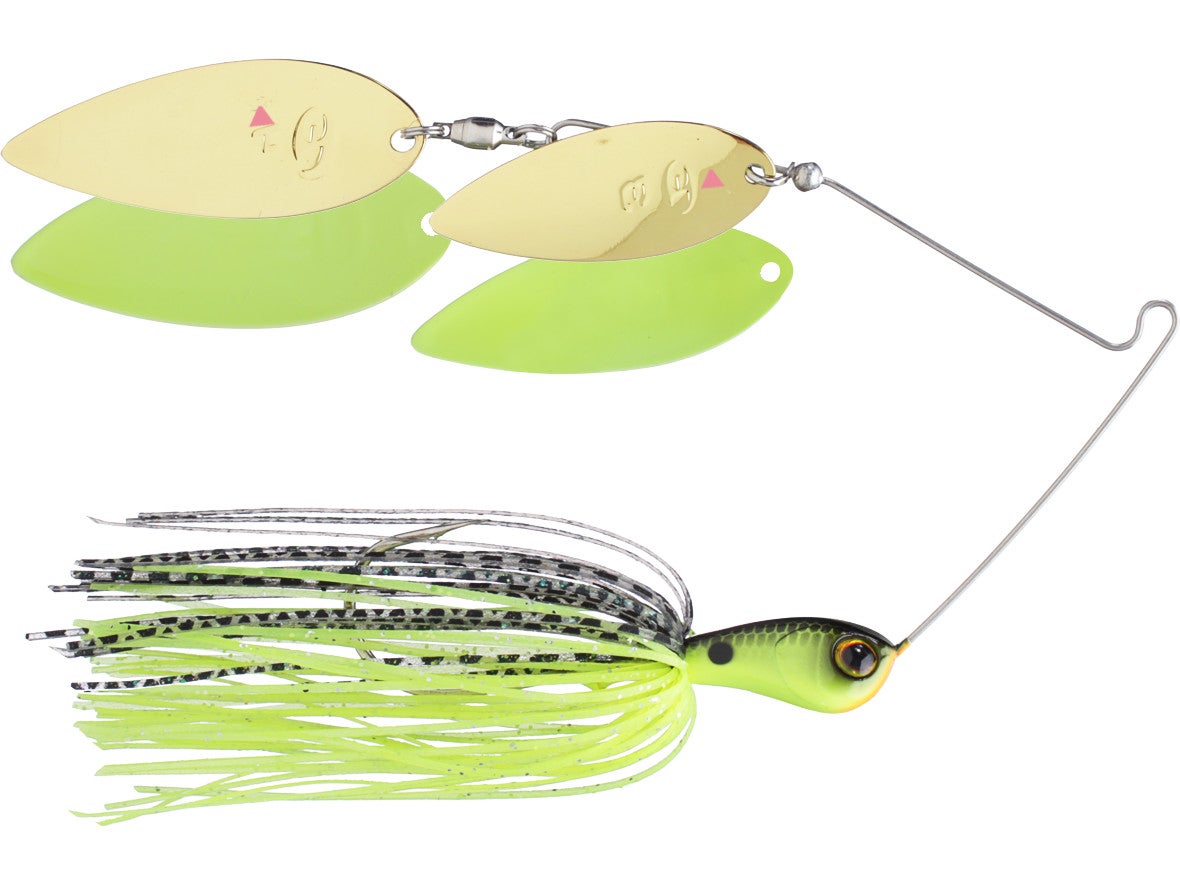 Delivering a hard thumping action you have to feel to believe, the Jackall Super Eruption Spinnerbait is perfect for dirty water, low light conditions and winter-time fishing. Built with two reverse teardrop blades, the blades puts off as much or more vibration as standard Colorado-blades. They come to life even as you crawl the Super Eruption back to the boat, while also producing the tremendous flash of willow blades. Exclusive vibration-conductive .08mm SUS304 stainless steel wire further enhances vibration and provides the durability to retain its shape fish-after-fish. As it bounces, deflects and comes over cover, the realistically painted, compact head also gives it an enticing presentation that is incredibly resistant to snagging. Armed with a super sharp Owner heavy wire hook as well, the Jackall Super Eruption Spinnerbait delivers tournament-grade performance from one of Japan's foremost lure manufacturers.
7 Colors
More From Jackall Spinnerbaits
Customer Reviews
Comments: I've had the same issue as MSharp of Lewistown PA. The spinnerbait works great, but a single day of fishing is really all it's good for. Better throw it away after that. I've had two break the wire & cost me tournament fish. A really pricey bait for only one days worth of use.
From: Steve: Guin, AL 10/16/15

Comments: Impressed at first but the lure just didn't hold up! I bought two of these this spring and was impressed with how they performed initially. I would estimate that I caught a dozen or so smallmouth on it and then last evening hooked into a good 3-4 pounder and on it's second jump out of the water it came unhooked. Or so I thought, actually what happened was the wire snapped in half and all I reeled back in was half of the wire with the two blades on it! I fish spinnerbaits pretty often and I've never had this happen to me before. I could understand if I had been bending this back and forth to re-tune it or had caught 50 fish on it and wore it out but I hadn't even bent this thing at all! Maybe I just got a lemon or just a little bad luck but it sure gave me a sick feeling to lose that big bass! Not sure if I can commit to this spinnerbait...
From: MSharp: Lewistown, PA 7/18/14

Comments: this bait is far from being worth $15. After reading reviews I I thought I give it a try. Save your money of take the money and buy 3 of something else
From: Kevin: KY 5/10/14

Comments: I fished this turkey yesterday for the 1st time. The Jacks (grinnel,etc) were all over it. They were SWALLOWING IT. The bait held up like a champ. Well,for 15 bones, I guess it better. I didn't stick a bass on it, but the blade is sick and has mad swag.
From: Jay6: USA
Comments: This is the most advanced Spinnerbait on the market and easily the best I have ever thrown and I've thrown a lot lucky craft redemption, war eagles, hawg callers, terminators, custom spinnerbaits and nothing comes close I am certainly going to be getting more of these!

From: CJ: PA

Comments: Hands down the best spinnerbait I have ever thrown. I rarely throw spinnerbaits and would not own this one if it had not been a gift, but having thrown it, I will be purchasing a couple more. Awesome bait

From: Calvin: Houston Texas

Comments: The most refined spinnerbait I have ever had a chance to fish. Every part of this bait has been well thought out. The blades spin great with little effort to get going, swivels spin smooth, wire is very strong, head is intricately detailed, and with an owner hook to boot. Very hard to compete with the whole package you get here. The $15 might sound steep at first but when you look at all the features you are getting, it makes it all worth it. Also the backside of the blades are painted to match the colorway as well. Jackall nailed it with this one and hope the release more wire baits to the US market!

From: Justin: Huntington Beach, CA