Jerry Rago SKT Pro Swimmer Top Hook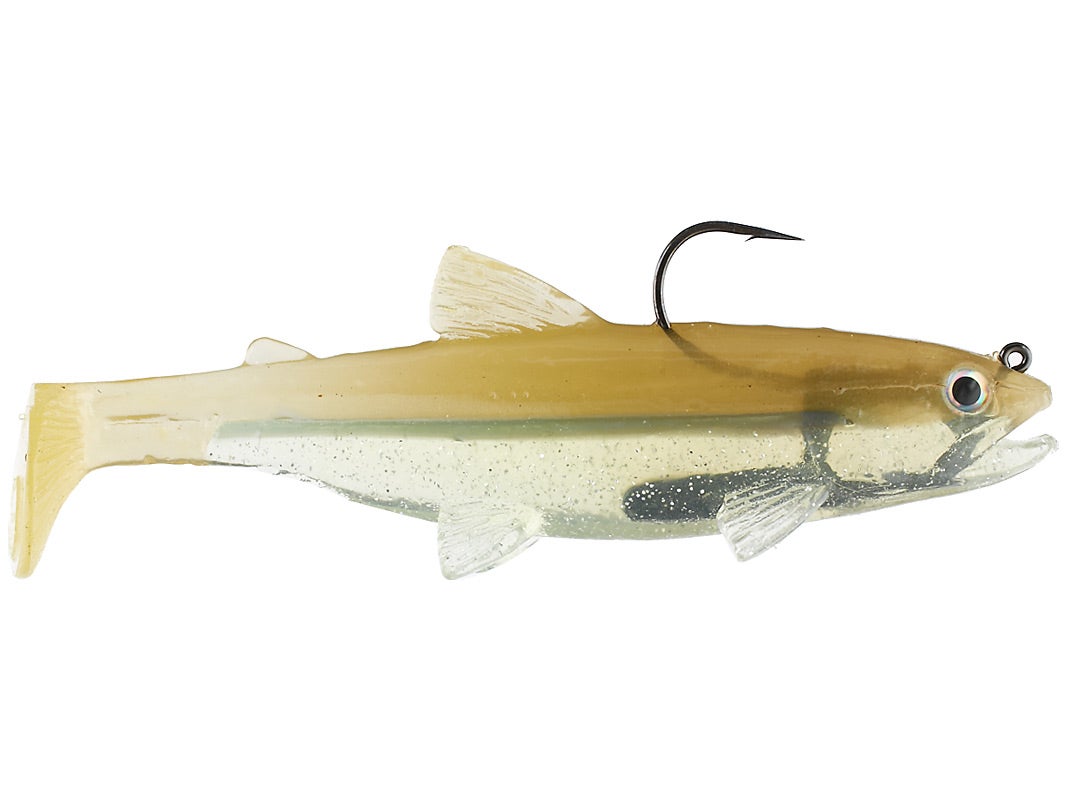 Jerry Rago Baits have long been a fixture for serious swimbait anglers out West. Accounting for numerous trophy bass over the years, the proof of their prowess is now firmly out-of-the-bag after accounting for back-to-back Bassmaster Elite Series victories on opposite ends of the US (California and Virginia). The Jerry Rago SKT Swimmer Top Hook (formerly known as the Super G) shares the same size and construction as the SKT Inline Swimmer – except for its top hook placement. Not a huge bait, it's the perfect size for attracting big bites without discouraging quality bites either. Extremely realistic and detailed, like all Jerry Rago Baits, it's an excellent swimmer at any speed - from ultra slow to super fast. Also equipped with premium components, including a super sharp Owner hook, the Jerry Rago SKT Swimmer Top Hook is an Elite Series-proven, tournament-tested swimbait - and the one Skeet used for skipping under docks in route to his momentous Bassmaster Elite Series victory on Smith Mountain Lake, Virginia.
Past Bassmaster Classic Champion and Angler-of-the-Year, Skeet Reese, recently used the Jerry Rago SKT Swimmer (in both the Inline and Top Hook versions) in route to a whopping double-digit margin victory at the April 2010 Bassmaster Elite Series "Blue Ridge Brawl" on Smith Mountain Lake, Virginia. Accounting for his largest fish, especially in the final days of competition, Skeet Reese used the Jerry Rago SKT Swimmer to dominate the rest of the field, and log in a 78-01 lb total for four days - outdistancing his closest competitor by 15-09 lbs.
| | | |
| --- | --- | --- |
| Jerry Rago | Length | Weight |
| SKT Top Hook | 6" | 2-oz (approx) |
| SKT Top Hook | 9" | 6.75-oz (approx) |
| SKT Top Hook | 11" | 11.25-oz (approx) |
4 Colors
More From Jerry Rago Soft Swimbaits
Customer Reviews
Comments: This is the best swimbait I have used to date. It works better for me than a Hudd or Matlures. Like all soft plastics that are ultra real, a shot bite and the tail is gone. However it was durable enough for my standards. Caught about 6 fish ( 1.5-5lb range) before a fish ripped tail off. The bass do INHALE this bait, a 1.5lb bass had half of it in his stomach before I could set the hook. They really like it. Ill buy more.
From: Jacob: OK 5/18/14