Jewel Bait Finesse Jig 2pk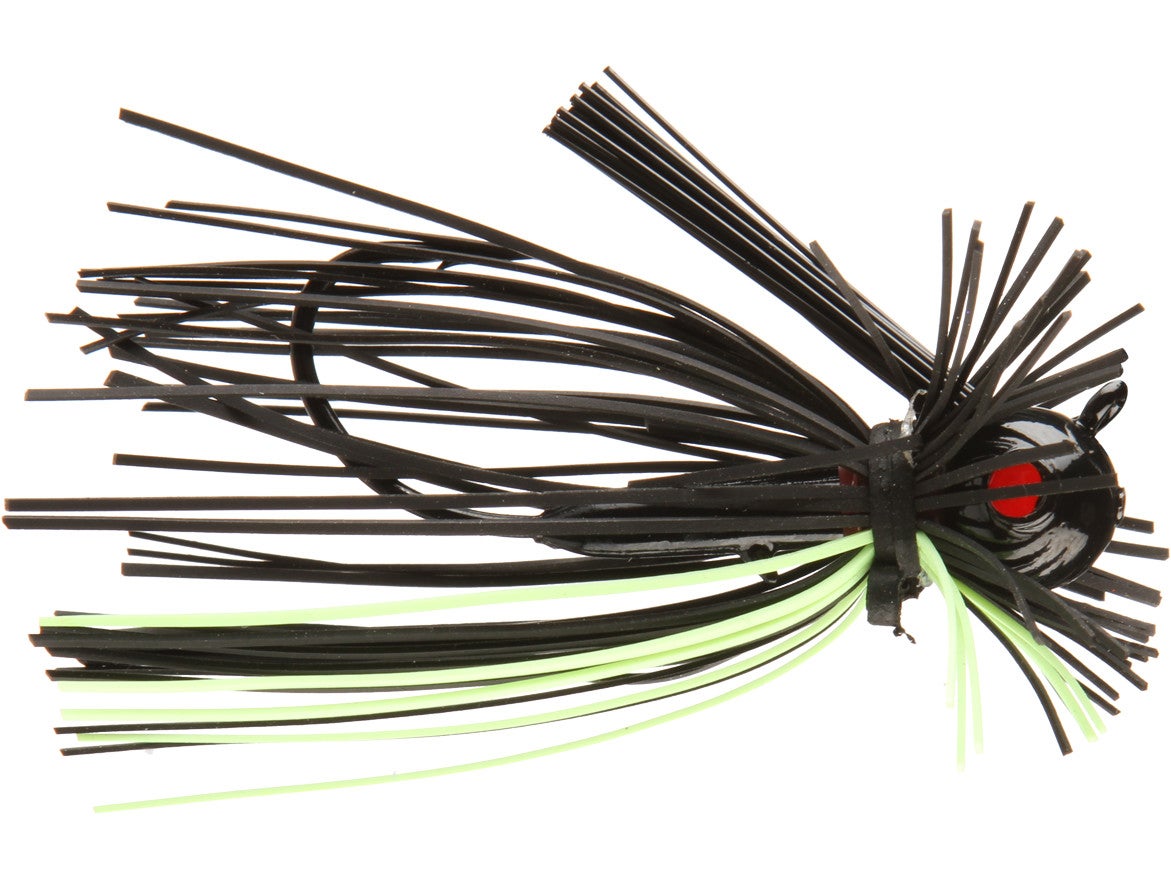 Check out the new Tackle Warehouse Exclusive Colors - TW Bama Bug, TW Clearwater Craw & TW Pumpkins!
Jewel Bait Company created the Finesse Jig and set a new standard of jig fishing. The Jewel Baits Finesse Jig is a small profile bait that allows fishermen to fish a finesse jig in the most dense cover. When conditions get tough or fishing pressure is making bass tight lipped, the Jewel Baits Finesse Jig will produce bites. Each Jewel Baits Finesse Jig features a custom-designed Mustad Ultra Point Hook and a weedguard that allows for fishing in and around structure. The Jewel Baits Finesse Jig has a round head which can be effectively fished in rocks, wood, or grass. Next time the bass won't take your larger offerings try the Jewel Baits Finesse Jig, you won't be disappointed.
25 Colors
More From Jewel Baits Jigs
Customer Reviews
Comments: Best finesse jig on the market hands down. I have been using Jewel Finesse Jigs for years & have never had an issue with the hook. Best hook up and landing rate of any jig on the market like it. They were the leader in finesse jigs 20 years ago & still are today!
From: Earl: Bull Shoals, AR 8/13/15

Comments: Best jig on the market! I never used to be big into fishing a jig, until this past year now its hard to get it out of my hand, I have tried many different styles and brands and nothing compares to Jewels Finesse Jig. I prefer buying the jig head and skirts separately. That way I can paint the heads any color I choose. But that's just me being picky haha!!
From: Tyler: Manhattan, KS 8/4/15

Comments: I am not a touring pro but am able to fish tournaments in 5 or 6 states each year & I will always have 3 rods with Jewel jigs (2 Eakins, and 1 football). They get me bit every I go, my go to bait. They work!
From: David: Louisville, KY 7/26/15
Comments: Used to be the perfect jig now they have changed the hook and it is total junk it will straightin out on you like its nothing and that's on 12 pound fluoro
From: Darrin: VA 2/12/15

Comments: I loved these jigs, always had one on the deck during any tournament any time of the year. They changed the the hook, eye color, and skirt holder. Now get lot less strikes and lose most hooked fish. Now I'm in search of different jigs.
From: Jo: Birmingham, AL 1/2/15

Comments: These jigs used to be one of my "go to" baits//jigs, caught a lot of fish on the older style jig and the hook was rock solid. Recently they have changed the hook on this jig, and it isn't for the better. The new hook is super light wire, and it straightens out on a decent hookset. I will no longer use these, as I have lost two good fish in the last couple weeks that cost me money in a tournament. If you are using anything heavier than 10 lb line and a drop shot rod, don't use this jig. Hook is absolute garbage. Jewel needs to go back to the old style hook.
From: Brad: TX 10/13/14

Comments: Dragged this jig alot last year and it did win me some money. Some baits just catch fish, this jig is one of them. Downsize your plastic for the trailer and be patient and hold on.
From: Poda: So IL
Comments: Love these jigs. Caught tons of fish and won quite a bit of money on them. Used one of these jigs in my local club classic one time in the first part of October and smashed em and took home first place with 22.00 lbs. Wish the hooks were a little better on the 5/16 oz jigs (I prefer the 7/16 because of the better hook) but other than that, keep it up.

From: Dakota: Valliant, OK

Comments: Great jig. Put me in 4th place on lake of the Ozarks. I used the same jig all day long, just simply retied after every other fish. Not sure what the guy complaining about quality is smoking.

From: Coty: Girard, KS

Comments: This is a good jig. It really needs a wire tie because the rubber bands break and then they are useless. Other then this, I have won alot of money with them.

From: Randy: Kansas

Comments: love this bait good for flipping pitching anything best jig i have ever seen if i had to pick one bait it would be this with a eakins craw trailer one time i was fishing with my buddy griffen who wrote a review we were flipping seawalls and i had a regualar jig and he had one o these and he caught 5 largemouth all keepers in 10 min on one sea wall i didnt catch a single bass this is a goo to bait BASS FISHING RULES

From: Brayden: IN

Comments: best jig ever! i use the 5/16 in brown and black and it works every where ive caught so many smallies and largemouths on one of them its hard to tell its a jig and they still take it!

From: Griffin: IN

Comments: This jig is great! i love to fish it around anything! Its great for skipping docks! 7/16 in pbj is one of the best jigs on the market. Jewel makes good quality jigs that have proven themselves many times to me!

From: Andrew: GA

Comments: This is a very good jig. works when all else fails. you wont be disappointed

From: Hunter: VA