Jewel Bait Football Flop Top Jig - $2.88
The Jewel Bait Flop Top Football Jig features the winning Jewel Football Jig Head design - now with Jewel's new Flop Top skirt. Utilizing a layered configuration of long, wide-leg silicone strands on the outside, and regular-cut silicone strands on the inside, the Flop Top skirt provides an undulating swimming action under motion, and then a two-stage "unfolding" process to reveal the trailer when the jig comes to rest. The Flop Top skirt also bulks up the bait's profile and slows its fall. Available in a range of colors, the Jewel Bait Flop Top Football Jig also comes equipped with a Jewel Bait exclusive extra-strong, black nickel, diamond point J-Bend Hook.
No customer feedback has been added yet! Be the first to write something about this product.
***Note: If you have questions about this product or need assistance with an order please email your questions to info@tacklewarehouse.com
View Large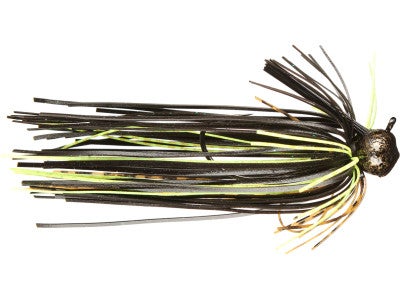 3 Available Colors
More Jewel Jigs