Joe Balog's Goby Replica Swimbait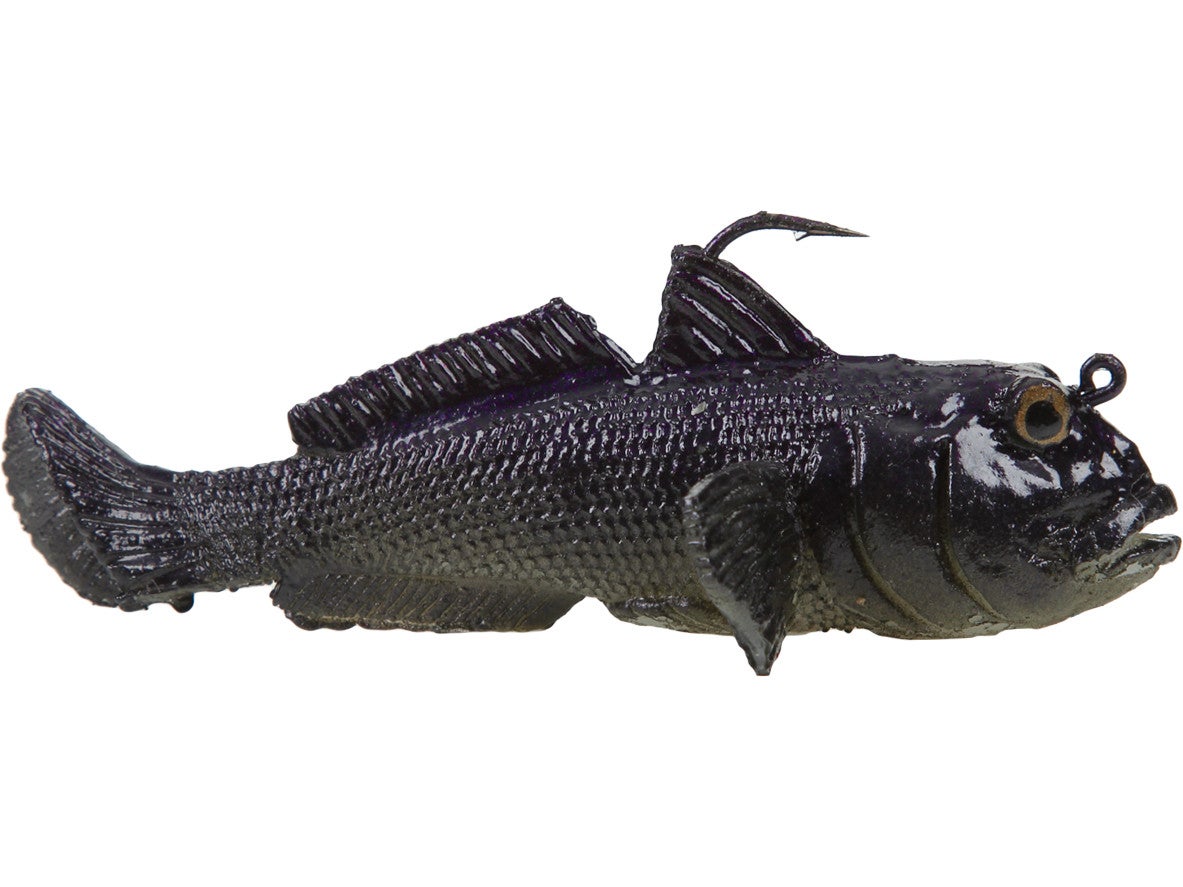 Sometime around 1990 the Lake Erie/Lake St. Clair smallmouth fishery forever changed when the Round Goby entered these waterways via ballast water discharged by trans-oceanic vessels from the Black and Caspian seas. This new addition to the Great Lakes quickly took hold as the smallmouth's preferred forage.
After eight years in development and countless hours of testing, Lake Erie legend, Joe Balog, took his considerable knowledge of smallmouth and gobies, and applied it to the concepts of California swimbaits. The result: one of the most realistic and effective trophy smallmouth bait on the market - the original Joe Balog's Goby Replica. A heavy, bottom-hugging swimbait that can be fished as deep as 40 feet, it contains ultra strong, ultra sharp hooks, and appeals to trophy smallmouth and largemouth bass, walleye, lake trout, pike, muskies and more. Unlike any lure available today - Joe Balog's Goby Replica Swimbait is available in a range of colors.
How to use the bait: Gobies lack swim bladders, and therefore spend their entire lives on the lake floor. To mimic this, the Goby Replica was designed to be fished slowly across the bottom with short pulls of the rod, rather than being retrieved like a traditional swimbait. On occasion, it is good to slightly twitch the bait to ensure it's in the proper upright position.
Tackle Recommendations: Use a medium-heavy to heavy casting rod with 14-20lb fluorocarbon.
Joe Balog Goby Replica Video 2
1 Colors
More From Joe Balog Goby Replica Swimbaits
Customer Reviews
Comments: This bait works very well in gray lake areas but if you don't let the fish have the bait for a very long time you will lose a lot of fish!
From: Barton: La Jolla, CA 8/2/15

Comments: this bait really shines in the deeper water, the weight allows to get the bottom in a hurry & stay down there. Now I'll use it anywhere but I primarily fish it in the 15'-40' range. Now you'll definitely want a decent stick for this bait, one that picks up a lot of line quickly while utilizing a sweep hook set. I personally run it on an IMX 844C MBR with a Chronarch 200E7, spooled up with 40# Sufix 832 running a 15#20# Seaguar Premier fluoro leader for abrasion resistance & stealth.
From: Bass Whisperer: Crown Point, IN 5/20/15

Comments: This bait is tough to beat anywhere on the Great Lakes. The hookset can be tricky but once you get it down this bait is awesome. Probably because it's something the fish aren't used to seeing
From: Kris: Lake St. Clair, MI 5/9/15

Comments: The "Looker" is the deal when bed fishing big ones for sure. You can see it in all different bottom types. They hate the Goby more then anything. When they hit it. it isn't a slight tap. get the big rod and let em have it! I've been using it for years now and have had some of the best big fish days of my life.
From: Erik: Twp State, MI 1/30/15

Comments: Looks good but very little actions with low retrieving speed. At 15$... At least test it for balance before packing it. Mine falls and sits on it's side. I hope its just me who received a defect, many will be very disappointed with this bait if they got the same as I did.

From: Hmoobmuas: Clovis, Ca
Comments: This bait is incredibly realistic and swims perfectly. Brought it on a trip to Grand Traverse Bay and caught a 5 pound smallie within a half hour. the fish loved this bait. It saw it and immediately inhaled it, it was so realistic the fish didn't even give it a second look! I would highly recommend this bait to anyone who lives around the great lakes!

From: Justin: Grand Rapids, MI

Comments: aght but WAY over priced. Don't get me wrong its real nice and it works but rally it is over priced

From: Mike: New Jersey, USA

Comments: these just arrived. They r much nicer in person. Wow. Super soft and unbelievably real. They will catch fish to sure. Super realistic baits are not always the answer. But I think this one is:)

From: Landry: Canada

Comments: This was my secret bait for 2012. Using a side sweep hookset is the best way for a solid hookup. I honestly fished it like a jig and caught some nice fish on it this year.

From: Daniel: Spokane, WA

Comments: This thing catches 'em - it's for real. It is the BEST big smallmouth bait on St. Clair for spring and fall. True trophy bait. Tough to get the hookset down - need a big rod with a side-ways sweep - but, once you do, it's a giant slayer.

From: Erik: Harrison Township, MI