Joe Balog's Goby Replica Swimbait - $14.99
Sometime around 1990 the Lake Erie/Lake St. Clair smallmouth fishery forever changed when the Round Goby entered these waterways via ballast water discharged by trans-oceanic vessels from the Black and Caspian seas. This new addition to the Great Lakes quickly took hold as the smallmouth's preferred forage.
After eight years in development and countless hours of testing, Lake Erie legend, Joe Balog, took his considerable knowledge of smallmouth and gobies, and applied it to the concepts of California swimbaits. The result: one of the most realistic and effective trophy smallmouth bait on the market - the original Joe Balog's Goby Replica. A heavy, bottom-hugging swimbait that can be fished as deep as 40 feet, it contains ultra strong, ultra sharp hooks, and appeals to trophy smallmouth and largemouth bass, walleye, lake trout, pike, muskies and more. Unlike any lure available today - Joe Balog's Goby Replica Swimbait is available in a range of colors.
How to use the bait: Gobies lack swim bladders, and therefore spend their entire lives on the lake floor. To mimic this, the Goby Replica was designed to be fished slowly across the bottom with short pulls of the rod, rather than being retrieved like a traditional swimbait. On occasion, it is good to slightly twitch the bait to ensure it's in the proper upright position.
Tackle Recommendations: Use a medium-heavy to heavy casting rod with 14-20lb fluorocarbon.
Joe Balog Goby Replica Video 2
Comments: these just arrived. They r much nicer in person. Wow. Super soft and unbelievably real. They will catch fish to sure. Super realistic baits are not always the answer. But I think this one is:)

From: Landry: Canada

Comments: This was my secret bait for 2012. Using a side sweep hookset is the best way for a solid hookup. I honestly fished it like a jig and caught some nice fish on it this year.

From: Daniel: Spokane, WA

Comments: This thing catches 'em - it's for real. It is the BEST big smallmouth bait on St. Clair for spring and fall. True trophy bait. Tough to get the hookset down - need a big rod with a side-ways sweep - but, once you do, it's a giant slayer.

From: Erik: Harrison Township, MI

***Note: If you have questions about this product or need assistance with an order please email your questions to info@tacklewarehouse.com
View Large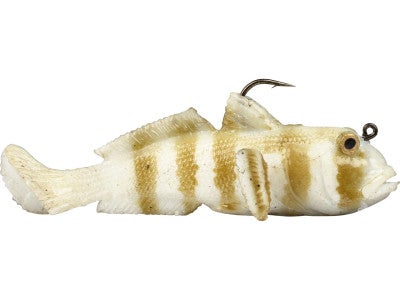 5 Available Colors
More Joe Balog Goby Replica Swimbaits