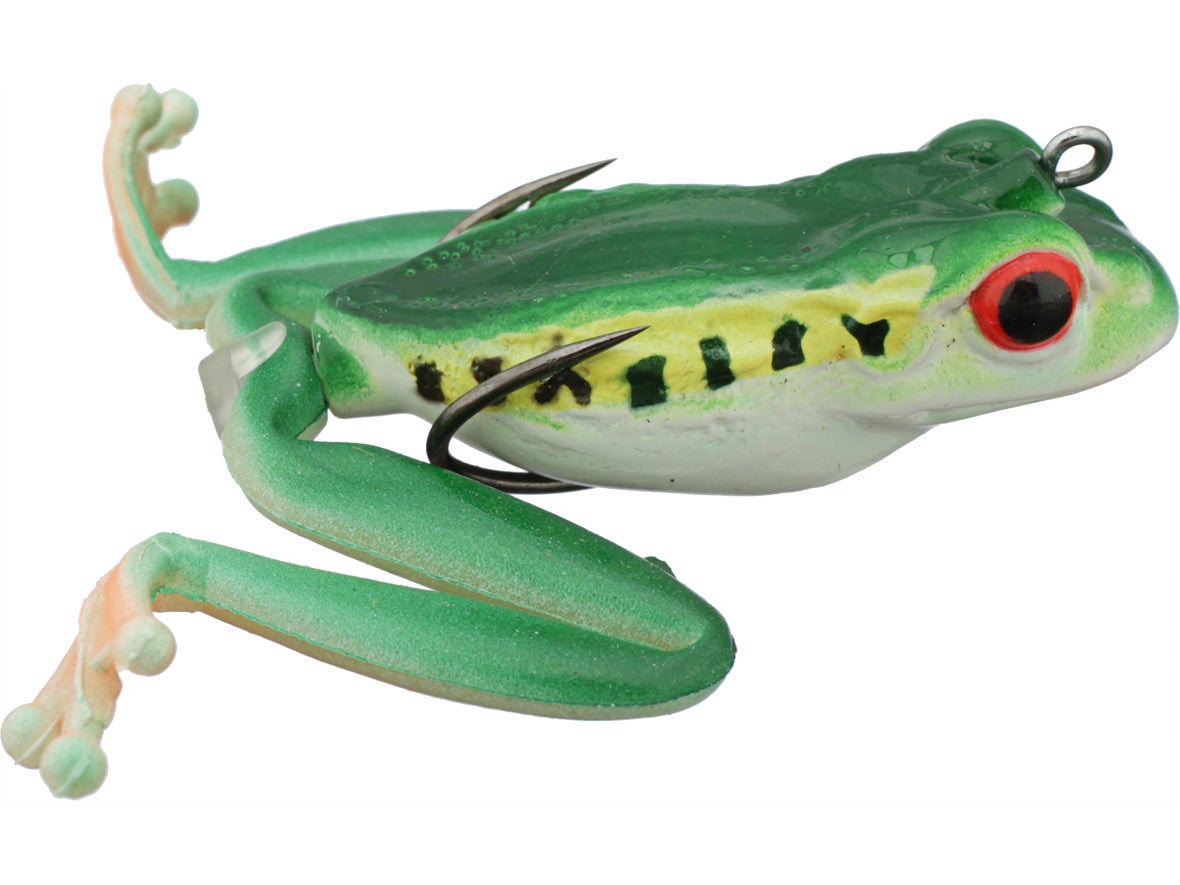 As the name suggests, the Kahara Diving Frog plunges below the surface with an enticing, lifelike swimming action. Designed for use in open pockets and around the edges of weeds and pads (not thick scum), it's an open water frog that is best when retrieved slowly.
Its precisely positioned line tie forces the Kahara Diving Frog to move just below the surface when worked with a stop-and-go retrieve. As it transitions away from the surface, the Kahara Diving Frog creates a noticeable pop and splash that will grab the attention of any nearby bass.
The true-to-form legs on the Kahara Diving Frog kick out and retract to mimic the exact movements of a real frog as it swims through the water. Offered in a number of lifelike amphibian colors, the Kahara Diving Frog will catch unsuspecting bass off-guard with its realistic details and one-of-a-kind action.
| | | |
| --- | --- | --- |
| Kahara | Length | Weight |
| Diving Frog | 2-1/3" | 2/3oz |
8 Colors
More From Kahara Frogs and Rats
Customer Reviews
Comments: This frog has a very good action with the legs that are on it BUT, on the third fish I caught the legs & the weight came off making it useless. You can purchase replacement legs for it but you then have an $18 frog. It also lands upside down even with the weight.
From: Dustin: 7/8/16

Comments: great frog! it needs a little weight added and you need to feather your cast as said previously, but once you get it right, no problems. they crush this thing!
From: Len: Orlando, FL 9/30/14

Comments: These reviews are right...the thing lands upside-down most of the time. Save your money and buy pad crashers!
From: Mike: Chillicothe, OH 6/20/14

Comments: Used this frog for the 1st and last time today. It looked very good when it was swimming but unfortunately it landed upside down 75% of the time.
From: Ray: Magnolia, TX 3/8/14
Comments: this bait lands on its back when cast. It is very difficult to fish because it continually rolls on its back when you try to retrieve it. Would not recommend this bait

From: Joe: FL

Comments: not designed as a heavy cover bait. works best in broken cover. why would you want a bait that dives INTO heavy cover? tips: Close up hooks a bit to make it more weedless but not to much. front of frog helps to deflect weeds like a squarebill. if you can get inside the frog without destroying it, cut a length of plastic worm in half and attach it below the hooks. place near the front of the frog to keep the hooks upright. also feather your cast and bring it to a stop just ABOVE the water. that will also keep hooks up.

From: Dean: Apple Valley, MN, USA

Comments: Exposed hooks tend to get caught in pads. Hard to see when making long casts. Does look good in open water. Not great in cover.

From: Jason: USA

Comments: great frog action is awesome only problem I had was 5 out of ever 10 casts it landed upside down in the water.

From: Marty: Jupiter FL.