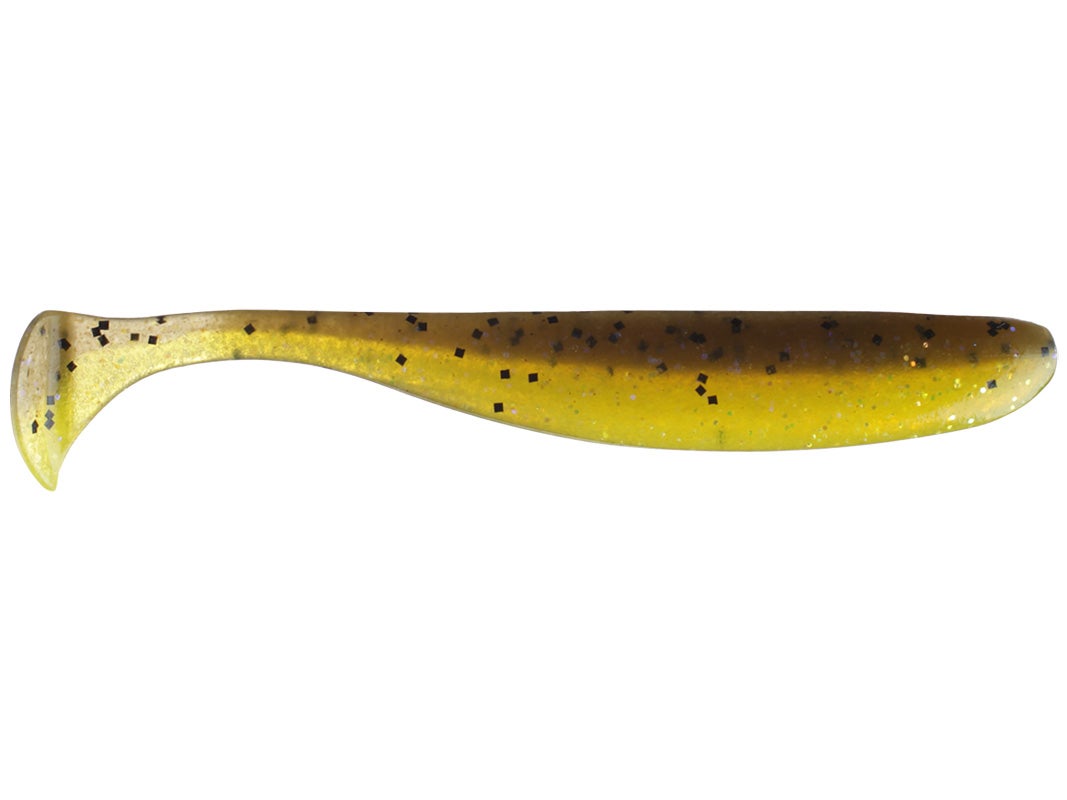 Keitech is known for their innovative designs, and they've done it again with the Keitech Easy Shiner. Featuring a sleek profile and an incredible sense of realism, its super soft composition allows the boot tail to impart a tantalizing kicking action, and due to its streamlined design, it works great around vegetation and timber. There are several rigging options, but the Easy Shiner excels when rigged behind a darter head or utilized as a jig trailer. For added attraction, the Keitech Easy Shiner is loaded with scent, and is available in a variety of proven fish catching colors.
| | |
| --- | --- |
| Length | Quantity |
| 2" | 12 |
| 3" | 10 |
| 4" | 7 |
| 5" | 5 |
18 Colors
More From Keitech Swimbaits
Customer Reviews
Comments: Between the Fat Swing Impact, and this bait you have two different finesse swim bait presentations. Sometimes, fish want the tighter wiggle of the Easy Shiner over the big kick of the Fat Swing.Great on a basic ball head or jig head. Excellent on A Rigs when the water is clear. Nose hook it on a drop shot and slow roll. Everyone throws a fluke or paddle tail on their underpins....try this instead!
From: Chris: Lancaster 11/11/16
Comments: For people used to the normal 3" baits used inshore on 1/4 to 3/8oz leadheads, the 3" Easy Shiner is TINY. I'm sure they are great and I can use them to drop shot but would definitely not recommend the 3" for use on anything but a 1/8th oz or smaller with a shorter shank hook as far as jig heads go
From: S: CA 8/19/15

Comments: Just a killer bait. Soft and relatively durable with dynamic action. Dynamite fish slayers.
From: Mark: USA 7/13/15

Comments: Keitech swimbaits are the BEST Swimbaits on the market! If I can go fishing and use the same bait to catch bass, crappie, stripers, and hybrids on the same trip, it's a good one!!!
From: Seth: TN 5/19/15

Comments: I bought Keitech Easy Shiner in a 3" inch silver flash minnow. I used an Owner Twistlock Finesse Hook #1 & OMTD Swimbait SWG Hook 1/0 I out fished my brother 10 bass to nothing. So I told him to put one on an he caught 5 bass in a row. He was very impressed with this swimbait.I give this swimbait two thumbs up
From: Salvador: Chicago, IL 5/5/15

Comments: These swim baits are the best that I have ever used for walleye and sauger fishing. I love the 3" and 4" on a jig head size ranging from 1/8 oz to 1/2 oz size. They have an action that the fish just cannot ignore. You will every once in a while pick up a nice largemouth, smallmouth, and catfish. All that I can say is they will catch fish. The colors really don't matter, I have caught fish on all of them.
From: William: Hohenwald, TN 12/6/14

Comments: This swim bait is the best one I ever used. I bought it just because it was a best seller and now I see why, I catch bass after bass after bass, swims great, favorite color Sight Flash paired up with a Revenge swim bait it's a great combo. I just ordered 6 packs more. 3" favorite match for the fall shad
From: Felix: Rialto, CA 10/5/14

Comments: Tried this product for walleye fishing in my local river. The electric blue/chart color in 3" was just to tempting for me and the walleye had the same opinion. Put them on a jig and worked them like usual. They performed admirably. I let my friend try them and he also slammed the walleye with them. My only regret was sharing to many of them because I ran out!!! I am ordering more for sure and he ordered some for himself as well. Not as durable as I would like but who cares, they catch fish.
From: Shane: NY 9/21/14

Comments: I've been using the Kietech 4" Blue Gill Flash Easy Shiner for 2 years on Lake Oroville. This works all year but when the post spawn comes and the big females come after the brood, the Green Backed color or 'baby bass' work best. Use a 1/8 oz or 3/16th oz swim bait jig head depending on the depth you want to work.
From: Howard: Paradise, CA 5/2914

Comments: BOUGHT the 4in. and the 5in E.shad and pro blue red pearl. Used it at CLEAR LAKE and killed it. Big fish was 7lbs nothing under 3lbs. Paired it with 1/8 Provider Tackle Performance Series Tube Head. Using St. Croix Rage Cast Rod 7'2" Medium/Quantum Energy Casting.Fished beds/docks/outside weedlines. BEST FISHING IN MY LIFE.
From: Big: CA 4/15/14
Comments: I'm sticking to what works and even if it cost a few cent more. You only save a few cent buying knock off. I rather be catching instead of fishing. Great lure. I just bought 4 more pack.2/17/14
From: Pao: Fresno, CA
Comments: the 4" swimbait i got in the mail is a little smaller than expected but im gonna try it out this weekend it still looks great though

From: Wesley: US

Comments: Amazing little swimbait. Just after ice out I begin slow rolling these around my favorite fishing spots and it consistently catches me bass. I rotate between the bluegill, silver and gold Easy Shiners. I love this bait!

From: Felix: Albany, NY USA

Comments: Shad colors are killer for spotted bass. 3"-4" size catch fish consistently. My favorites are the bluegill flash, crystal shad, and electric shad. Probably the best soft swim-bait in the market.

From: Fresno, CA

Comments: great swim bait. Put it with my Cali swim jig and it catches me fish. Slow rolls great. Tail is super soft and it kicks even when I barely roll it. Electric shad color worked for me.

From: striped team: flezzno

Comments: I use the 3" Electric Shad as a drop shot bait here in the Swiss lakes. And I can tell you, it's the most effective bait I've ever used. No mather if its Summer or Winter.

From: Eric: Zurich, Switzerland

Comments: If you take kids fishing with you every now and then, you NEED these in your boat! My nephew doesn't think there is any other bait in the boat. He loves the 3 inch and the 4 inch baits in silver flash on a 1/16 jighead. And he catches a lot of fish. And a good mix of fish on the 3 inchers. I love these things myself, and they CATCH a TON of fish. A-rig to anyway you can think to rig it. It just works!

From: Mark: Roanoke, VA

Comments: Put the three inch Ayu on an Owner light wire #2 or 3 fineness hook with floro leader and light brade on an ultra light spinning set up and you will catch fish. Period. Keitech has out done themselves with this bait. I highly recommended adding this to your arsenal. I fish a highly pressured pond and i catch fish with this set up all the time. If you can put it in front of a Bass it will hit it.

From: Chuck: N. Bergen, NJ

Comments: Guy's, knock-off the nonsense. Put one of these on the back of a "Dirty Jigs California swim jig" in 5 inch and let the catchin' begin. Fish it like a spinnerbait only throw it anywhere and I mean ANYWHERE!!! Grass, riprap area and edges, and OMG brush. This rig swims brush like its alive. Enjoy this setup because it works.

From: L.J.: Sacramento, CA

Comments: One of a very small amount of swimbaits that swim on the fall... great lure for casting and letting sink into deep water and slow winding back to the boat. there aren't too many swimbaits you can reel as slow as this and still have the tail kicking

From: Rob: Miffco, PA

Comments: The 4" is the best finesse swimbait out there! Great colors, great scent and salt! What more could you ask for. Bass flat out eat these things so be careful and set the hook early or you'll be digging it out of their throat. Rig it with a 2/0 or 3/0 1/8 or 3/16 oz. Falcon bait jerker or other Gama weighted hook. It will swim on the fall which is hard to find in any swimbait. These are so soft and so small, you won't pull it out of any fish's mouth. Doesn't need to be rigged on a jig head to hook every taker. It's an instant hook up even on 8 and 10 bass. Despite its small size, the big-boys really trust this bait.

From: Lee: Chi

Comments: Great lure has awesome swimming action definitely fish catcher , had great success with this bait .

From: Fishkiller01: NYC

Comments: Awesome swimbait! Very versatile! 4inch size is the best. In 3 inch I prefer the swing impact except for the laminate colors. Good job keitech!

Comments: Great swimming action that keitechs are known for, but just doesnt seem to be as nice as the swing impact fats. I will still use them when need be though. the 4 inch are smaller than you think.

From: John: VA

Comments: Used this bait on a 1/4 oz scrounger head with good results. Pick up a few smallies when the bite was tough. Great paddle tail action. Looking forward to fishing it more this season.

From: Ken: Harrisburg, PA

Comments: Keitech is a big contributor to the Connecticut BASS Federation Nation and have accounted for numberous wins as well as just some fun fishing big bites. I have yet to see this product first hand but know for a fact I will be fishing it come this upcoming season. Great products and service Keitech

From: Dan: Wallingford, CT