Keitech Model III Swim Jig - $5.95
The Keitech Model III Swim Jig is a revolutionary tungsten swim jig offering perfect swimming balance and alignment. Designed for use with the 4.8" Keitech FAT Swing Impact, it delivers a deadly presentation with its custom Daiichi super strong weighted jig head, exclusive SR-40 snap on silicone skirt, and screw-in keeper. A custom Daiichi 5/0 super strong hook also ensures rock solid hook sets and fits the 4.8" FAT Swing Impact perfectly. Cast it and retrieve it around shallow cover, flip or pitch it directly at a target or probe weed beds, the Keitech Model III Swim Jig can do it all.
Comments: you fellows that have been using the jig with the keitech trailer their is a post explaining how to modify the problems.www.bassnastyfishing.com,I JUST PICKED UP 4 JIJS AND SOME TRAILERS FROM TACKELWAREHOUSE WHAT A GREAT SYSTEM FROM A GREAT STORE TACKELWAREHOUSE TO MODIFY THE TRAILERS SO IT FITS TAKES 30 SECONDS.THE INFO CAME FROM THE OWNER OF KIETECH THAT WHAT THE PROS ARE DOING IN JAPAN.THANKS TACKELWAREHOUSE GOOD FISHING GUYS RICHARD

From: Richard: mountainside new jersey

Comments: Awesome incredible action because the swimbait trailer can rotate and flap freely because the keeper pivots freely on the jig head. But the hook is way too small and any thicker trailer will leave you losing alot of bigger fish when they start to jump. I lost 4 4-6lb largemouth in a few hours when they ran and jumped, penduluming the bait right back at me right at my feet. Very disappointint. I'd buy a bushel of em if they made an EWG no jack hook.

From: AJ: WHitehouse Station, NJ

Comments: Very good looking jig and crazy action when hooked up with the fat impact. But it's useless if there is even a hint of weeds around. It will catch every single one of them. It's too bad as I really dug the design.

From: WoodT: MN

Comments: this jig has unbelievable action under water. as for the screw, i have had problems with the plastic staying put when i use really soft handpoured trailers, but i used a chiggercraw today and like hector said, the body of the bait tore before the head came off, so. i really like this jig and i am going to have to pick up a few more because a pickeral took mine today.

Comments: Yeah i got about a dozen and lost a few. Regarding the screw, it works just fine and i use Keitechs plastic and the part where the hook goes through gets torn before the head does for me after a few fish.

From: Hector: MN

Comments: Hector, have you tried it? It doesn't matter because the threads are so small.

From: John
Comments: Youre supposed to screw it on, not push.

From: Hector, MN

Comments: good quality construction but only complaint is the bait keeper. My fat 4.8 does not stay on with tex posed or embeded rigging. The bait will be great if it uses the hitcher keeper instead, the plastic just don't grab. If someone figures it out, please post it. Thnx

From: John: Montvale, NJ

***Note: If you have questions about this product or need assistance with an order please email your questions to info@tacklewarehouse.com
View Large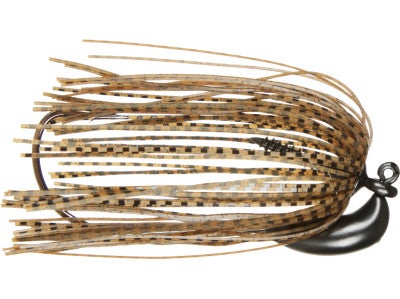 6 Available Colors
More Keitech Jigs