Keitech Tungsten Mono Spin Jig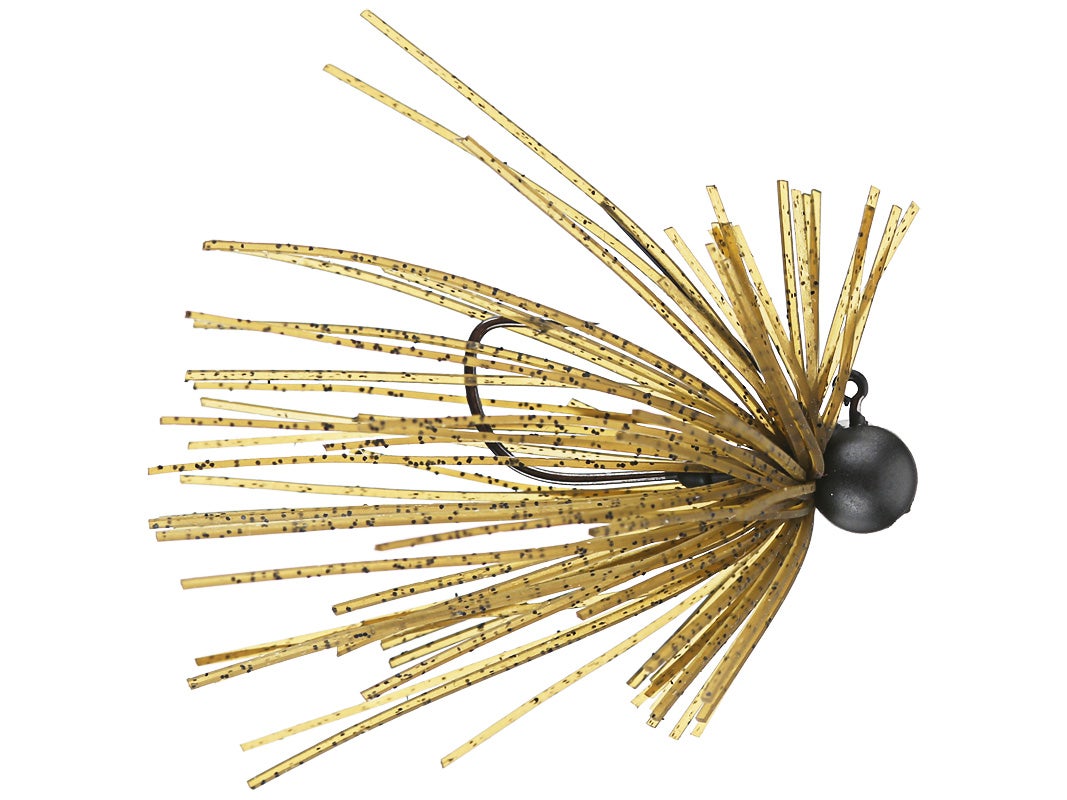 Take your finesse fishing to unseen heights with the Keitech Mono Spin Jig. Made from a special tungsten compound, the Keitech Mono Spin Jig is 30% denser than lead jigs of the same weight, which gives it a smaller, more compact profile. In addition to being smaller, the Keitech Mono Spin Jig is also more sensitive and allows anglers to detect subtle changes in structure and faint bites. The weedguard attached to the Keitech Mono Spin Jig is made from a single strand of heavy-gauge monofilament, and helps it maneuver through thick cover without obstructing hook sets. The Keitech Mono Spin Jig also features an ultra-fine, 80-strand SR-40 skirt that produces an unbelievable pulsating action. Armed with a razor-sharp #3 Katsuichi Hook, the Keitech Mono Spin Jig works wonders for post cold fronts, clear waters, or around heavily-pressured fish.
6 Colors
More From Keitech Jigs
Customer Reviews
Comments: Yeah, they're small, but that's the point. Speaking of points, the one on the hook is stupid sharp & very durable. The skirt is wire tied & lasts fish after fish. The 90 degree line tie gets good hook sets when using a light action rod & light fluoro. It's a true finesse jig that will catch everything from sunfish to big bass, so if you use the right equipment with the proper drag setting, you can land kicker fish without fear of bending the hook. Try a 2-2.5" swing impact, a 4" live impact, or the new 3" leech for trailers. My favorite thing to do is swim/kill it with an Owner Shiver Tail worm, but good luck finding those.
From: Tony: Yukon, OK 8/24/16

Comments: I got these because they looked cool and the bait monkey was blabbing in my ear to get them. I decided to try them wacky style. They really work well for wacky rigging! This thing with a zoom finesse worm and you have a killer bait. Anytime, anywhere, it catches fish. The hooks are small but they peg great and with the right rod and drag setting it doesn't straighten out. I hauled in a 7.5 lb fish a few weeks ago. Last year I had a great day and caught more than 20 fish 4 of them weight 4+ lbs on 1 jig. The skirt on the jig was destroyed by the end of the day but I would use 1 a day if it catches me 20 fish every time I go fishing.
From: Clarence: Virginia Beach, VA 3/30/15

Comments: Used these with a slightly snipped berkley powerbait 4 inch worm as a trailer in black or black grape. Caught 2 dozen large and small mouth in 3 days the largest weighing in just over 3 pnds. The last day, caught a 5 1/2 pnd pike on 6pnd flour-carbon. This was up in southern Ontario on a trip. These little jigs fish hard and obviously hold up well. Anything that stay together after a pike encounter has some good construction.
From: Joel: PA 8/27/14

Comments: these are really tiny jigs, i thought they were going to be about the same size of a 1/4oz jig only in a lighter weight..i was wrong, they are about the size as 1/60 jig you use for steelhead or panfish fishing..they have a really light wire hook which in my opinion wouldnt hold up to a kicker fish and it might cost you a tournament lol but on the other hand they are sexy looking and i think they will definately catch numbers of fish in a high pressured clear water lake!!! im going to dropshot using two of them with a berkley gulp minnow in the summer when the lake shut down and the smaller baitballs are going crazy, it my friends will be amazing!!!!

From: Bobby: Hillsboro, Ohio

Comments: These jigs have changed the way I fish. I have never been much of a jig guy. I had bought them before, but never had any luck, so I stuck to my grubs, swimbaits, and crankbaits for bass. However, I picked up several just to experiment and they have been dynamite. This is a terrific jig, but it is very small, so you will have to use spinning tackle. It has a RAZOR sharp hook and a quality paint job, too. The weed guard is very light, but it works quite well in scattered weeds and chunk rock. The bait barb is adequate, but not perfect. I like to use a straight, floating worm trailer, or a grub, swimbait, or craw trailer. These jigs perform best with a 2-4 inch trailer. This bait is great for swimming, jigging, and shakyheading applications for smallmouth, largemouth, and spotted bass in especially clear water. You can also expect a variety of sunfish and perch or just about anything that swims.

From: MacAtak: PA

Comments: I bought these jig at a local store (2/11/12) for some pre spawn fishing and was so impress by it, I caught two five plus pound bass with it on a "BAD DAY". I dropped by tackle to see what other people think of this lure but only to see "Ted" was rubbing my new favorite lure in the wrong way, "Rubbish!" Ted probably had never fished in places where the water is so clear that you can see 15-20ft plus. It's call different lure for different situation. Don't mess with our Cali finesse fishing.

From: Pao: Fresno, CA

Comments: I agree with the guy below me. I am only 16 years old and I already know the effectiveness of these things. I roll with 6-8 lb test on my spinning reels and 12 lb test on my baitcasters. My friends may laugh at my light tackle, but I can wipe the smiles right off their faces at weigh-in. I have found these are good with small finesse worms like the 3-3/4 inch Zipper worm. Green pumpkin with a watermelon red flake zipper worm is the best color where i have fished, which is a lot of New England. I fish Winnepesaukee, but Champlain is good too ;) Best bag with these was an Lake Wentworth NH I got 14 lbs 15 oz with a mixed largie-smallie 5-fish bag.

From: Jack: Hampton, NH

Comments: Hey "Ted", we all don't fish in the south where cold water is 65 degrees, we need to finesse the old nothern mama jammas with a little keitech hook and a small finesse worm trailer - this thing is efficient on the 18 ft. grasslines and tempting stone-cold 6 pounders in late fall and very early spring.

From: Bud: Swan Lake, NY

Comments: Great idea, for perch that is! come on Keitech, even your biggest hooks are too small. Seriously we all don't fish with 5 lb test and spinning rods.

From: Ted
Comments: Use the silver tiger and the bluegill flash in 3.5 inch. Looks way better than the bluegill tiger

Comments: this is my cold water secret...attach a small curly tail or use alone, tick it through the weeds and it's deadly. no bones about it...but shh...buy it, but keep it our secret.

From: Aaron: New York