Keitech Swing Impact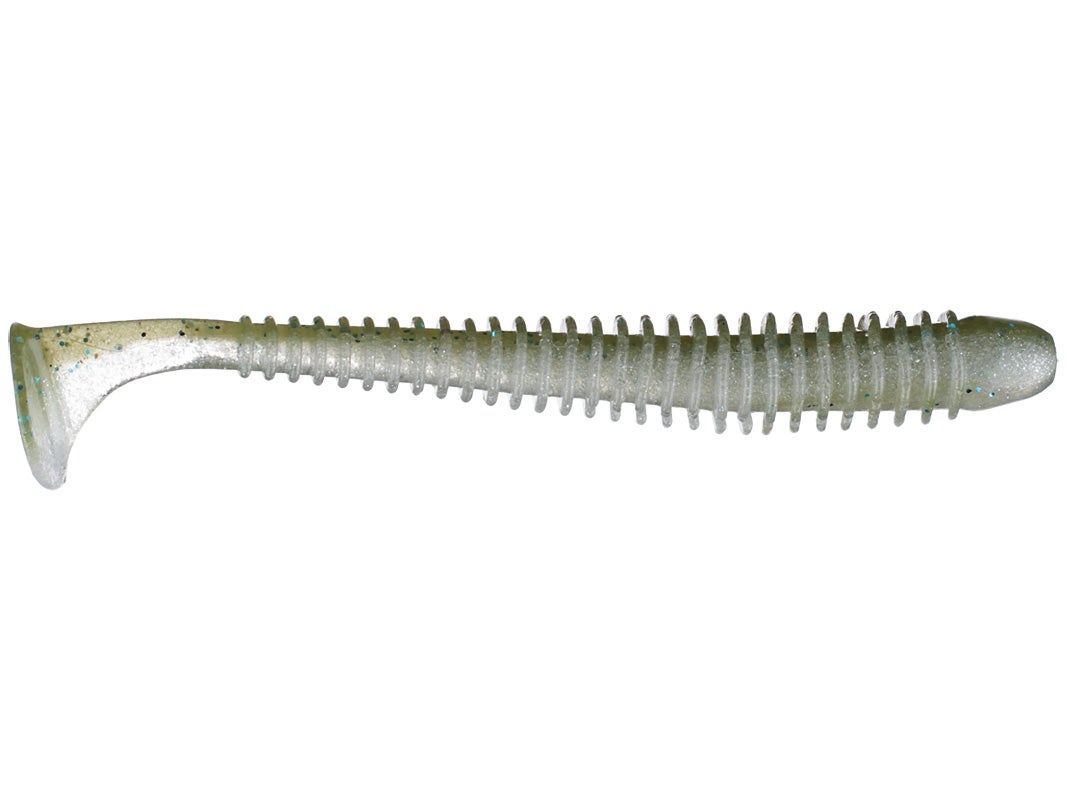 Wouldn't it be wonderful if there was one soft bait for all of your favorite techniques? Well, now there is - the Keitech Swing Impact. The Keitech Swing Impact is extremely effectively on an A-rig, jig, spinnerbait, chatterbait, Texas-rig, Carolina-rig … well, you get the picture. No matter how it's fished, the thin, sharp tail of the Keitech Swing Impact catches water and creates a distinctive swinging action. The Keitech Swing Impact is also made with a special dual-injection molding process, which combines two different salted plastics and gives it a well-balanced action at any speed. Impregnated with a heavy dose of squid scent as well, the Keitech Swing Impact is sure to become a familiar site in rod-lockers and stowaways everywhere.
| | |
| --- | --- |
| Length | Quantity |
| 4.5" | 6 |
| 4" | 8 |
| 3.5" | 8 |
| 3" | 10 |
| 2" | 12 |
*3.5" and 4" sizes both have slits along the back and belly side, for offset worm hooks.
26 Colors
More From Keitech Swimbaits
Customer Reviews
Comments: So, I decided to see what the hype was all about with these, and I bought two packs in two different colors. Yeah, they swim very well. Yeah, they catch fish. But, yeah, they are also very soft and fragile. Hook into one bass, and you're changing out to a new one right after, so that two packs of baits didn't last all that long. I've had the same amount of success with Zoom Swimmin Flukes and Reaction Innovation Dippers, and they last a lot longer, so I think I'll be sticking with the Zooms and Reaction Innovations, and pass on the Keitechs from now on.
From: JLH: Pittsburgh 12/21/16
Comments: 9/10 -- I take off one point due to their durability. After 2 or 3 fish, you're going to need to put a new one on. I strongly believe the scent is a key factor in their fish catching ability. If you've been using one a lot & aren't getting any bites, put on a new one before going to another area. The scent "washes off" before long & I came to this realization when I was fishing a point that I knew fish were on thanks to my sonar, so I took a new one out of the package with plenty of scent on it & 1st cast... a nice 4lb'er slammed it and practically tore it in half. Keitech has a winner with this one. It works by itself, it works as a drop-shot bait & it works as a trailer on swimjigs & chatterbaits. You could even take a skirt off a spinner bait & put one of these on there instead. I wouldn't use the normal ones for an Alabama rig, you'd probably do better with the FAT versions for that application. Will be buying more with my next Tackle Warehouse order, that's for sure. In both versions.
From: Kevin: NY 6/25/16

Comments: Overall 8/10. Only downfall is that they get fragile quick if you're on the fish. The squid scent is a game changer. Definitely worth buying and definitely the #1 swim bait. Set these up with a good swim jig & you'll have yourself a day.
From: Greg: NJ 5/14/16

Comments: One of my favorite baits! The 4 inch is a largemouth killer. One of the only companies that make smaller effective swim baits. I actually think the smaller ones have a better action than the 4.3 & up baits. They're really good when the water gets cooler & the bass are a little more finicky. If you don't have any owner pivot head hooks you're doing it wrong haha. Get some of these baits then go add some pivot head hooks to your cart & you're good to go.
From: Jessie: Moore, OK 12/18/15

Comments: These things are awesome, I mainly fish them as trailers for swim jigs & spinnerbaits and they are great for that. They are fragile though. I have had many dinks and toothy critters chew off the boot of the tail & leave the rest, forcing me to put on a new one despite 80% of it still being there. But the action is great & I do recommend them.
From: Ryan: MA 11/10/15
Comments: Amazing swimbaits! They catch fish in just about any condition. Saltwater & freshwater, throw on a jig head, real slow or fast depending on what fish want and hold on. My 6 year old loves them. Easy to use and catches all sizes. Not that durable but carry some glue on you and your all set. 3.8 in Bluegill flash and Ayu have been good.
From: Chris: CA 7/10/15

Comments: I just picked up a package of 4" Swing Impacts this weekend, went to my family's small farm pond tonight to try them out & caught a 6lber. Biggest bass we have ever pulled out of this pond. Fantastic action whether reeling slow or fast. I'm sold!
From: J.D. Hawg: Flat Rock, IL 5/12/15

Comments: I fished this bait in clear water and I could see the reaction of bass at its sight: expectation + quick attack. One of the most natural swimmers in the market. Fish can't help bitting them.
From: Quino: Sevilla, Spain 4/21/15

Comments: Been fishing this bait for about 3 years. Insanely good action & it's a fish catching machine. This bait has an action like no other, and has an immense drawing power. Even though it is small fish can't resist it. I fish it on a swim bait head, weed less ultrahead, swimjig, bladedjig & spinnerbait. Works awesome around grass. Don't hesitate too get some!
From: Andrew: PA 3/27/15

Comments: They dance nicely at a slow retrieve speed. They're quite salty and tasty, IMO (yeah, I taste lures from time to time in an attempt to form opinions about the quality of their scent/flavor). Most importantly, they draw strikes. Do not hesitate to give 'em a try :).
From: Brad: Gate City, VA 8/18/14

Comments: I feel like one of the foumding fathers cs I got a pac when they first starting showing up in stores in the states. Fished on Owner finnese heads 1/8 oz weedless hook. Killin them till this day. New Colors are Greatt too any color works, darker for rivers and Night fishing Lighter for Lakes and Ponds. I melt back to life after they get mangled with a custom tipped sottering iron.
From: Unknown: USA 4/17/14
Comments: like most other reviews, this is a workin bait! Maybe this will help some who are having these destroyed by all the fish that hit these things. I used a big bites wacky head and a little locktite glue and. Caught five or six smallies on one. It might be a fluke but it worked for me. Anyway, I like these swimmies they catch fish!
From: Spitwad: USA 4/13/14
Comments: Great bait. Great action. Just a lot smaller than I expected. Not sure what I am going to do with the 3" baits besides occasionally using them as a trailer. Could drop shot them but that's a pretty expensive drop shot bait. The 3.5" and 4" baits on the other hand are going to be a huge asset!!!
From: Nate: WA 4/10/14
Comments: The Keitech 3.5 inch Swing Impact will catch largemouth bass, but be aware of three issues. First, it is so light it tends to corkscrew up through the water to the surface instead of swimming true. To solve this problem, I rig it on a Size 1 Owner Twist Lock Finesse hook and create a keel effect by pinching a size 3/0, 40pk round split shot weight on its shank. Second, because it is extremely soft and quickly tapers to a very thin tail, this swim bait is so fragile that you will catch only one bass per lure. Using Mend-It to repair as many you can salvage will bring down the cost per catch. Third, to increase your catch rate and avoid losing the tails off these lures, give fish the time to take in the whole lure. You can do this when you feel a strike by pointing the rod towards the lure to create some slack, then pausing for an instant before winding in line to set the hook.
From: Vince: Tucson, AZ
Comments: Yeah so I bought a bunch of these after reading all of the positive reviews...glad I did. Paired them with an 1/8oz jig head and took to the lake in mid December. Weather was terrible and the water temp was 48 degrees. My better judgement told me to not throw a swim bait, but I had all these new lures and I had to try them...holy cow, the bass ate them up! I couldn't believe the number and quality of bites I got in such cold water. It was very impressive. As the other reviewers have mentioned, they're not super durable but they flat out catch fish. A new favorite for sure. Get you some!!!

From: John: Nashville, TN

Comments: One word, AMAZING! Catches fish when nothing else does. Favorite color, Bluegill flash. Never fails

From: Master Yoshi: Beijing, China
Comments: First time user now a lifer. Took to minnesota on a fishing trip. All numbers were about the same until i pulled out a keitech. Went from 20 in the boat to over 40 in minutes. 3,4 and 5 lbs bass all day. Thought it held up pretty well. Went through a 5 pack with a buddy over 3 days. Fished it on a jig head in weeds and deep water. Love it

From: Donnie: Angola IN

Comments: They catch fish in all conditions period...They do the job on bass and most other species. Only negative is the durability but I think the softness of the bait gives it the action so I cant complain too much just pick you 2 colors you like and buy 2 or 3 of each because you'll need them. Silver Flash Minnow and Male Perch are nice choices

From: Derrick: KY

Comments: A friend had told me about the Swing Impacts a few weeks ago so I decided to order a few packs. Im sorry I never used these sooner!! Over the past few days we have caught over 30 Bass and numerous Pickerel and Crappie mixed in. The action on these baits are amazing, I haven't seen realistic action like this on any other soft baits. Fast, slow, twitch, it doesn't matter, we were getting hammered on every other cast. My girlfriend was strictly fishing live bait until she caught her first bass with one. She caught her personal best yesterday just shy of 4 lbs with a slow retrieve and letting it fall where it was hammered on the drop. I'm about to put an order in for a few more as we speak. You will not be disappointed with these baits!!!!

From: Ray: NJ

Comments: The four inch bait is a perfect pitching bait, it also works well fishing on all jig heads. best results is swimming any at speed.

From: Ed: Barstow, CA

Comments: I love this bait! I've been fishing for some time, and im pretty good with understanding what fish like, and fish love this. It swims great, it looks great, and, for the fish, it smells great. My favorite color is the baby ayu color, or the bluegill flash, and size 3-3.5 I use this mainly for peacocks here in singapore, and when i go back home to Houston, bass love em to. And i really believe in smell, its just that extra step towards tricking a fish to bighting, if they are not so sure about the presentation, they can smell it, and then they'll bight it for sure. My preference is to use this on a 1/8th ounce jig head.

From: Hugo: Singapore/Houston, TX

Comments: Flat out unstoppable.This thing is amazing with a gamakatsu darter head on there .It catches everything,plenty of largemouth,quite a few smallies,a few walleyes and even a northern decided to eat it.My most successful color so far is male perch,black is the best in dirty water.The point is , pick up some keitechs and you'll catch fish.

From: Noah: IA

Comments: Great Bait ! I fish them on an exposed jighead around grass edges and over brush piles. This is a awesome bait for guys stuck in the back of your buddys boat. You'll catch the ones he missed. Black shad and male perch are my favorite colors.

From: Debeaux: Myrtle Beach, SC

Comments: Smallmouth Kill it. If they miss it they will hit it again. The taste and action can't be beat. You can feel the vibration in 50ft of water drop shotting.

From: Tyler: East Coast

Comments: Drop shotting in 50 + feet great action and great feel. Smallmouth crush these. Also drag it through schooling fish and hold on. Awesome bait!

From: Smallie: WV

Comments: The perch absolutely go crazy for these! I put half a crawler on the hook with the Green Pumpkin color, and I catch some big perch! These also work well for bass that have seen everything. They don't last more than a few fish, though, so bring extras!

From: Luke: Klamath Falls, OR

Comments: the best swim bait i have ever used, its all i have used this summer and i have been catching 3-5 pound largemouth bass, been killing it with this bait, well worth the money, keitech this is an excellant product i dont use any other baits any more.

From: Chris: NJ/NY

Comments: Swimbait? Finesse swimbait? Forget that! Try dropshotting the 4"! It's a great dropshot bait. The Silver Flash Minnow when they're feeding on shad and the Watermelon color any other time. Just dropshot it and fish it like you normally would a dropshot. Really good bait. Also works on a jighead when fished through schooling fish.

From: ACH: Cali

Comments: awsome little swimbait, great for smallmouth

From: Ak: NJ

Comments: Not the most durable bait, but the action is killer. Pretty much it's one swimmie per fish.

From: Defecator: USA

Comments: HOLY SH@# ! I was fishing a few days ago and couldn't get a bite from the best stagging spot on the lake. I trying a drop shot, carolina rig, a crankbait but couldn't get anything going, so I but a 4" swing impact on a 1/4 oz jig head and swam it through the same area and caught 4 keepers the biggesst was 3lbs. I know thats not huge in the least but I was able to salvage the day. They only problem was the baits were destroyed after each fish . had to rig a new one after each fish !

Comments: Great finesse style swim bait, great for smallies. you can fish it several ways too, weighted swim bait hook, ball head jig, as a spinner bait or swim jig trailer. tons of action, the only bad thing is that they don't take a beating so crazy glue or mend it glue is a must. last but not least is the strong squid scent, fish hold on

From: Jeff: New Jersey, USA
Comments: These are a great little bait. I prefer the 4 and 3.5 inch, the 3 is too small. Best colors have been pro staff special and male perch, both are great bluegill imitators. Have weedless on a darter head and behind a microchatterbait and had success with both. I highly recommend these, along with a bottle of Mend-It to fix the torn up bodies from catching tons of fish!

From: Big J: Houston, TX
Comments: It has been a great bait on the east cost fishing the rivers systems around lilly pads and out side line of grass. Whaled on them at the Potomac. Bait is extremely soft and does not last long but worth every pennie. The tail kicks so hard you can feel the vibration all the way back to the reel seat.

From: Mike: Norfolk, VA
Comments: Awesome baits very fragile, but worth it. The Keitech scent seems to work amazing and the action is insane. Burn through a whole pack of 4" in just a few hours fished weightless on a 2 or 1/0 offset. Great hook up ratio too, you'll have no problem boating fish with these great baits.

From: Joe: Massachusetts, USA
Comments: Great bait, rigged on a 1/0 worm hook, my first few casts with this bait produced a spotted bay bass and a 20" halibut. However...the bait cant handle abuse, each fish demolished one bait so youll be doing a lot of mending. These baits are softer than my bass trix.

From: Tim: Chatsworth, CA