Keitech Swing Impact FAT - $6.99 to $7.49
The Keitech Swing Impact FAT offers anglers an extremely versatile bait that can be utilized with a number of techniques and in almost any scenario. The Keitech Swing Impact FAT is thicker than the original, but just as deadly on A-rigs, jigs, spinnerbaits, Texas-rigs, and Carolina Rigs. No matter how it's fished, the beefed up paddle tail of the Keitech Swing Impact FAT creates a distinct swinging action that fish find irresistible. The Keitech Swing Impact FAT is also made with a special dual-injection molding process, which combines two different salted plastics and gives it a well-balanced action at any speed. Impregnated with a heavy dose of squid scent as well, the Keitech Swing Impact FAT is sure to become a familiar site in rod-lockers and stowaways everywhere.
Keitech Texas Rig Swing Impact Fat Video
| | |
| --- | --- |
| Length | Quantity |
| 5.8" FAT | 4 |
| 4.8" FAT | 5 |
| 3.8" FAT | 6 |
| 2.8" FAT | 8 |
Comments: Just got back from northern Wisconsin, fished the Chippawa Flowage with the 4.8 size sun gill and the sight flash, rig on a 5/0 EWG 1/8 oz. hook, all I can say is there awesome. Got my biggest bass ever up there, 5.5 lbs. That's a big bass for this northern lake. Out of the 15 baits I took, 10 where bite off by northerns or muskies. Never had a bait work so good as this one, there worth every penny! On here now to order more for the next trip.
From: Mudslick: Hayward, WI 8/2/14

Comments: I would highly recommend these swim baits. I use a 3/8 vmc jig head with the 4.8 sexy shad. This bait does it all. I use it to burn through weeds that are 1ft under water or through scattered weed pockets. A fast burn and pause retrieve drives fish to come up out of weeds and nail this bait. Very durable bait. I caught 15 bass and was still using it until a northern ripped the tail off. Putting a dab of superglue on the head of the swim bait to the jig head will keep the bait running perfect 100% and will make the swim bait last longer. Some may tear earlier but to me this bait runs true either if your burning it through weeds or if your just slow rolling it on a-rigs. Wouldn't use any other swim bait. Tournaments are won on baits that work. This bait gives u the confidence to do so.....
From: Andy: Valpo, IN 4/20/14
Comments: So glad they have new colors now. Can't wait to use them. They are one awesome bait. Works great for a trailer to. Well worth the buy.
From: Nathan: NY 3/12/14
Comments: I threw this swimbait and the Power Team Lures 4.8 inch swinging hammer the same day...I caught way more fish on the PTL swinging hammer even though these swimbaits have similar actions so try a PTL swimbait if u like this swimbait

From: Nathan: Leander, TX
Comments: I love these foe swim jig trailers. No other paddle tail has action this good. Its going to wag no matter how slow your retrieve. That being said the trade off for that action is the softer plastic that is not as durable as one would hope. However they are well worth the buy.
From: Kevin: Austin, TX
Comments: If you are going to put these on an A Rig stay with the 3.8 or 2.8 sizes. five baits in the 4.8 size is a little much. The 4.8 works great for Texas rigging or anything that has one hook.
From: Matt: Moweaqua, IL
Comments: Best softbait I've ever used. Not extremely durable though but it catches heaps of fish so can't complain about anything else, can I?

From: Sebastian: Townsville, Queensland: Australia

Comments: Never had a bait fall apart quicker on me. Junk

From: Cory: TX

Comments: I used the 3.8" male perch and 3.8" green pumpkin on a week long fishing trip. Easily my top bait of the week rigged on a weighted EWG hook. Love the action and so did the fish. Tails get torn off fairly quick and I had ran out of both packages before the first day of fishing. Tried the Zoom swim flukes, Berkley sick fish, and the Lake fork magic shad boot tail...they just didn't get bit as much. For me Keitech is worth the extra $.

From: Chris: IL

Comments: these baits stink ive fished them for 5 mounths now and for over 20 hours and can count the number of fish i caught on one hand. unless you use a real heavy swimbait hook 3/4 hook the bait swims upside down it wigles funny and the fish don,t like it. i like the berkly pit boss it swims beter has great action and is 2.99 for like 8 and these are 8$ for 5 DONT GET THESE BAITS.

Comments: This and a Trash Fish are my favorite paddletails. These Keitechs kick butt on a swimjig, 4.8 for 1/2oz works great for me. Pretty much my most consistent producer during pre and post spawn this year. Not terribly durable, but not Senko type durability either. As a trailer, I can get 5-6 fish on this typically with the use of Superglue and Mend It. Good A-rig baits too.....

Comments: Best swim bait in the market. Action is amazing and when paired with D&M Custom Baits Piranha swim jig it is deadly!

From: Andy: Green Bay, WI

Comments: Kept these in my bag for about a week after I bought them at Fishermans warehouse....Out on the lake one day and had a had a few more hours before it gets dark...decided to tie it on and threw it in...no more than 15 cast I got a bite...and still getting bites everytime I use them...no plastic ever last so I wouldn't worry about that...unless it was elaztec...however u spell it...money will be worth it....many ways to rig these baits but I just slow roll them with a twistlock hook...any brand....whatever Ur comfortable with...thanks for reading

From: Kou: Fresno, California

Comments: I bought these a while back when they weren't big... Well looks like the secret is out! The action on these lures is incredible. I rig them up on a 1/2 ounce jig head when I'm fishing in fairly deep water and it is a killer. Or rig them up on a swimbait hook, it doesn't matter these baits kill. I recently went to a lake where the bass bite is brutally tough. Iv'e fished there for many years and the bite is always rough since it's an over fished lake. But I threw this on a swim jig and caught a monster 5 pounder. Trust me on this lake that is a monster. I can't say enough good things about this lure. My only knock is they arn't the most durable swimbait on the market, but trust me your getting what you pay for. I've thrown this thing on a chatter bait and removed the skirt, and I've thrown the smaller version on a alabama rig. And now I am revealing all my secrets so I should stop. But great product that deserves a lengthy review. Pick them up and hold on!

From: Jack: CT

Comments: This is a good swim bait. Used this at carlyle lake which is stained water. Stuck bass and catfish ....amazing!

From: Poda: So IL

Comments: These baits catch fish and thats that!!! I started using the revenge jig head and it holds the bait really well, not to mention it makes the bait look more realistic. i can catch three good size bass before i need to reach for a new one. (sometimes more) Good fishing guys!

From: Dave: MA

Comments: Best swimbait known to man. Fish this over a bed and you're hooked. Amazing action, well worth the money, and somewhat durable.

From: AR
Comments: Im not sure what it is about these baits but the bass absolutely annihilate them! Just rig one up on a screw locked swimbait hook and it will last you alot longer.

From: OceanLab: Socal
Comments: killer bait wholly molly catastrophe, i have so much confident in this bait now.

From: Steve
Comments: These are one of my favorite baits right now, I put these 4.8in on a 3/8 lead head or the 2.8in on an under-spin and its GAME OVER for the LMB's. The strike that you'll get on these baits are RIDICULOUS!!!!! I usually stick to my Green/black in color, try it you wont be disappointed. The only down side to the bait is that after one fish the Bait is pretty much trashed because the head wont hold to the lead head after its been pulled back. Just my 2 cents.

From: Ricky: Diamond Valley Lake CA.

Comments: I have only used the 4.8's. these are awsome swimbaits. On the A Rig they are deadly. They swim so good in the water and the fish can't resist them

From: Rob: East Bay, CA

Comments: These are terrible baits, they wreck giant smallmouth which are no fun to catch. Buy something else! Seriously guys.. If you fish tournaments whats an extra $10 in baits a tournament especially if you cash a cheque?

From: Tim: Canada

Comments: Awesome baits. Price doesn't bother me, but the durability does to some extent. These are loaded with salt, similar to Yamamoto baits. Because of this I feel that they do get bit more than the average paddletail, but at the expense of durability. When rigged on a jig head, it only takes a few fish to tear the bait down off the hook holder. Even with super glue, mend-it, etc..the salt in the bait makes it tough to be repaired effectively. Packaging is great, action is great, effectiveness is great.

From: Justin: Long Beach

Comments: This is a great bait!! For all you whiny kids that complain about price, they are worth it! I even caught bass on a bait after it got its tail ripped off hahaha!!! You definitely want to get the biggest size and rig with a 6/0 owner beast hook. I used that and caught a 7lber!

From: Ryan: CA

Comments: Very much worth the price. Comes in great packaging, keeping tails straight until use. Great thumping action on the tail. Was fishing for smallies w/ a 2.8" and they loved it, as did the crappie!

From: Jon: WY

Comments: Insane swimming action fish can't resist . When nothing works this thing will procedures fish . Caught few descent size bass on first day testing with 4.8 , but fish tear them up very easily.

From: Fishkiller01: NYC, NY

Comments: Let peeps keep crying about the price. Cool, dont use em. More fish for me! Just a simple 1/8 oz round jig head with a good hook works fine. Superglue the bait to the jig head. Slow roll. These things are the real deal, homie.

From: Meatwad: Swimmin FAT

Comments: When Keitech came about it was just like when the senko hit the market. All you had to do is throw it, didn't matter color or size even at times and you loaded the boat. Everyone I know in CT knows the name Keitech and it's for a reason. Love the colors and the new ones they continue to create. Wish they didn't discontinue Moroko Gold but these baits themselves are here to stay.
I know "they're" out there but Gerald Swindle is the first pro I've seen during the bassmaster trail throwing them. I'm sure it'll be seen more soon enough

From: Daniel: Wallingford, CT

Comments: The KEITECH 3.8 and 4.8 is all i throw in the spring and Fall once you really figure out how to properly rig and use them there is no other bait that will come close !!! Best Bag using the 4.8 !!! on Champlain fish 22.63lbs !!!!

From: Clemente: Farmington, CT

Comments: Killer baits. The best for me have been the 3.8, they slay smallmouth up North. Throw them for smallies on shallow sand flats in the spring and you can't go wrong. The 4.8 has an awesome action on a weighted swimbait hook; these have been my go to baits for quite a while. The 5.8 has been a great throwback Muskie bait for me, wish they would come out with a 6.8 size.

From: Zach: NJ

Comments: Absolutely awesome, caught two citation smallies here in virginia in the past week on the 5.8 inch version with a 1/2 oz swimbait jig head. The action is unmatched, I wont throw another paddle tail after using these. The fish honestly seem to go after the bigger types, A buddy threw the 4.8 the whole day and couldnt get bit!

Comments: amazing biat great action i caught a 10 lb bass on one fish love the feel of them when the fishing is hard thats my go to bait also it is a wonderful trailer to spinner baits

From: Joey: NJ

Comments: this bait is the real deal for northern waters, 3.8 for smallies and 4.8 for largies. so many ways to fish them. don't leave the dock without them or mend-it because when the fish tear them up you'll need to perform surgery.

From: Jeff: Jersey
Comments: Although we dont have Bass here in Switzerland (except in 1 lake) i have found these to be my favourite lure for Perch in 2.8" with dark colours and amazing for Pike in any size over 3.8". Got my biggest Pike of 95 cm on a Ayu 4.8"

From: Dooly: Baar, Switzerland
Comments: Excellent little swimbait. Very impressed with the action//very subtle, but much better than any other 4 inch swimbait I have bought. I have rigged them with weighted hook, but have just as much success rigging them Texas style with a 3/16 or 1/4 ounce bullet weight. These baits have great action, at a slow to medium retrieve.The perfect replacement for a spinnerbait or shallow running crankbait in super clear water applications. Love these lures!!

From: Brad: Texas, USA
Comments: Chatterbait pro 2 with the skirt removed + swing impact fat 4.8 in male perch = Boom goes the dynamite! 9 lb bass from Big J's favorite lake.

From: Big J: Houston, TX
Comments: Big J's update: These things also work great rigged on a chatterbait head. Bass and catfish were slamming the 4.8 inch male perch color. Once again, Mend-It saved the bait.

From: Big J: Houston, TX
Comments: These swimbaits are fantastic. They have been my consistent go-to bait when fishing for Small Mouth in Ottawa. Add a 1/4 ounce bullet weight and let it float down brush piles - lazy fish wake up to the paddle tail action. Truly a secret weapon - my brother in law wishes I never found these gems. 3.8" seems to be a perfect size and the darker colors - Ayu, Pumpkin seem to work the best. Buy plenty they are fragile but well worth it if you like catching instead of fishing.

From: Bill: Westport CT
Comments: Nailed a bunch of nice smallmouth with these on Lake Vermilion in Minnesota. 3.8 size on a light slider head rigged weedless and thrown around rocks and reeds. Green pumpkin pepper seemed to be the best color. Great action, great bait, very fragile so be sure to have your Mend-It handy as these are too expensive to toss after 1 or 2 fish.

From: Big J: Houston, TX
Comments: Excellent bait, once you figure out which size works best for you. The 3.8 and 4.8 seem to be the best. Keep in mind that the bigger you go the stronger they are. Versatile, effective, stinky and have superior action.

From: Joe: Massachusetts, USA
Comments: Had a ball with these baits fish grass on Lake Gaston and Kerr. The action is awesome!! Bait is just a little soft but if it was any tougher it would kill the action. If you are fishing grass or lilly pads DON'T LEAVE HOME WITHOUT THEM! Fish them on a 3/0 weighted 1/8oz hook with spinning tackle loaded with braid.

From: Ken: Gaston, NC
Comments:Love these swimbaits! pros-can be fished very slow rigged with just an ewg hook... full body movement/wiggle... cons- could do with eyes but that's just preference there :) these lures are very flexible hence it tears easily but nothing that mend it shouldn't correct! Overall I love this swimbait, fish just kill this bait... new standard in my tacklebox!
From:Touva: Owasso, OK
***Note: If you have questions about this product or need assistance with an order please email your questions to info@tacklewarehouse.com
View Large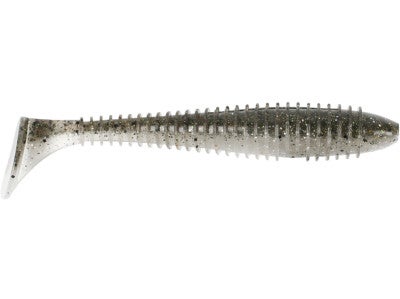 29 Available Colors
More Keitech Soft Plastics
More Keitech Swimbaits