Keitech Tungsten Casting Jig Model 1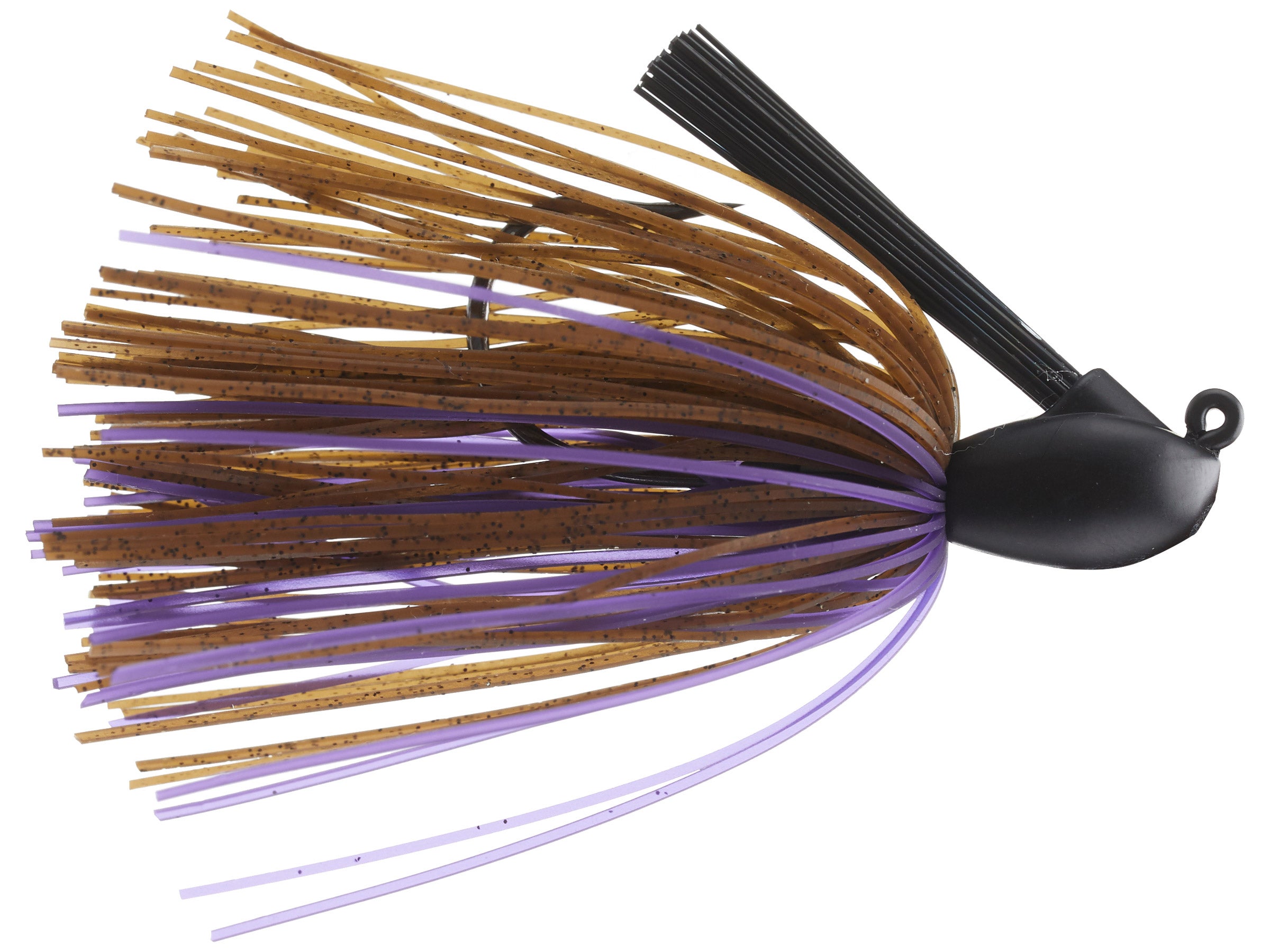 The Model 1 Jig form Keitech has many features not found in ordinary bass jigs. The tungsten tear drop powder coated head is perfectly balanced, so it penetrates cover and does not roll over. The skirt of the Model 1 is hand tied using 150 strands of Keitech's exclusive SR-40 silicone. This skirting material is much softer than standard silicone skirts commonly found on other jigs and provides a more natural lifelike action. The weed guard is hand glued to ensure perfect alignment to the custom Gamakatsu 3/0 Hook.
8 Colors
More From Keitech Jigs
Customer Reviews
Comments: These jigs are new to me and they proved to be the difference over lead jigs in my last tourney they are quality without comparison from any other jig the quality is worth the price and will soon be ordering more these jigs rigged with a chigger craw were the ticket on the largemouth the smaller profile of the jig and the hook were very well designed
From: Dan: Botkins, OH 4/28/15

Comments: I fish the major lakes in California & this jig has produced quality fish consistently. There is a time and place for a smaller and more finesse approach, likewise, there is a time for a larger and more obnoxious approach. Keitech baits really deliver when fish are honing in on a smaller profile. As for people who have trouble bending out the hooks, these baits weren't meant to horse in fish. Play the fish a bit and enjoy the fight.
From: Kevin: CA 6/2/14

Comments: This jig would be a great jig if the hook was stronger, I have had big fish bend this hook out. The guy from texas is right, big bass will laugh at you throwing this jig.
From: Mark: Guntersville, AL
Comments: Best Jig I have used, I have caught allot of fish on this jig. We used it yesterday @ Lake Erie. I would say we had over 20 on this jig before we totally wore it out. I will take that for a $6.00 jig. I t does not snag that much and we had some big fish on it including some big Drum. Great Jig!!

From: Don: lancaster Ohio

Comments: Apparently Jason has never fished outside of texas..... This jig is a game changer anywhere there is smaller forage.

From: Zack: NC

Comments: I started fishing the Keitech Jig this past year, I have caught more fish on this jig in one year than all other previous jigs combined, awesome that's all I have to say.

From: Hamilton: Chesterfield, VA

Comments: Junk...Who throws a 1/2oz jig with a tiny hook? Gimme a break folks. The fish here in Texas will tear this thing apart

From: Jason: TX

Comments: Great finesse jig. Disregard those complaining about the hook size, this jig is designed to be fished with a smaller trailer like the 2.75" Craw Papi or similiar baits. I usually use the 1/4 oz size. I also fish it on 8 lb or 10 lb floro, the light wire hook might bend if fishing with braid. Flat out catches a lot of fish.

From: Robert: Battle Creek, MI

Comments: Good finesse jig hook is small but for Ohio its perfect afterall here in Columbus a 6 or 8 pound limit wins most tournaments.

From: Andy: Columbus, OH

Comments: Wow. I was a bit disappointed when after landing just 2 fish on this jig, the weed guard starting falling out of the jighead. For a $6 jig, this shouldn't be happening. Performance-wise, it's a good finesse jig trailed with an Owner Baby Yuki Bug. Caught those fish during the slow afternoon bite. But quality-wise, the failed weedguard has left me a little disappointed. Hopefully this one was just a lemon because I have 3 more that I haven't used yet.

From: Pete: MN

Comments: Hands down the best jigs I every fish with but one bad thing about it is the hook is just to small for it but it still the best I every fish with:)

From: Long: Kansas City

Comments: Ordered the 1/2oz size and found the the hooks way to small to be effective with this bait. 2/0 hook on a 1/2 jig will not cut it. they should have used a 4/0 hook.

From: Jeff: IL

Comments: One of the best built jigs I've ever fished!! Super quality, This jig is one of the best!!

From: Mrbond007: East Lansing, MI

Comments: I've used this jig quite regularly paired with a paca chunk and I've had a good rate of catch for both LG and SM here in NH. I would be an even bigger fan if the jigs weren't so darn expensive!!! I do like the quality of the skirt construction compared to other jigs and the smaller tungsten head and skirt makes the presentation a little smaller which I like.

From: Chris: NH

Comments: Bought a couple of the 1/2oz. Very compact, high quality. Fished this jig on a full day trip catching 4 LM up to heavy 4#'s. I found smaller paca chunks to be the perfect size trailer. Didn't get hung up at all, strong hook. Agree though the hook is a smaller gap so limits trailer size. Excellent feel on contact with wood, rock, slop.

From: Scott: Halifax, MA

Comments: Probably the best jig on the market

From: Alex: Madrid, Spain
Comments:The Keitech casting jig is one, if not the nicest jigs on the market. One of the few jigs that need to be trimmed out of the pack. The only problem with it is that the weed guards tends to fall out, the hook tends to bend when setting the hook with braid, and the jig could use a round bend style hook to make more room for the trailer. Overall, the jig does catch fish!!!
From:Scott: Scranton, PA