Keitech Tungsten Football Jig Model 2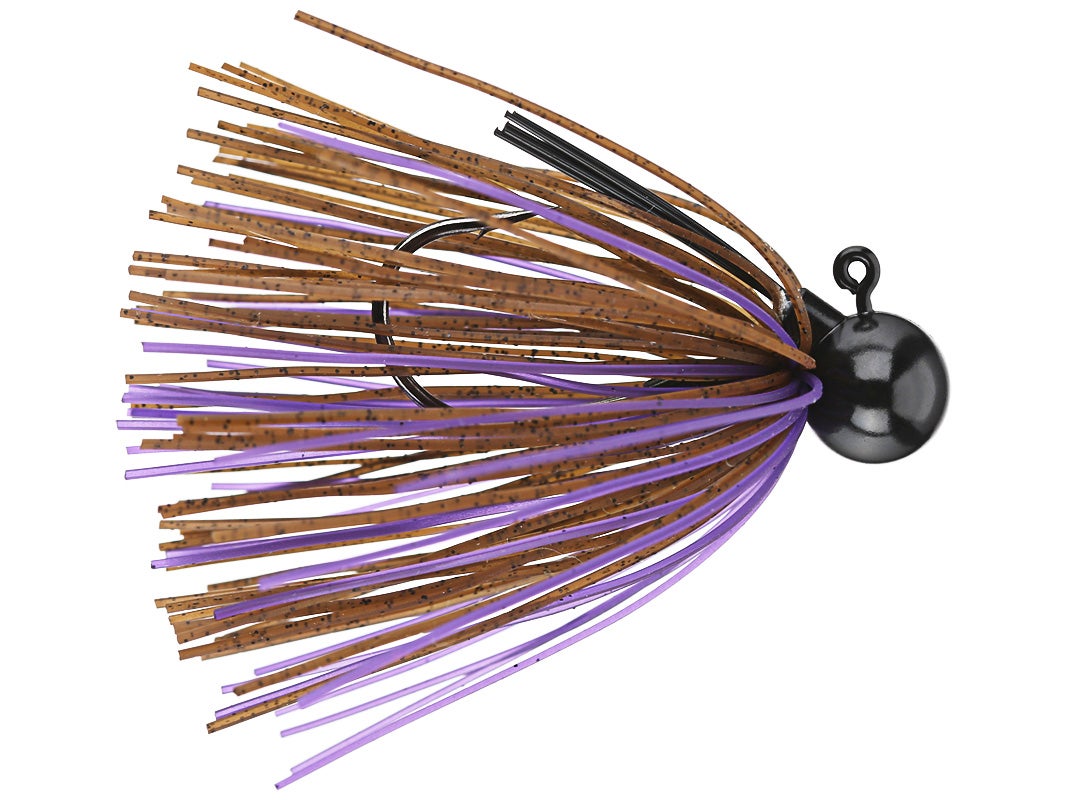 The Keitech Model 2 Football Jig was designed for deep water fishing. The tungsten compound head is thirty percent harder than lead and dramatically increases sensitivity. The hand tied one hundred strand skirt is produced using Keitech's exclusive SR-40 silicone. This silicone material is super soft and HAS comparable action to traditional flat rubber skirted jigs. The ten strand fiber weed guard is hand glued to ensure perfect alignment to the custom Gamakatsu 2/0 hook.
8 Colors
More From Keitech Jigs
Customer Reviews
Comments: These little guys are money. I have absolutely slayed the ledges and shell beds with these. The tungsten results in great feel of the deep structure. My only knock is the hook is very small, and I have lost 2 5 pounders at the boat. Really hard to get a good hookset especially at 30+ ft. BUT overall they are great. I haven't used any other skirted football jig in months.. and I use FH jigs more than anything. Great bait!
From: Dallas: GA 8/27/14

Comments: I absolutely love these jigs, was fishing a 3/8 oz northstar football jig and could not get a bite, other than an 14 lb drum. Tied one of these suckers on and started catching bass, you can literally feel everything on the bottom; most times Im throwing a 3/8 oz and you rarely feel a bite, but being able to determine the structure much easily you know when a fish is on. This is a FINESSE jig with a light wire hook, you cannot use braid, and a heavy rod, or you will bend out the hook; I made that mistake initially.
From: Brett: NY 4/20/14
Comments: All I need to say is one AWESOME jig. Its all I use. My nick name for this jig is power jig. It will catch you tons of bass. Awesome swimbaits also. Thanks

From: Nate: NY

Comments: Well made with excellent consistency and finish, and excellent hooks, skirt has a lot movement. Have had a lot of success mated to various Keitech trailers with smallmouth and largemouth. It does hurt a bit to lose jigs that cost over $5 each, and jigs do get lost, but between the tungsten and the quality the price is not as egregious as it might seem at first.

From: Ryan: MA

Comments: I was thrilled with this bait when I first got it. Heavy, with a small profile. After tying it on and casting once or twice I started feeling like I was truly fishing something special. It wasn't long until I hooked up with 2 1/2 lb LM, and the confidence in this bait started overflowing. As I knelt down in the boat to unhook my catch (anxious to get back in the water), I realized the brush guard was missing after just one fish and less than 10 casts. I was about half/three quarter upset, cut the line, and forgot about this bait. After a year, and basically forgetting about this bait until I saw it on this site, I think I might be healed up enough to give it another shot. Maybe it sounds like I'm being pretty tough, but with the price of baits nowadays and my severe addiction to lure collecting, I can't afford to spend money on something that doesn't perform as expected.

From: Davey: Mason Dixon