Kinami Palm Tree 5pk - $5.39
At about 4" long the Kinami Palm Tree is a bulky bait that resembles a solid bodied tube and is available in some awesome two tone colors. The hot rigging technique for this bait is to rig it backwards! Use a 4/0 wide gap hook and insert the hook from the skirt end of the bait. Throw it in with slack line and watch it sink away from you.
Comments: Fish catcher! This and the fat ika. I can't comprehend why people complain about how durable a bait is. If it catches 1 fish it has served its purpose. So yeah, they get ripped to shreds easily. The upside to that is that you're catching fish. I no longer fish senkos because of this bait, they are obsolete.

From: Tim: TX

Comments: I've caught lots of fish using this this soft plastic lure last year throughout the summer and its great for fishing bottom. I usually rig it backwards (skirt side up) and have had more success that away. The one area this bait doesn't shine is durability like all Yamamoto baits. I average 2-3 fish per bait depending on the size of the fish. Black&Blue and Junebug have been my go to colors and have produced on all my fishing trips. Tight lines

From: CJ: PA USA

Comments: You can fish this on any body of water and put bass on the boat. Even huge catfish will hit this bait. Flyline and hold on.

From: Chuck: CA

***Note: If you have questions about this product or need assistance with an order please email your questions to info@tacklewarehouse.com
View Large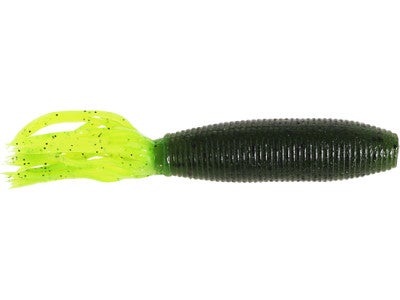 1 Available Colors
More Kinami Soft Baits