Yamamoto PsychoDad 5pk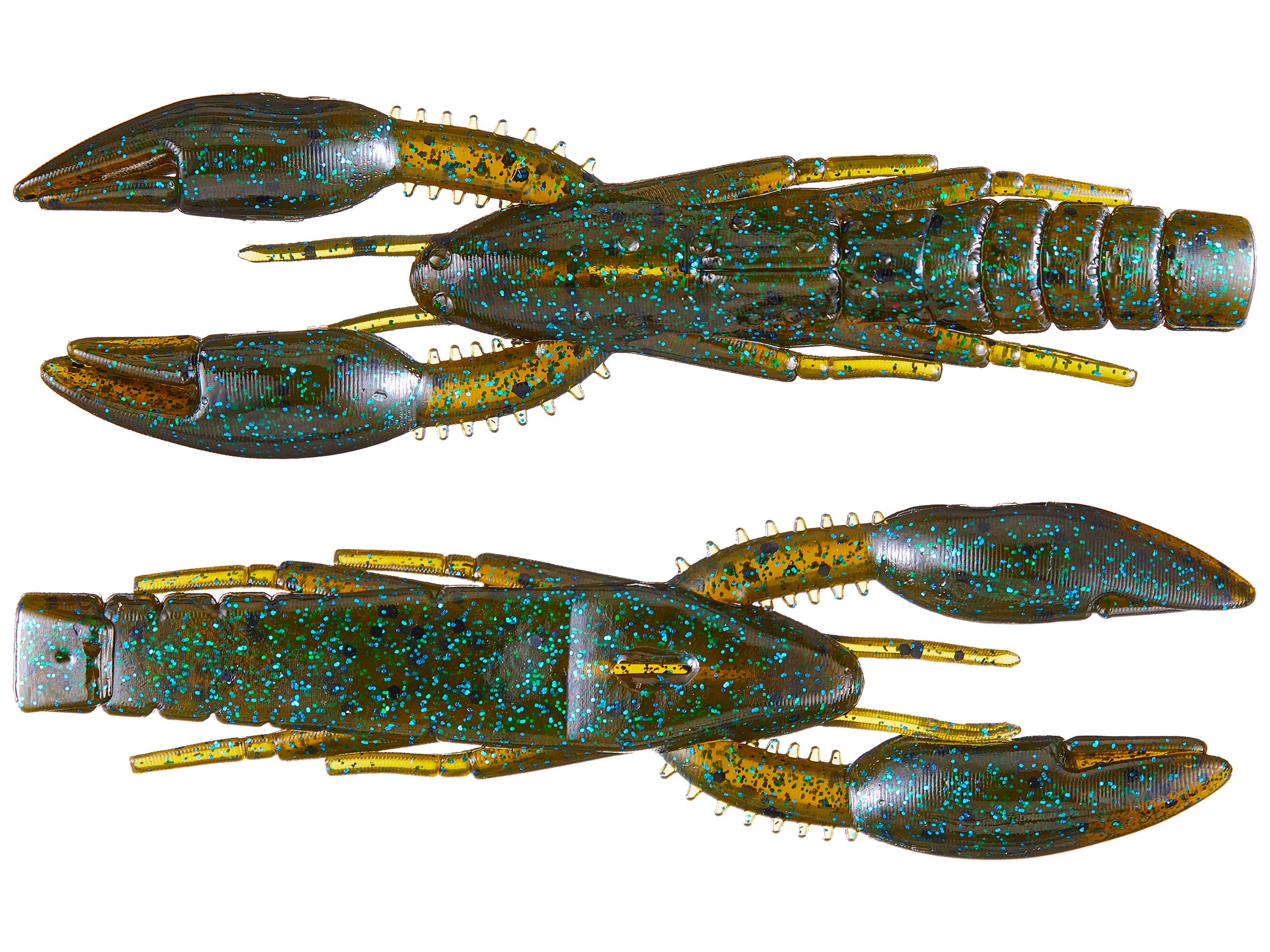 Designed by Western "punching" guru, Bub Tosh, the Yamamoto PsychoDad is a small punch craw with the versatility to do everything else. It features huge round claws that act like swimbait tails and actually "paddle" when you swim the bait. It's also the only craw with a built-in rattle chamber that's big enough to hold a 7mm rattle. The PsychoDad even has extra plastic on its "tail" which will help it hold up on the new style straight shank punch hook with the barb keeper. No more having your bait balled up at the hook bend.
Pair the PsychoDad with a big punch weight, a Paycheck Baits punch skirt, then put toss it in the nastiest mat you can find - and hold on! The PsychoDad is also great for Carolina-rigging, or as a jig trailer, and it even catches fish on a Shaky Head. You can also use it behind your Chatterbait for a different look. Whatever you need a soft plastic crawdad to do, the Yamamoto PyschoDad will get it done for you.
12 Colors
More From Yamamoto Craws And Creatures
Customer Reviews
Comments: Great bait many uses! I've heard good & bad comments. But I know, this bait is great! Like paca craws (net bait), this bait doesn't last long! The action on the claws in this bait is sudel they raise up slow that's water makes it deadly!
From: Kendog: MI 3/11/16

Comments: these are awesome. Really lifelike. Lots of action. I prefer to bite 1/4-1/2" off & put of an Ike's mini flip jig. It's deadly in the delta. The rattle chamber is perfect. They are really soft, which makes fish hang on longer, but that also makes them a bit delicate. I don't care if I catch 1 fish per bait because I'm catching good bass.
From: Steve: Sacramento, CA 5/26/15

Comments: I agree with the flimsy/softness of the bait. Had the pinchers get pulled off twice last time out, but I'd have to say these baits are bass slayers!!!! I've caught more than one fish per bait. I usually get 2 fish before I have to replace them sometimes 3. I think they are soft because that was the action they were going for, too stiff and you wouldn't get that killer action from the pinchers. My number one flip bait right now for the delta.
From: Bayareabassin: Santa Clara, CA 7/10/14

Comments: viewed from above, it does resemble the OSP dolive craw. however, the dolive has a round profile and the psychodad is thin and flat-bottomed. the arms holding the claws on the dolive are sturdier too. The glass rattles i have fit perfectly inside the rattle chambers and the colors and detailing look good. unfortunately, that's the end of the good news. these things are flimsy...i doubt they'll last more than one fish each and bluegills will pick those claws off easily. i spent an hour last night just trying to decide how i'm going to rig these things. i think i'm not even going to bother using them for punching because they look and feel so delicate but i tried flipping hooks, 3/0-4/0-5/0 EWGs, G-locks, owner twistlocks, etc. and nothing i have seems like a good fit for these...the tail section is just too thin and the rattle chamber at the top is in the wrong spot. ultimately, i decided i will either put them on a shakeyhead or dropshot.
From: Norm: Delta, CA 6/6/14

Comments: First off if you purchased these primarily for punching, then give up fishing all together! They recommend 3 other rigging options to try, and IMO shakey head and T-rigged are the ticket. Caught a 3lbr/5lbr/ and 6.12lbr all in the same outing. Best colors black/blue, watermelon, and pumpkin candy, they stand straight up on a jig or trailer and drive bass nuts! Try a pack... you just might go psycho for these craws-
From: Hog Hunter: San Jose, CA 5/8/14

Comments: awesome as jig trailer for flipping in pads or any type of emergent vegetation
From: Trent: Winfield, PA 2/24/14
Comments: While the bait can be fished many different ways, the designer of the bait; designed it for punching heavy cover. So if the bait was intended for punching heavy cover, it should excel in that situation; and it does not. With that style of fishing, which I do often; there are clearly better AND cheaper baits. In this case, when fishing this bait in the correct manner in which it was intended to be fished; this bait is a fail. Does it catch fish? Of course! Are there many other baits that cost a couple bucks less a bag and catch multiple fish per bait? MANY! Just saying!

From: That Guy: Cali

Comments: You guys are all correct, the plastic is extremely soft for a hollow body craw. Perfect!! It may not be great for punching(that's why we have beaver style baits), but on a 1/4 oz. Texas Rig or lighter, that soft plastic guys are complaining about give of an action that you wont get with stiffer plastics. Great bait when used in the correct manner.

From: Omari: MD

Comments: Terrible!! These things are a joke. Tried punching these for the first time and they are way too soft to be useful. Every time I would try to pull my bait back through the mat, the hook would poke through the soft plastic and snag up. The rattle chamber makes it even worse. Don't waste your money.

From: really disappointed: CA Delta
Comments: Really looks great but the plastic is awfully soft and I think this bait would go from a 5/10 to an 8/10 if they eliminated the rattle chamber or at least re-positioned it. It is a big hole precisely where your hook should be entered thru the bottom. Anything from a 3/O-5/O will be effected by it. Depending on comapany and hook style...It's pretty much hollow from the eyes to the halfway point on the body so it does make it very hard to hold the hook effectively. The Claws are rly cool and kind of vibrate/'swim' like a boot-tail on a swimbait does. I think these look GREAT behind a Bub Tosh Paycheck Baits punch skirt. Green pumpkin psychodad w/ a green pumpkin/watermelon punch skirt and a gp tungsten weight pegged and you've got a pretty-ass rig. They're just very expensive for the durability, have one MAJOR design flaw IMO which rly hurts my opinion of the bait (and apparently quite a few others below as well). I, too, got pumped for these and grabbed like 10 packs of the rip...I think they'll get their use and I'd reccomend trying a bag to see how u like them. It's worth the $5.39 to see them for yourself and see how they work for you. ALSO: I think these would be bad-ass on a Picasso shakey football head or swinging football head because they're buoyant and very soft and would definitely do well fished that way. Also a good Carolina Rig option for sure. IMHO, of course.

From: Tanner: Westport, Massachusetts, USofA

Comments: These catch fish no doubt. The problems outweigh that unfortunately. Plastic is much too soft. Claws rip off constantly. The slot on the belly for a rattle makes it impossible to use a 4/0 hook as should be used. The fatter plastic on the head is on the wrong side and Contrary to the description, it constantly wads up around the hook bend. Caught some on the baits but won't buy again.

From: Justin: Salt River, AZ

Comments: Awesome bait perfect for when bass little to no action style baits

From: Jamel: CA

Comments: These are not the craws I was looking for. They look great but they will not hold up when flipping or punching. Claws are delicate and will come off easily. I think the legs should be reversed for punching. There are better craws that will hold up better.

From: Larry: TN

Comments: my turn! I've had my greasy hands on these since they hit the market. I gotta agree, so far, unimpressed. I bought into the hype though and have packs upon packs of these. Sorry Kinami but I ain;t feeling it. I've fished it every way you can fish it...dont get me started. All of mine are going on eBay soon.

From: Skeezo tha lure reviewer: your house

Comments: WHERE CAN YOU BUY THE OSP DOLIVE CRAW??

From: Randy: USA

Comments: This is a bad copy of the O.S.P DoLive Craw. Go to that one, that one is awesome!!!

From: Johnson: Shenzhen, China

Comments: Not sure what these guys are thinking but with all the talk I thought this would be a hit. I did not think it would be a straight rip off of the OSP craw. That one has MUCH better action and is cheaper!!

From: Big Jr.: So. Cal.

Comments: Decent color selection but durability is questionable. I hate to say it but I still prefer a ZOOM Ultra Vibe Speed Craw. Zoom beats em hands down..

From: Oscar: Mesquite, TX

Comments: Expensive imitation of a far superior product, the O.S.P. DoLive Craw.

From: Frank: Marianna, FL

Comments: I was so excited about these coming out. But over $1 a piece? WOW! Even for Kinami/Yamamoto baits; that seems kind of high. I'm sure I'll still pick up some packs, but Kinami definitely isn't giving them away.

From: Joe: Poor guy in CA

Comments: Pretty blatant ripoff of OSP Do-Live Craw. Lacks the killer squid scent and sweet nose tentacles of the original.

From: Jeff: Canada

Comments: it looks amazing as a jig trailer, but as said isnt very sturdy. claws fall off very easily. but thats what happens with very soft baits. the claws dont have a ton of movement on the fall just a very subtile shiver.

Comments: I agree with the previous comment. The rattle chamber is positioned at the end by the head and claws. As a result, the plastic is quite thin in this area. After burying the hook point more than a couple times, durability becomes an issue. At over $1 per bait, I was really disappointed.

From: John: Howell, MI

Comments: Jury is still out on this. So far, FAIL on a shakeyhead, dropshot, light TR and as a jig trailer. Guess I gotta punch w it. The craws DONT flap, by the way.

Comments: SO SICK ON A JIG!

From: Grat: On a lake homes

Comments: Was not impressed with this bait at all! very little action from the claws and it doesnot hold up well. It is ruined after one fish. Does not hold rattle well either. To pricey for the frustration.

From: Trey: Bridge City, TX