KoolWell Livewell Cooling System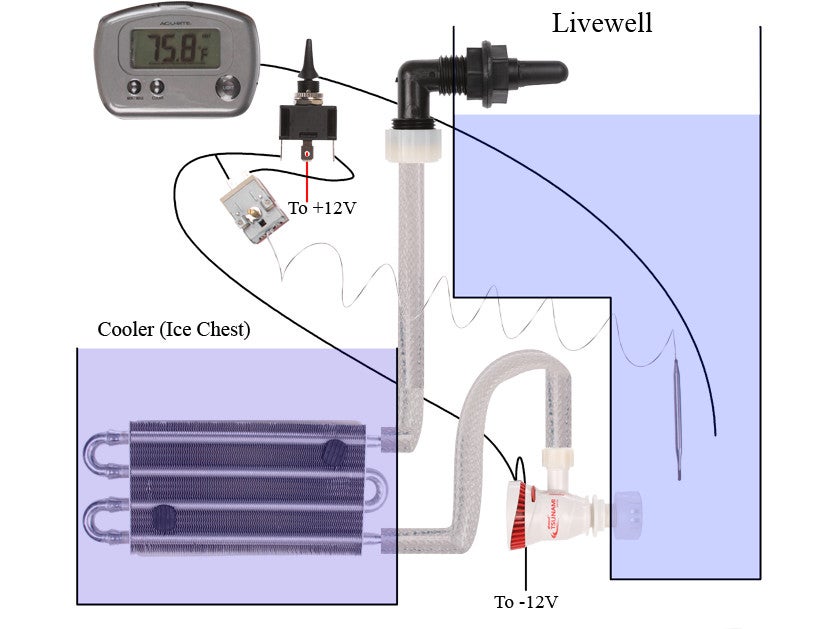 KOOLWELL cools the livewell water temperature by 7 - 10 degrees or whatever you choose to keep the fish healthy. Cool water helps to calm the fish and slow metabolism, lessening the chance of fish dying or being severely impacted otherwise. KOOLWELL is a 12 volt system that draws 2 amps per hour when in operation and will lower the temperature in a typical 25 gallon live well by 10 degrees in 30 minutes. After the water temperature has reached the desired level, the thermostat monitors the temperature to keep it optimum all day long. In hot weather conditions, over a 4 hour period, KOOLWELL runs about ONE hour including the initial cool down.
KOOLWELL is the only 12 volt system that allows anglers to thermostatically control the temperature in the livewell. Monitoring temperature and maximizing oxygen content in the livewell works together to keep fish healthy and KOOLWELL is the all natural and chemical freesolution.
Keeping bass, crappie, walleye, redfish and baitfish healthy and alive is a problem for pro and amateur tournament anglers. If not cared for properly, freshwater and saltwater fish are at risk of shock and death after the catch.
More From KoolWell Livewell Cooling System
Customer Reviews
Comments:I've used the KoolWell Livewell system since May of this year and it's been instrumental in keeping my fish alive in the most brutal conditions. With water temperatures that exceed 90 degrees here in the Southeast, it's imperative that I keep the livewell temperature at a cool, steady temperature. I think it's the single most effective way to manage your catch without having to walk the tight rope of adding ice and additives to the livewell. Less time worrying about keeping the fish healthy and more time fishing...enough said.
From:Greg: Wetumpka, AL