LIVETARGET Golden Shiner Vibration Trap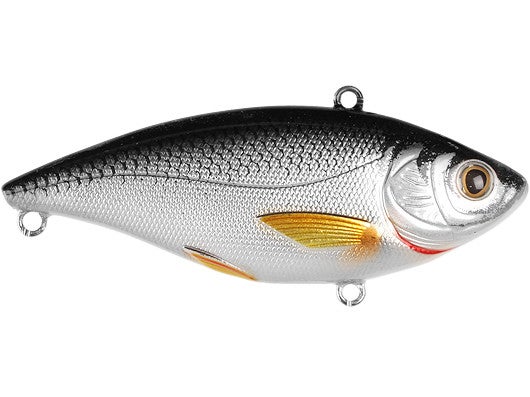 The Live Target Golden Shiner is a lipless crank that takes on a profile of a real Shiner. The internal composition of the Live Target Golden Shiner is perfectly balanced for a 'retrieve and drop' style application. Through its powerful harmonic rattles, the vibration calls fish from a distance like a dinner bell and will tantalize gamefish even in the toughest conditions.
Live Target goes further by getting down to the nitty-gritty details. Around the head you'll notice how the actual patterns encompass the eyes. The black or blue back is finished with a gradual tone rather than what you might see in other lipless lures that are solid in color. The body also has scale-like patterns that are as real as it gets. And even the fins are exact replicas with the proper color and placement on the lipless crank.
| | | | |
| --- | --- | --- | --- |
| Live Target Golden Shiner | Length | Weight | Class |
| GS60SK (1/4) | 2-3/8" | 1/4oz | Sinking |
| GS70SK (1/2) | 2-7/8" | 1/2oz | Sinking |
| GS80SK (3/4) | 3-1/8" | 3/4oz | Sinking |
9 Colors
More From LIVETARGET Lipless Crankbaits
Customer Reviews
Comments: The Golden Shiner Vibration Trap has been incredibly productive for me since I bought a couple of these two weeks ago. This evening I caught twenty 1-4 pound largemouths in about 90 minutes on the gold/black. Fish like to bite this thing! Good action, lots of rattle, and the finish is so far holding up, but the fish decimated the hooks. Change them out! Otherwise, highly recommended.
From: Robert: FL 2/28/16

Comments: man love these lures only place i can get'em is here TW Up here the Bass are really pressured but this bait is absolute when it's hard times and the colors that Koopers has I give it A+++ the bait fish up matches the hatch here
From: Ntau: WI 6/21/15

Comments: This lure is one of the best lipless cranks. The details are amazing and it catches fish when other lipless cranks won't. Koppers also has excellent customer support. Bought one and it ran on its' side when burned so I contacted them and they replaced it for me. Thank you Koppers!

From: Chris: Delta

Comments: This bait not only catches bass but also is amazing for stocked trout streams! Even trout think its the real deal! The details on these baits are top of the line, no other baits come close.

From: Mike: VA

Comments: This lure is one of the best built, highest quality lure that I have ever owned. I fished back in the shallows with the silver and black in 90 degree heat and caught the heck out of bass. One of the best things about these lures is you don't have to crank them wide open to catch fish. I had good luck by letting them hit the bottom and slow cranking back to the boat and the bass would eat it. They look so much like a real minnow that the bass get on it quick. I highly recommend these lures and I am going to order me some more as soon as I quit writing. Get you some you won't be disappointed.

From: William: Hohenwald, TN

Comments: Use this lure and caught a15 pounder striper i use the gold and black great lure

From: hmoob pro

Comments: had this bait in the 1/4 ounce and caught alot of fish off of it but it was pretty small and i ended up losing the bait on a walleye = (, so i just got another one but got it in the 1/2 ounce size and it seems like a perfect size and cant wait to get out there with it again!

From: Matt: IL

Comments: These baits are great. I used a Gold/black golden shiner a few weeks ago and landed some really nice fish. I lost a few bigger bass so I replaced the hooks with larger Gamakatsu's and havent had a problem since. I've landed probably 10-12 fish on this one bait and the paint/finish still looks good. A few small scratches from teeth is all.

From: Dan: Nor Cal

Comments: awesome bait catches fish

From: Godzilla: CA Delta

Comments: JJ's is simply the best! I am a professional anger and spotted bass guide on Georgia's famed Lake Lanier. I only trust JJ'S to deliver the best experience for my clients - JJ's helps you catch more fish - period!

From: Jimbo: Lake Lanier, GA

Comments: Great awesome bait, only problem is that after one day of fishing almost all of the finish literally peeled off. Still, this got me a fat snook, snakeheads, and plenty of bass all in a South Florida's days fishing.
Looking forward to a few more colors, and a re-finish...

Comments: I had my first chance to fish the Koppers Vibration Trap Thursday and man was I impressed. Down here in Tn. the water is in the lower 60's and the fish are beginning to spawn and the bite was tuff. I fished for about two hours and the Koppers trap was all that I could get a bite on. I caught 5 good fish between the2 and 4lb range. This is a good bait and the action in the water is the best that I have ever seen. You can reel in fast and stop it and it will fall straight down triggering bites. The appearance is second to none. It is going to be my go to bait when the fishing is tough. The bait is absolutely beautiful. You will never see a bait that looks like a real fish like the Koppers do. The only change that I did to the bait was to change the rear hook to a #4 owner treble. Get you a couple of these guys in the half ounce size and you will catch the fire out of fish. You will be amazed at the quality and the action of the bait.

From: William: Hohenwald, TN