Koppers Live Target Hollow Body Field Mouse - $10.99
Best of Show Winner for Soft Lures at the 2011 ICAST Show
Mice are native to most areas of North America, and can often be found foraging for food along shorelines and on floating vegetation - putting them in constant contact with hungry, opportunistic bass. Offering the perfect mouse imitation, the Koppers Live Target Hollow Body Field Mouse features intricate, lifelike detailing so realistic you'd swear it was alive. Perfect for twitching along the tops of pads and grassmats, it is extremely weedless, super soft for excellent collapsibility, and equipped with a razor sharp frog hook. A deadly alternative to the hollow bodied frog, the Koppers Live Target Hollow Body Field Mouse gets bit.
| | | |
| --- | --- | --- |
| Koppers | Length | Weight |
| Field Mouse 60T | 2.25" | 5/8oz |
| Field Mouse 70T | 2.75" | 3/4oz |
| Field Mouse 90T | 3.5" | 1oz |
Comments: This is a great bait but you can't fish it like a traditional frog. If you throw it tight to cover and slowly retrieve it , it looks like a mouse treading water hence the rolling action. It does not like to walk the dog because of the rolling action. It is most deffinately a cast and retrieve bait and it is awesome. Fish it like it's a mouse treading water and you will get bit! The tail action alone pulls the hawgs

From: Thomas: Holly Springs NC

Comments: The BEST! The END

From: hmongbass: Madison, WI

Comments: Great lure! after a bunch of bass this lure is still in great shape and still floats and reacts perfectly. I recommend this!

From: Ray: Orlando, FL

Comments: As a topwater fiend, I've tried them all. This product I must say is the worst. It casts ok, rolls to much on the pads, grabs junk to easy and fills up with water. Big dissapointment! I'll stick witht e boze sumo frog anyday!

From: Karl: Chicago, IL

Comments: 31 bass you sure, by the way it sounds you are way over your head for 3 hours. But still a good bait
Comments: OMG..... one of my best bass fishing ever. it came from this mouse.. landed 31 BASS in 3 hours of fishing. this mouse out fish the frog that day. all i have to say is...........WOW. What i did is put some super glue on the tale. it never came off.

From: Skyline: Greenfield, WI

Comments: I picked one up at my local store and took it up north, it quickly became my "go to lure". If you're not getting results you're not fishin' it right. Yes it'll catch lilly pads and grass but if you cast in to the gaps in them get ready for action. My 18" large mouth could tell you how great it was, if I hadn't eaten it.

From: Mike: Ontario, Canada

Comments: just got it today and brought it to a lake and it swims like a dream. got a couple nice bass and a couple hits, the tail has not came off yet, so pleased so far. will be getting more.

From: Trenten: FL

Comments: This thing is simply amazing!The hookup ratio is outstanding.If you haven't tried this you are missing out.This mouse will out fish a frog and the way it rides up away from the hook is great.The hooks are premium.Get one and try it ,you'll be back for more.The strikes on this thing are heart stopping!And yes this is a game changer!

From: Keith: Madison, GA

Comments: I ordered 2 of these this spring and finally got to fish them the last few weeks and they accounted for all my fish with the largest being 4lbs from a city pond....well all were from city ponds. Great action once you figure them out, they are soft, I just squeezed the water out of mine between casts to make sure it stayed up which it did. I did happen to loose the legs after dragging the 4lb fish 100ft though the weeds but minor fix with a few strands of a skirt in each hole with some superglue and good to go. Will role if you reel it too fast and it does sit low in the water. Its got more good qualities then bad and if the other guy wants to send me all his instead of giving them to his competitors by all means let me know. This is a fish catching machine and am more then pleased with it.

From: William: Long Beach, CA

Comments: JUNK...WHAT A WASTE ON 10 DOLLARS

From: Troy: WI

Comments: Dont buy. Filled with water after several casts and sank. Not durable and does not work well when floating. This bait sells on looks and nothing else. Have other live target baits. They catch me fish. Giving this bait to Adam.

From: Erik: WI

Comments: ON the second cast a half pound bass tore the legs clean out and nearly separated the tail from the body. very disappointing, returned it to my tackle dealer and received a full refund. Would be amazing if it was as durable as the frogs. 0 out of 5 stars

Comments: Purchased the LT Mouse a few months back and tried it out on a trip to Black Lake, NY for the bass opener. Damn did it perform well, i loved the action the mouse had. I would have to say it out performed any hollow body frog I've fished. It seems to have more of a swimming action, rather than the walk the dog action the frogs have. The appearance of a mouse makes it look more vulnerable to bass rather than a frog, since mice don't belong in the water. Another great product from Koppers!

From: Dan: Buffalo, NY

Comments: The bait needs to be wider so it wont be rotating as your trying to walk it. If it was just a little thicker this would not be a problem.

From: Andy: MA

Comments: Three casts with this the other night and it came up without legs and tail: dead bait. I'm dissappointed as Koppers stuff has always been top notch for me. Probably I got a bad one, but based on comments I see here and elsewhere, I'm concerned about how well it will hold up. Not buying another.

From: WT: Mpls, MN

Comments: I was fishing behind a guy throwing a pad crasher(which is my favorite frog) and he casted to the same pads I eventually casted to. I pulled out 4 quality fish right behind him when he caught zero. Im buying more. There is something about that swimming action as opposed to the walking action of the frog. I used to have the same tearing problem as other people. So when I take it out of the package I stretch the tail out a ways and apply epoxy in the hole. I do the same with the front line tie. Make sure to get the epoxy in the bait instead of just outside of it. This makes the mouse as well as other frogs last way longer.

From: Ben: Hudsonville, MI

Comments: Tried it today, and the only thing possitive about it is it looks like a mouse.... Rubber legs came off after a few hits. Hooks pick up weeds on every cast, unless you only fish open water. The only ones I would recommend this lure to are my competition in tournaments...

From: Dick: Sterling, IL

Comments: Love the realistic details that koppers live target keeps on bringing. For me if seems like they made the body too soft, i keep getting weeds and grass caught on only one of my hooks. After catching 1 fish my mouse was just not the same it kept catching weeds. Awesome lure but overall too soft and not durable as the frog.

Comments: great walk the dog action - best used on a random pause often during the retrieve. most of the fish that hit it are a little better than frog fish in the early spring. haven't had any real hard strikes or caught as many as i thought it would. tail might come off - glue something in it's place and you're back in the game. good bait - but i prefer kopper's frogs. didn't think that would be the case after seeing this mouse.

From: Matt: AZ

Comments: GREAT BAIT, BUT AFTER CATCHING 2 TO 3 FISH THE BAIT IS SHOT . I HAD 3 USED THEM ON 5 FISH IN 3HRS OF FISHING. WILL NOT BUY ANY MORE

From: Kyle: MISS

Comments: mine worked this season, caught a monster bass on these, awesome bait. I plan to get more, mine didn't sink, it floats great, might be your guys baits are from somewhere else. Mine floats on water and works great for monster bass. I caught my trophy this year and plan to get more. Its awesome topwater, keep mouse going! Really great bait.

From: Alex again!

Comments: Second one sank too. I give up.

From: Mike: Jackson, MO

Comments: Walks with no effort at all but my first one sank immediately so I'm gonna give em another shot and hope I just got a bad one. These will be great on smaller ponds.

From: Mike: Jackson, MO

Comments: Got this bait this year! hooks are sharp and nice looking bait. Using it this summer, i don't have alot of weeds in my lake but this bait is sweet and nice. More realistic. The company should make a snake, bird, and other unusual topwates like this one to get big girls biting. Good fishing to you forever!

From: Alex: Kansas

Comments: worked fine for the 10x's i tossed it,then some angry ass smallie tore the dang tail off and now it fills up with water to quick,by the time i get it back to me its under water.looks great but didnt hold up quite as planned.

From: Sammy: USA

Comments: Looks great!!! I'm going to get mouse bait. Time to catch some lunkers. I seen this type bait used in New York. Caught alot of fish because New york has rats. Well rats are everywhere in America. Might be your next Go to bait! :)

From: Alex: Kansas

Comments: This thing is going to be killer, just arrived cant wait to throw it this year!! Super soft, I threw it in my plano box and am just amazed walking away how real it looks.

From: Brett: NY

Comments: I dont even need to use this mouse to know it will be a game changer this year!

From: Matt: Iowa

***Note: If you have questions about this product or need assistance with an order please email your questions to info@tacklewarehouse.com
View Large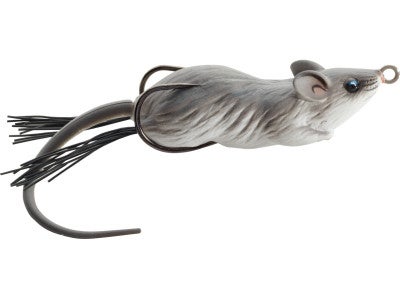 4 Available Colors
More Koppers LIVETARGET Frogs
More Koppers LIVETARGET Topwater Baits