LIVETARGET Pumpkinseed Vibration Trap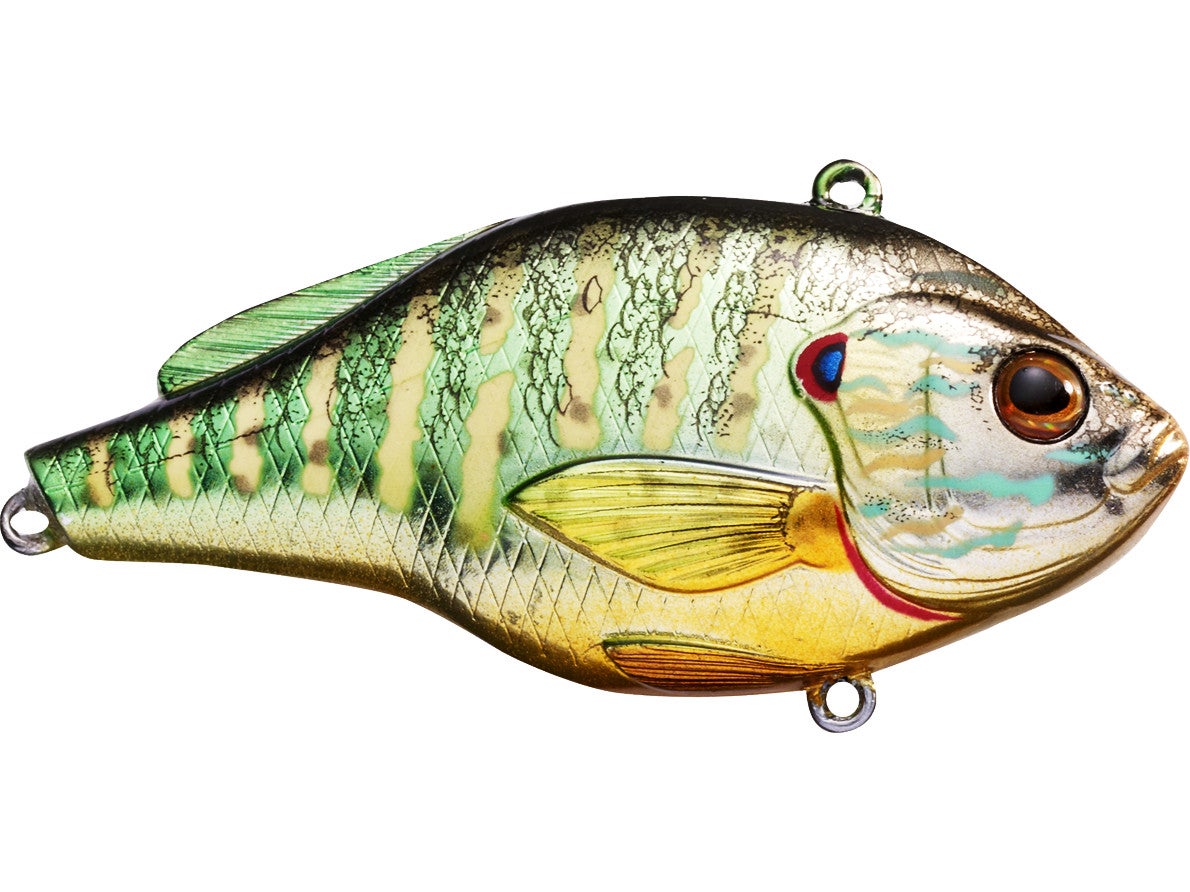 Sunfish inhabit waterways across most of the United States, and as many anglers know they are a staple forage for bass. The young sunfish find comfort in the security of cover such as rock, vegetation and timber, exactly where bass lurk - hunting and waiting for their next unsuspecting meal. Ultra realistic with unparalleled lifelike detail, the Koppers Live Target Pumpkinseed Trap also delivers a powerful harmonic rattle that calls fish from a distance and generates vicious assaults.
| | | | |
| --- | --- | --- | --- |
| Live Target Pumpkinseed Trap | Length | Weight | Class |
| PSV55SK | 2-3/16" | 1/4oz | Sinking |
| PSV65SK | 2-9/16" | 1/2oz | Sinking |
2 Colors
More From LIVETARGET Crankbaits
Customer Reviews
Comments: Fall bass is on full strike right now and this lure is getting the best out of all the lure I'm using, loss it in a snag today so I'm gonna be ordering a couple more, Bass love em! Although I would say the treble hook can go up a size or two, especially if you're hooked on anything bigger than a 3lber.

From: Lee: Yuba City, CA

Comments: awesome lure..love the coloration and the vibration going threw the water..would encourage any angler to buy one

From: Michael: fremont ca USA

Comments: These lures are great. I yoyo them and I rip them through brush. The live target traps flat out work.

From: Nick: Augusta, GA

Comments: I've had really good results fishing all Koppers Live Target lipless cranks. Action is terrific. Colors are top notch. In my opinion, the realism is a cut above Lucky Craft, at a 25% lower price.

From: Brian: Los Gatos, CA

Comments: Took this out today for a good long time "test" session. Was windy, overcast and on the colder side for South Florida. Water maybe 60-70 degrees or so. Took a few casts but when the first fish hit it really ate this thing. full in mouth, same with the second fish. Cast at the second after watching him jump three times at the surface, and he went for it and missed it twice, but the third run at he hit it. Great bait. Seems to attract larger fish as well.

From: Craig: Sunrise, FL