LIVETARGET Threadfin Shad Baitball Crankbait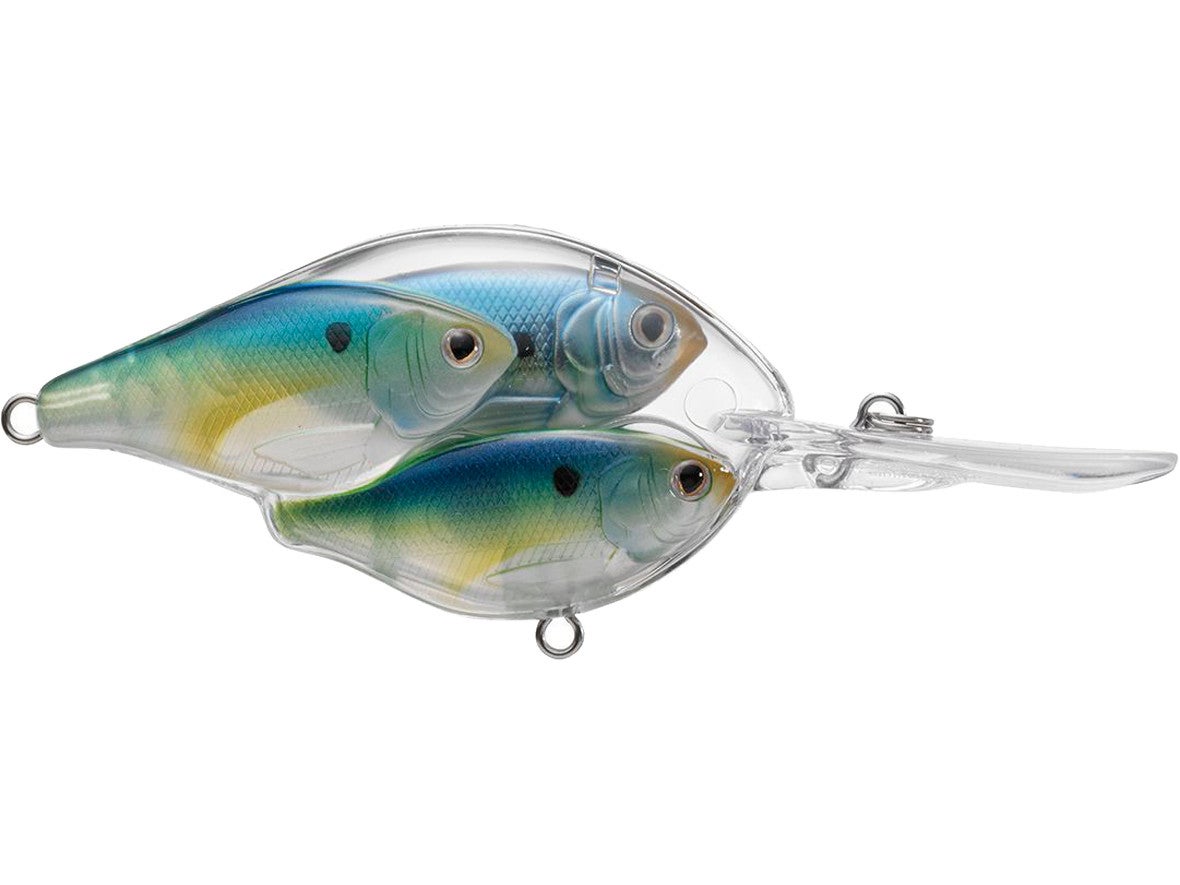 2013 ICAST Overall Best of Show Winner
The Live Target Threadfin Shad Bait Ball Crankbaits are a revolutionary take on crankbait fishing. Each bait is molded around multiple baitfish profiles, giving it the appearance of a small bait ball of fish breaking off from the school. This is exactly what happens when bass attack a school of baitfish, the baitfish scatter and then instinctually form smaller bait balls in an effort to regain the safety of the school. Live Target realized when bass see the Threadfin Shad Baitball Crankbait moving through the water, or any crankbait for that matter, they don't see it is as a single baitfish, they see it as a small bait ball. The size of a crankbait actually more closely resembles 3-5 baitfish tightly packed together rather than one giant baitfish. The combination of the Koppers Live Target Threadfin Shad Bait Ball Crankbait's proven rattling action and multiple baitfish profiles triggers the impulses of foraging bass, and allows you to present multiple baits without having to throw an umbrella rig.
| | | | | |
| --- | --- | --- | --- | --- |
| Live Target | Length | Weight | Depth | Class |
| Threadfin Bait Ball Crank | 2-1/2" | 5/8oz | 10ft | Floating |
7 Colors
More From LIVETARGET Crankbaits
Customer Reviews
Comments: Used it twice, and lip broke off. I did catch a 2lb bass on the first cast though. I'll try another and hope it's better in durability.
From: Unknown 2/15/17
Comments: these lures are great, i havent had one problem with them. ive caught a few bass along weed lines with them. unfortunately the fishing in iowa wasnt the greatest for the time. cant wait to use these more.
From: Brad: IA 4/1/16

Comments: Needs stronger construction, cracked the bill on the first one after a bad cast, second one the bill broke off where it meets the body after hitting a bridge abutment. Should be able to survive impact better than that.
From: Nate: Buffalo, NY 6/30/14

Comments: I got the Crankbait and it broke after a couple trips. I have got a few fish on it but it will probably work good when the bass are chasing shad in open water. I contacted Live Target and they have the best customer service. Live Target Fan for Life..
From: John: San Diego, CA 6/26/14

Comments: I was able to see this lure in action at a high school bass fishing tournament this Spring. We were able to land one bass that was short of being a keeper. I think this lure has potential, but it wouldnt hurt to switch out the hooks and maybe add a feather trailer. I think with more time on the water this lure could prove to be effective in a tourney or for recreational angling opportunities. I would like to see them create a rattle bait that utilizes the baitball technology. I would also like to see a baitball lure with gizzard shad, bluegill, or perch, especially for anglers that are from the northern part of the United States.
From: Brent: Chi Town Suburbs, IL 4/22/14
Comments: Save your money!! First day fished the square bill for about 30 minutes in shallow water bumping it off rocks reeled it in and had a broken lip. Neat design would possibly catch a fish but can't stand up to any wear what so ever. Bet I didn't grind it off more than a dozen rocks. Sorry but that was a fast $15 down the drain!!!
From: Curt: OK 4/18/14
Comments: They work, but the durability is the pits. I had the rear treble hook break off because the back of the lure split and separated. I had the short bill shad bait ball break at the bill. they work, but the durability is the pits.
From: Slade: CA 3/25/14
Comments: I'm not the type of person to slam someone's product and maybe this was just a single defective piece. But to make a long story short I got hung up in a tree and this crank bait snapped off at the bill. So for fourteen bucks you would figure my line would break before the bill would snap off. Just a little customer feed back take it for what it's worth.
From: Steven: San Tan Valley, AZ