LIVETARGET Glass Minnow Baitball Popper - $15.99

2013 ICAST Overall Best of Show Winner
The Live Target Glass Minnow Bait Ball Poppers take Live Target's revolutionary Bait Ball Series to the water's surface. Each bait is molded around multiple glass minnow profiles, giving it the appearance of a small bait ball breaking off from the school. This is exactly what happens when bass attack a school of baitfish, the baitfish scatter and then instinctually form smaller bait balls in an effort to regain the safety of the school. The baitfish that seek refuge at the water's surface are an easy target for bass lurking below. Perfect for those times of year when bass are keying on tiny baitfish on the surface, the Live Target Glass Minnow Bait Ball Popper provides an imitation you can cast and fish with conventional gear and still mimic the smaller baitfish. Available in a range of colors, the Koppers Live Target Glass Minnow Baitball Popper taps into the impulses of foraging bass, and allows you to present multiple baits without throwing an umbrella rig.
| | | | |
| --- | --- | --- | --- |
| Live Target | Length | Weight | Class |
| Glass Minnow Bait Ball Popper | 2-1/2" | 1/4oz | Topwater |
| Glass Minnow Bait Ball Popper | 3" | 3/8oz | Topwater |
View Large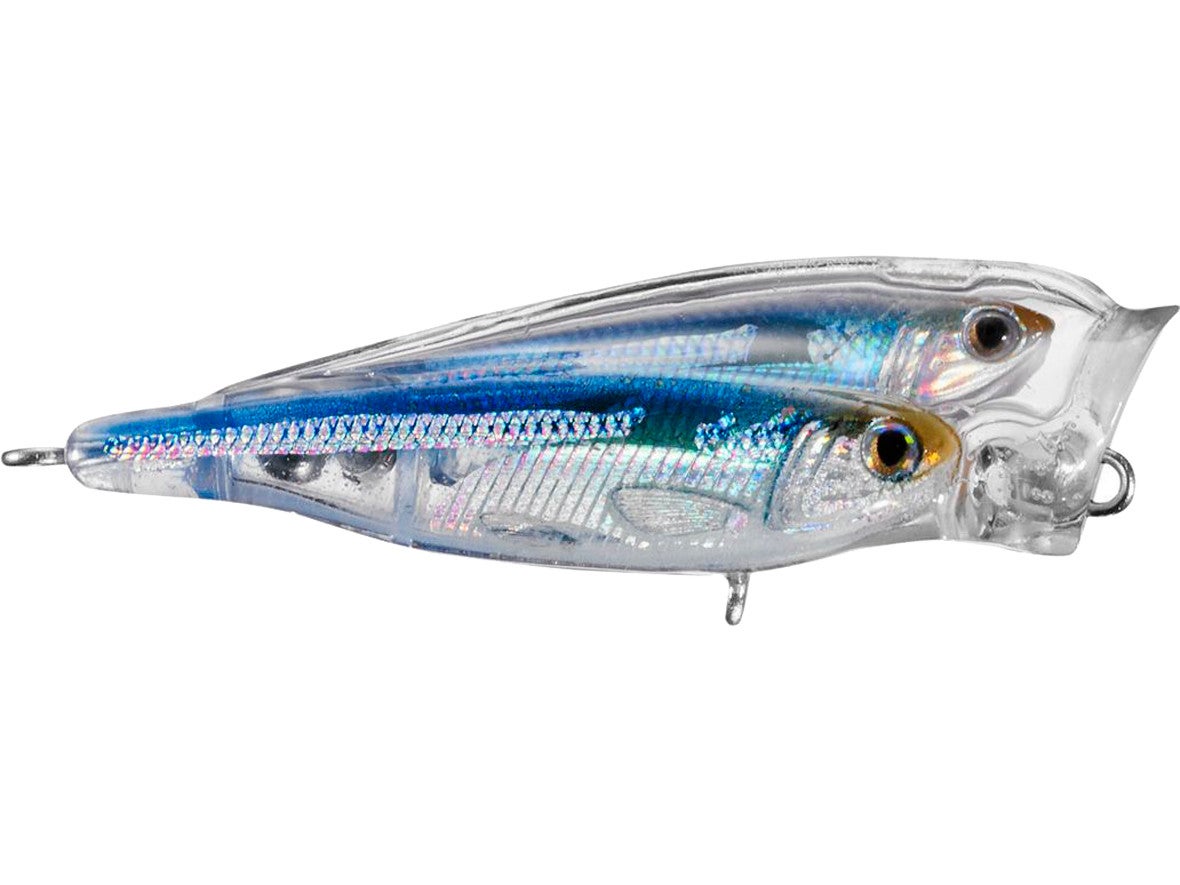 More LIVETARGET Topwater Baits
Comments: This thing is well worth the money I caught maybe 50 or more largemouth on this lure I have only the silver blue green in 3/8 I tried this lure on a whim and will buy all colors now
From: Blake: Sussex County, DE 6/27/14

Comments: Don't let the price tag scare you! 15 dollars for a top of the line bait that looks unlike any other bait and looks like natural forage is going to put fish in the boat! I went with the popper because the thought of having the crankbait or jerkbait get hung up and losing it terrified me! This bait has the classic action of a great popper, you can walk the dog with it or just pop it! I was very successful my first outing using it! If you are on the fence about buying it, just do it! This thing rocks!
From: Chase: Bellevue, NE 6/23/14

***Note: If you have questions about this product or need assistance with an order please email your questions to info@tacklewarehouse.com