LIVETARGET Threadfin Shad Swimbait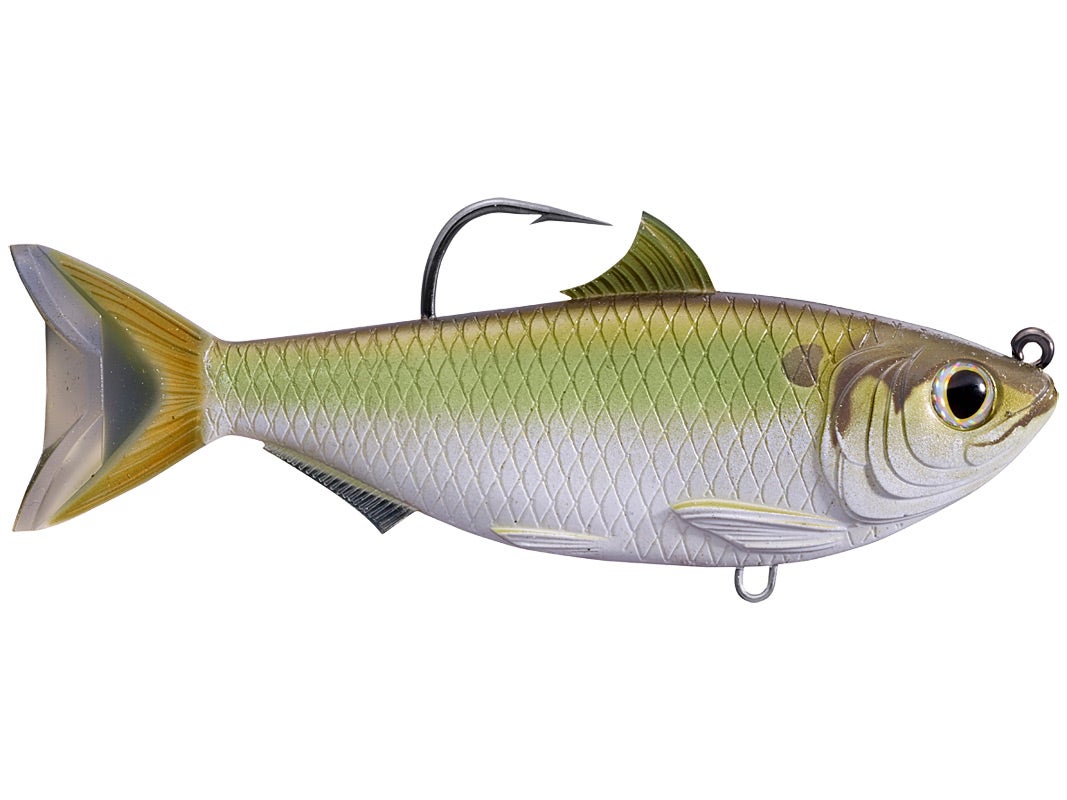 A prime target for most freshwater predators, the Threadfin Shad is an abundant and widely dispersed forage, making the LIVETARGET Threadfin Shad Swimbait a lethal choice during the spring shad spawn, in the summer when shad school-up, and during the fall in the backs of creeks. Anatomically accurate, the LIVETARGET Threadfin Shad Swimbait features a lifelike tail that produces an uncanny swimming action.

Designed with a number of performance-enhancing features, the LIVETARGET Threadfin Shad Swimbait is molded with a realistic dorsal fin that acts as a weedguard and reduces hang-ups. Internally, the LIVETARGET Threadfin Shad Swimbait is precisely weighted to deliver a perfectly balanced presentation. Complete with an accessory pin along the belly for easy hook and blade attachment, the LIVETARGET Threadfin Shad Swimbait is a must-have for swimbait enthusiasts.

LIVETARGET has combined nature's best with modern technology to create an exciting new collection of swimbaits. Available in 9 common forages, the new LIVETARGET Swimbait Series is designed to look and swim just like live bait. The profile of the body and tail is so accurately matched and anatomically scaled, it sets a new industry standard to match-the-hatch. The tail is precisely fitted with a strategically engineered oscillator that generates a side-to-side tail swing action. Every swimbait has its own signature action, making it come alive and swim just like its natural counterpart.
| | | | |
| --- | --- | --- | --- |
| LIVETARGET | Length | Weight | Class |
| Threadfin Shad | 3-1/2" | 1/2oz | Medium-slow sink |
| Threadfin Shad | 4-1/2" | 1oz | Medium-slow sink |

Click on the logo to read their review.
2 Colors
More From LIVETARGET Swimbaits
Customer Reviews
Comments: I was actually wondering if this bait was actually going to work for a person that has never thrown a swimbait before and it exceeded my expectations. The colors that they have chosen for the baits could be better but they still work. They swim true out of the box and have a great hook. The only bad thing that I found with this bait is that it smells like stray paint when you take it out of the package. But it is an overall great bait.
From: Nathan: Lake in the Hills, IL 1/3/17
Comments: Absolutely great bait! Was fishing in a farm pond catching a couple 3 pound bass and one 8 1/4. Fish were always interested in the bait. Though the high price may be a deterrent, I would highly recommend an investment in this lifelike swimbait.
From: Robby: North Carolina 12/28/16