LIVETARGET Yearling Baitball Squarebill Crankbait -
$12.78
Double down and match-the-hatch with the new Livetarget Yearling Baitball Squarebill Crankbait. Made using Livetarget's revolutionary baitball technology, the Livetargets Yearling Baitball Squarebill Crankbait provides a spot-on imitation of a small group of yearling erratically searching for the sanctuary of their baitball. This multi-faceted design reflects light in all directions and produces more flash than traditional crankbait designs.

Deadly in shallow water, the Livetarget Yearling Baitball Squarebill Crankbait really comes to life when deflected off of cover. Offered in a number of brilliant baitball designs, the Livetarget Yearling Baitball Squarebill Crankbait is sure to become your go-to bait for targeting shallow-staging bass.
| | | | | |
| --- | --- | --- | --- | --- |
| Koppers Live Target | Length | Weight | Class | Depth |
| YSB50S | 1-7/8" | 1/4oz | Floating | 3-4ft |
| YSB60S | 2-3/8" | 1/2oz | Floating | 4-5ft |
View Large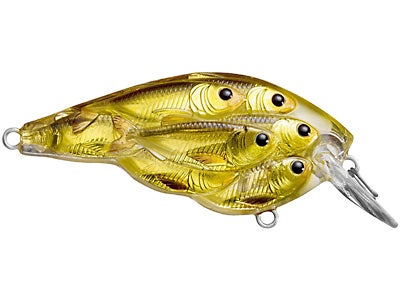 More LIVETARGET Crankbaits
Comments: It definitely caught fish, but the bill chipped as soon as it bounced off some rocks. Keep it in the grass, and you'll have a great day!
From: Patrick: West Lafayette, IN 10/27/14

Comments: Guys, you have got to get your hands on some of these Live Target Yearling Bait Ball lures! Each lure is perfectly balanced out of the package. The half ouncers cast a mile. Bass cannot sense that this is just another piece of pretty plastic swimming by. They are to concentrated by the bite sized group of baby fish, and the many textures it offers.Thanks Live Target.
From: John: Heath, OH 9/28/14

***Note: If you have questions about this product or need assistance with an order please email your questions to info@tacklewarehouse.com