Lake Fork Boot Tail Live Magic Shad 4pk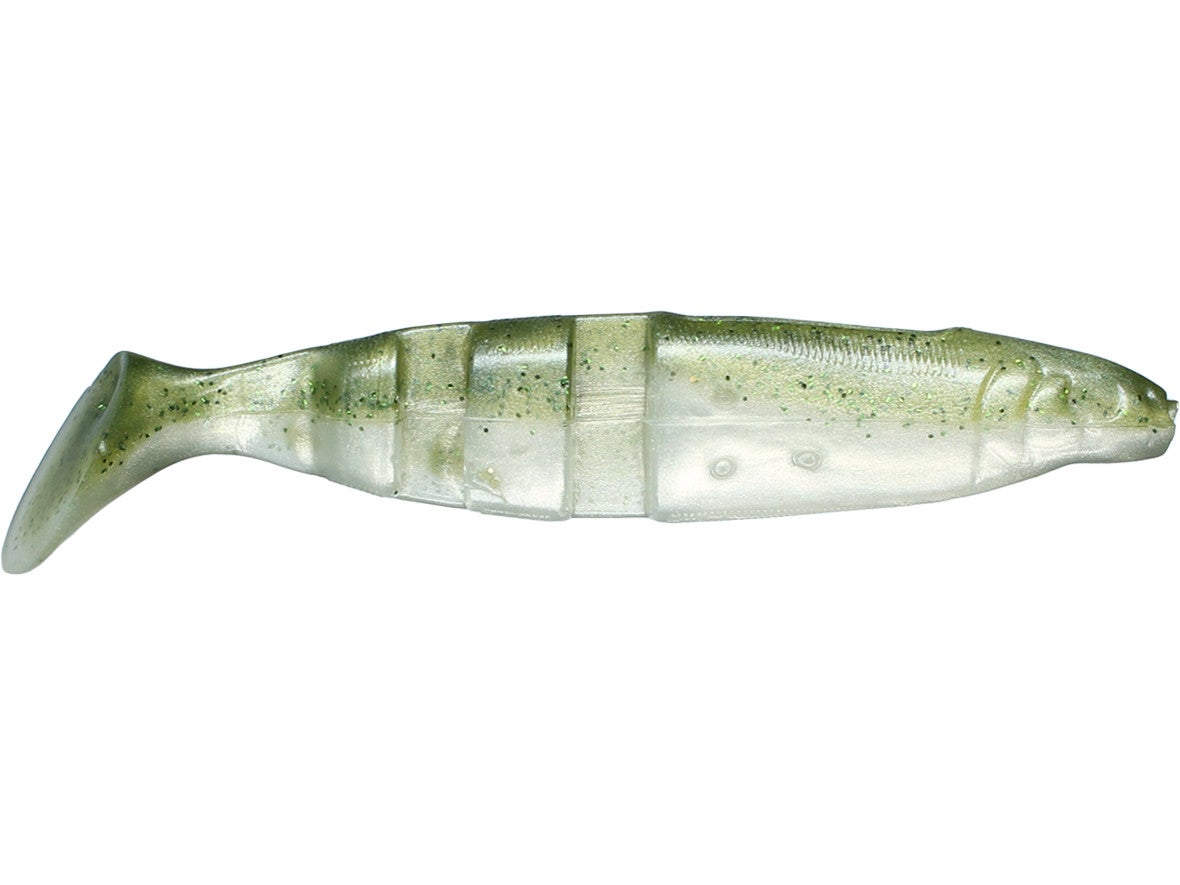 Delivering the lifelike swimming action of the original Live Magic Shad - now with some extra tail thump - the advanced engineering of the Lake Fork Boot Tail Live Magic Shad allows it to accurately mimic the swimming motion of a fleeing baitfish and trigger vicious strikes. Impregnated with garlic scent and made from super soft plastic to make fish hold on longer, a hook keeper pocket is also molded into the top of each bait, greatly reducing hang-ups and snags, while increasing hook-ups. For best results, try rigging the Boot Tail Live Magic Shad on a weighted swimbait hook or umbrella rig. A slow steady retrieve will bring this swimbait to life. The Lake Fork Boot Tail Live Magic Shad is now available at Tackle Warehouse in a variety of colors to match the forage in your local waters.
| | |
| --- | --- |
| Length | Quantity |
| 4.5" | 4 |
| 3.5" | 6 |
9 Colors
More From Lake Fork Tackle Soft Plastic
More From Lake Fork Tackle Swimbaits
Customer Reviews
Comments: Just purchased some of these in the 4.5 inch magic shad color. Have not used them not but they look and feel like they will have great action and having the boot tail in my opinion is much better and is a confidence booster. Perfect size also.
From: Nick 1/5/17
Comments: Better kick than original. Great as Swimbait, A-Rig, or Bulking up a SwimJig, for slower bottom retrieves and increased water displacement at night. Trim long skirts to front section, to not impede action. For a ChatterBait or Scrounger Head, the original MS looks better paused on the bottom and the blade/lip powers the kicking action. Both are outstanding fish catchers in these applications.
From: Outcast: CA 7/4/15

Comments: Bought these for vibejig trailer as I've heard good things. Rigged em up and was very underwhelmed. The boot tail moved around tightly but rapidly. The segmented tail did not kick at all. Perhaps the blade or skirt hampered water flow. I'll give them a shot on a jighead.
From: Montanaro: Touchdown City, WV 8/1/14

Comments: I use this bait as a trailer on the strike king heavy cover jig, and all I can say is WOW. This bait has unreal swimming action and helped me land a personal best 7 pounder. Can't say enough.
From: Sam: MO 3/1/14
Comments: I love fishing theses on a swimbait jighead at a power dam for smallmouth, stripers, walleye, largemouth, pike, muskies, flathead catfish & i had a big crappie take one once.You gotta cut a little tip of the head off then thread it on a jighead.Works great on my 7'2 compre caster and core reel with 20 pound trilene 100% flurocarbon.

From: Tyler: susquehanna river,PA,USA

Comments: Pure greatness!! Game changer!! try these waitless up shallow or on an A-rig and hold on!! All LFT lures are the bomb!

From: Mike: Lake Fork, TX

Comments: Awesome swim bait!! I've been using this bait since the fall. I've caught fish using as a single swim bait on any 5/0-6/0 swim bait hook. I've also used them on the Alabama rig. The 3.5" and 4.5" in pearl and albino colors are my favorites. The boot tail action gives action that copy's bait fish fleeing. You can use it in many different ways. You can slow reel it, use it for schooling fish, and the A-Rig. You'll catch big fish and numbers!!!

From: Keivn: AL

Comments: This swim bait is a game changer. The lft live magic shad was already a great product. The boot tail magic shad takes even that bait to another level. This is a great bait to swim behind a bladed jig, on an Alabama rig or just swim it alone. It has tons of action even with a slow retrieve.
Simply said, this is the next generation of swim bait.

From: Grant: TX

Comments: ITS ABOUT TIME!!!!!!!! Been waiting for this to come out and fished with them for the first time yesterday using them as a swim jig trailer. Outstanding action! Great bait!

From: Al: FL