Lake Fork FluoroHybrid FH Fishing Line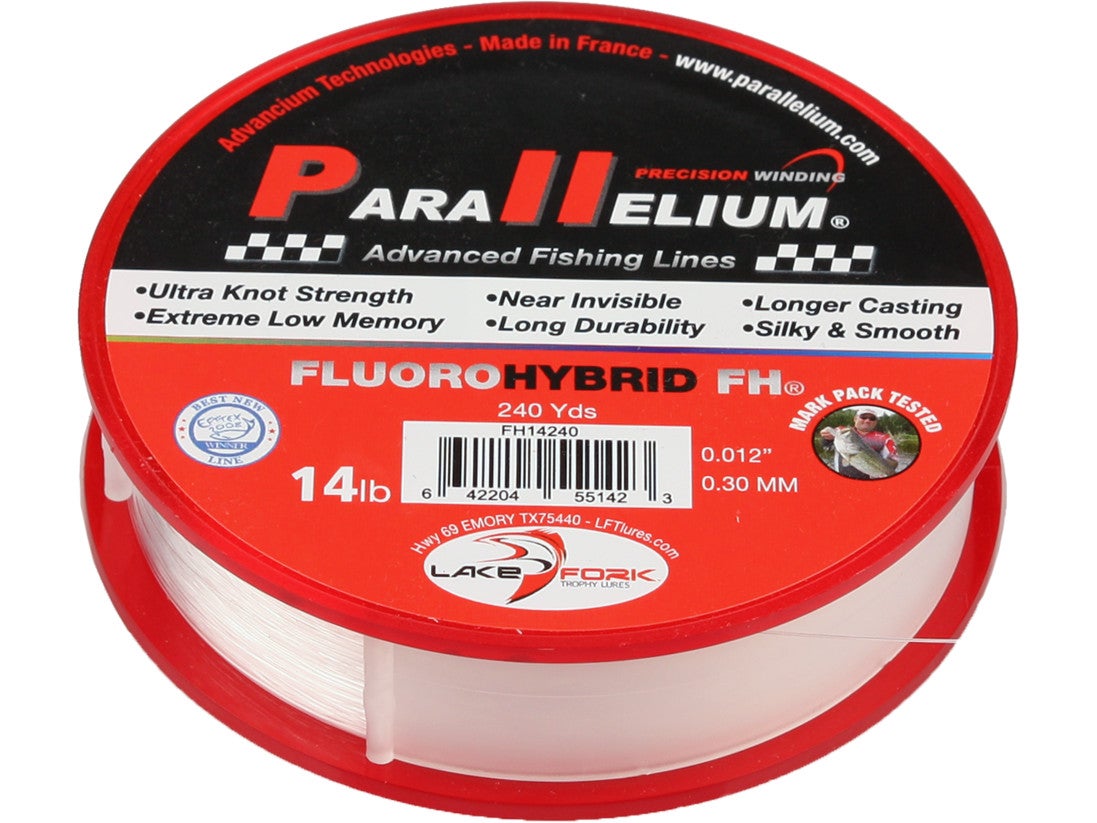 Lake Fork Fluorohybrid FH is a co-extruded hybrid of an advanced coplymer inner core with an outer layer of premium fluorocarbon. This fluorocarbon hybrid line combines both advantages of having extreme knot strength and high abrasion resistance. Digital precision winding process allows Fluorohybrid FH to be cast with easy while reducing line twists.
Fluorohybrid FH features virtually no memory, significantly smaller diameter than competitors' same strength lines, extreme limpness, UV proof and ultra long casting. Fluorohybrid FH won the best line in show at the 2008 European EFTTX fishing convention and is already being highly acclaimed by many U.S. tournament professional anglers.
| | | | | | | | |
| --- | --- | --- | --- | --- | --- | --- | --- |
| ISO lb Test | 7lb | 10lb | 14lb | 20lb | 26lb | 32lb | 37lb |
| US lb test | 5lb | 7lb | 10lb | 14lb | 20lb | 22lb | 25lb |
| Inches | .008 | .010 | .012 | .014 | .016 | .018 | .020 |
| Millimeters | .20 | .225 | .30 | .35 | .40 | .45 | .50 |
Place Your Order
More From Lake Fork Tackle Fishing Line
Customer Reviews
Comments: Really good feel with this line. Super smooth using 10lb ISO 7lb test on my spinning reel. You must retie often though because it really is not very abrasion resistant. Probably retie after each fish caught. I have broke several fish off, but it is good if you retie often. I use a double San Diego Jam knot as it seems to work best. If it were more abrasion resistant it would be my favorite line by far. But it cannot take away the Sunline FC Sniper line because of the abrasion factor.

From: Frank

Comments: Not very abrasion resistant, would recommend not buying

From: Nathan: Waynesburg, KY

Comments: A very good overall line , no memory ( and I really mean it when I say no memory ). The problem is that it's not as much abrasion resistant some simple mono are even better abrasion resistant. Knot strengh is not so good (it's not bad either)

From: Keyvan: Belgium

Comments: This line is the best by far I will be putting lake fork line on all my reels. Give it a try you won't be dissapointed.

From: Taylor: Valdosta, GA

Comments: Best line I've used to date. Very strong and good in cold weather. I highly recommend using it.

From: Mike: Eagan, MN