Lake Fork Parallelium Powersilk Copolymer Fishing Line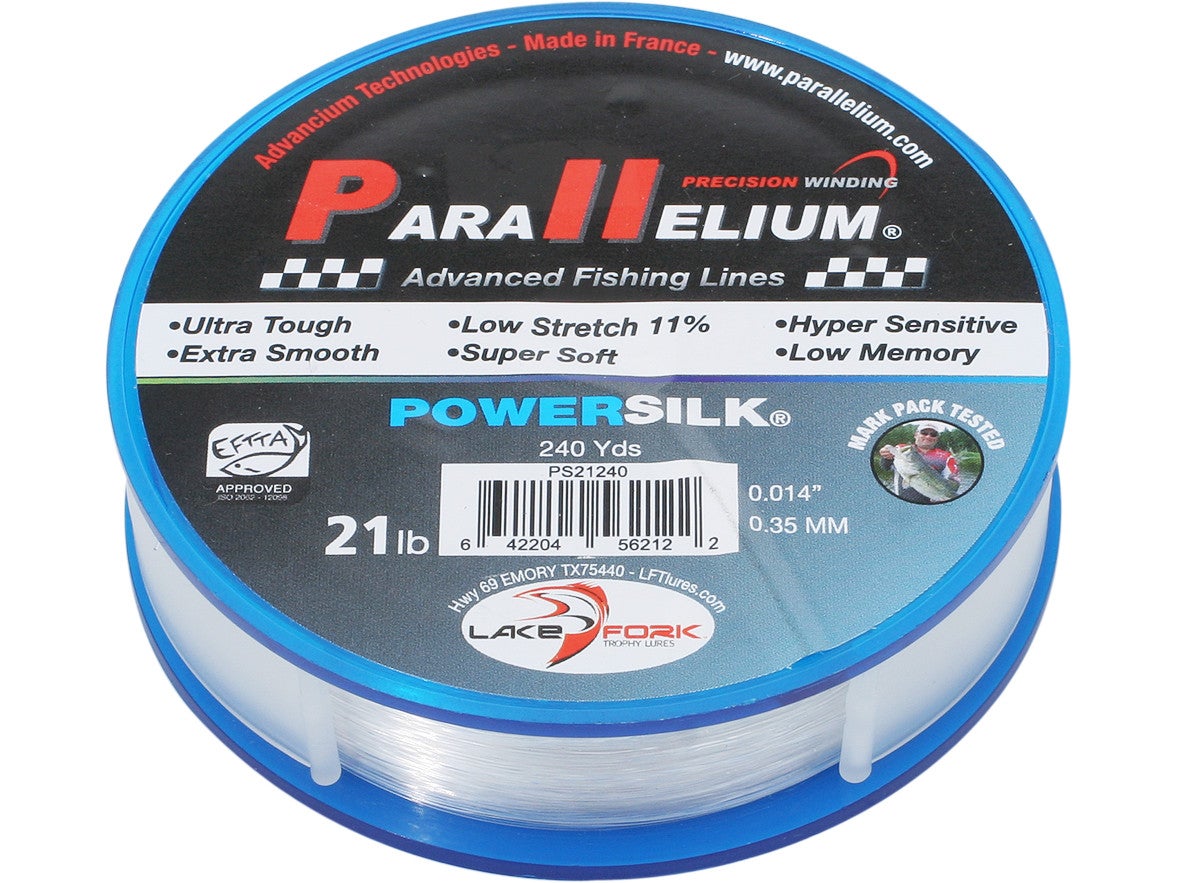 Lake Fork Powersilk is the strongest low stretch (11%) multi-coated Copolymer currently on the market. Powersilk combines the advantages to be amazingly strong and powerful, while offering soft and easy casting. Powersilk's multi-coat process softens and smooths the line, and the advanced Copolymer formula adds toughness and abrasion resistance. Digital precision winding process allows Powersilk to be cast with easy while reducing line twists.
| | | | | | | |
| --- | --- | --- | --- | --- | --- | --- |
| ISO lb test | 10lb | 12lb | 15lb | 17lb | 21lb | 28lb |
| US lb test | 7lb | 8lb | 10lb | 12lb | 15lb | 20lb |
| Inches | .009 | .010 | .011 | .012 | .014 | .016 |
| Millimeters | .225 | .25 | .28 | .30 | .35 | .40 |
Place Your Order
More From Lake Fork Tackle Fishing Line
Customer Reviews
Comments: I hesitantly bought this line last season after hearing mixed reviews. After fishing with it for a whole season, I have to say, this stuff stinks. I don't know if I had received a bad spool or what, but I have never experienced so many break-offs, ever. Yes I did tie the recommended knot as well. Being relocated to my spool filler box, unfortunately.

From: Sam: IL

Comments: This stuff is good. I used the 12lb US 17lb ISO line last year for topwater. Floats well, doesn't stretch as much as mono. I got wrapped around a branch one morning throwing a Strike King 3x Zulu (floating fluke style bait), after tightening my drag I tried to snap the line multiple times. Started to winch the boat across the water before the 3/0 gama hook eventually straightened and popped off the tree. Also, with an Abu Revo SX it casts a Rapala SkitterWalk (spook style) over 50 yards. Good stuff for sure!

From: Aaron: NY

Comments: Many, many breakoffs with this line. The knot strenght is horrible. Using this line as spool filler now.

From: Rich: North Vernon, IN

Comments: I order what I thought was 15 lb test however it was 10 lb US. The item web page is misleading. Make sure you have the correct lb test before ordering, so you don't end up with worthless line like me.

From: Tyler: TX

Comments: Very weak line...constantly broke on me...ended up throwing it out. I went back to the P-Line Fluroclear and everything is back to normal.

From: Matt: MI

Comments: By far the best line I have ever used. Low stretch, low memory and tough as nails.

From: Chris: Connecticut, USA
Comments: This is my confidence line, I can throw 15lb line on a spinning reel with shaky heads, throw crankbaits with 17lb test, and spinnerbaits, topwater, traps, and jigs with 21lb test, and Flip and even Punch with 28lb test. This is some of the best line I ever used. Awesome line!

From: Dominick: Carbondale, IL
Comments: This is by far the best copolymer line on the market - the only copolymer I spool up with now. Buy it and try it, and you'll be sold! And keep in mind that this copolymer line,like all LF products,is tested and approved by Mark Pack!

From: Matt: USA
Comments: Bought 2 sizes of this for Shimano spinning gear. HIGH memory, bad twist, low break strength, Very Disappointed!! DO NOT RECOMMEND!!!

From: