Lake Fork Ring Fry Worm - $4.99

Lake Fork Tackle has improved the popular French Fry lure with their 4" Ring Fry. The Ring Fry's extra large tapered; ringed body conceals air pockets that create a natural breathing action. The large ringed body of the Ring Fry also conceals the hook, making the lure virtually weedless in heavy cover.
| | |
| --- | --- |
| Length | Quantity |
| 4" | 8 |
| 3.5" | 12 |
View Large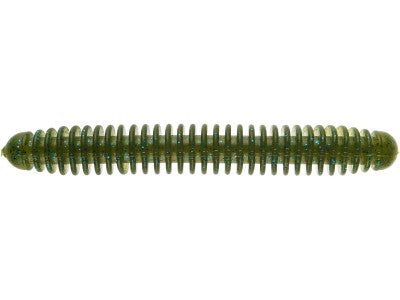 More Lake Fork Soft Plastic
Comments: The ring fry performs like no other senko style bait on the market. This bait has the rings which creates vibration and the smell is some of the strongest garlic in the world. I like to reffer to it as moms pasta. The fry is an absolute do nothing bait , just throw it out and catch fish. I have cashed many checks on the water melon red flick . Pick up a couple packs and you won't be disappointed.
From: Patrick: Ontario, Canada 2/25/14
Comments: GREAT BAIT. The difference between 3.5 and 4" may only be .5" in LENGTH but it's drastic in terms of bulk/width. The 3.5 is great for drop shotting or finesse stuff but the 4" is where it's REALLY AT...When ur in a tourney where everyone's trying to get a quick limit on senko's (very common out here), fish these. Not only willl u switch it up and get more bites a lot of the time, but they absolutely seem to UP the quality of fish you catch. Plenty of weight to throw weightless...as heavy if not heavier (when the rings start holding water) than the 5" Senko on a 4/Ohook. Try em. Sidenote: "Fork Secret" is great and so is "Baby Bass"--- advice coming from someone who's plastics are 90% Green Pumpkin/Blk fl

From: Tanner: S.E., Massachusetts

Comments: Just tried them last weekend because this time of year the bass in my favorite lake sometimes develop lock jaw. 3.5 on a slow retrieve or dead stick wacky rig cured the lock jaw. They catch 'em. My only beef is that they could be a bit more durable.

From: Larry: Shippensburg, PA

Comments: Yes, it is a great C-rig and weightless T-Rig bait- Tremendous Drop shot bait-bar none! Try Drop Shottin' it w/8-12 inches from the weight for Bed Fishing....KILLER!

From: Rusty

Comments: This is an awsome bait! I think the rings in the bait make huge difference in the feel of the bait. Bass seem to love it wacky rigged.

Comments: awesome bait for flipping and pitching around dock and in brush! it is also good for C-rigging wacky rig and weightless.

From: Nick: Canada

Comments: amazing tx-rig and c-rig bait

From: Derek: Waco, TX

Comments: I've been fishing with the Ring Fry for years and its amazing. I like to fish it weightless on a superline 5/0 ewg hook, but you can fish it texas rigged, carolina rigged, or wacky style. Works excellently.

From: Kristopher: Fort Worth, TX
***Note: If you have questions about this product or need assistance with an order please email your questions to info@tacklewarehouse.com