Humminbird Lakemaster Digital Charts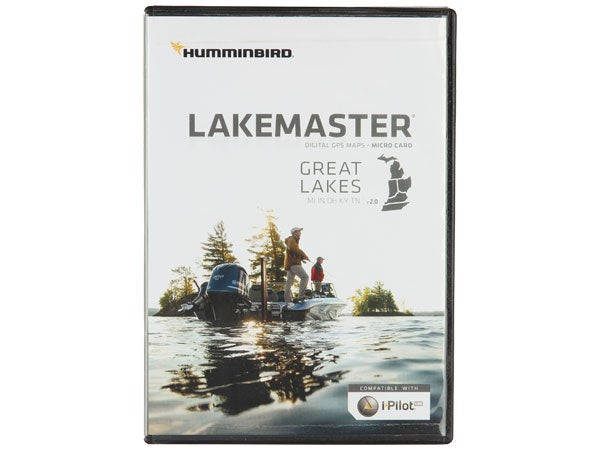 Lakemaster Humminbird Digital Charts delivers the most up-to-date cartography of your favorite lakes across the US. Made exclusively for viewing on all Humminbird color combo models, the Lakemaster Hummingbird Digital Charts are jam-packed with more lakes than ever before. More lakes, in higher resolution allow tournament anglers to quickly and effectively gain an understanding of foreign bodies of water when on the tournament trail. Enhanced data has been added to a host of previously profiled lakes, offering in-depth and detailed layouts that include water levels, and the ability to highlight depth ranges. Compatible with i-Pilot, the Lakemaster Humminbird Digital Charts offers an immeasurable advantage against fish and the competition.
Micro SD Card & SD Adapter Map Card compatible with Humminbird GPS Fishfinders
Features:
-i-Pilot Link Compatible
-Easy to read contours
-Depth Highlight Range
-Water Level Offset
-Shallow Water Highlight
-Scrollable Lake list
Dakota-Nebrask Edition – Now offering a total of 320 lake maps. The high definition layouts are filled with newly surveyed lake such as, Waubay, Bitter, Thompson, and Sakakawea. (Version 4)
Great Lakes Edition (Jan '16) - Combines many of the best fishing waters for Indiana, Ohio, Michigan, Kentucky and Tennessee. Features a total of 980 lake maps with contours of which over 320 are now High Definition lakes, including these highly requested bodies of water - Barkley, Guntersville, Pickwick, plus portions of the Ohio River and more. (Version 3)
Great Plains Edition- Combines many of the best fishing waters for Iowa, Illinois, Kansas, Missouri, and Nebraska. Contains 160 new or updated lakes from the previous version, and now has over 500 total lakes with contours, of which more than 400 are now High Definition lakes, including Table Rock, Lake of the Ozarks, Bull Shoals, Lake Michigan and many more. (Version 6)
Mid-Atlantic States Edition - Covers Delaware, Maryland, North Carolina, South Carolina, Virginia and West Virginia, including over 100 lakes, ponds and rivers, as well as, over 30 High Definition surveyed lakes and 11 Lakemaster High Definition surveyed lakes. (Version 1)
Mid-South States Edition (Nov '15) - Covers over 300 total lakes with contours, of which 212 are now High Definition. It features many freshwater lakes in Texas, Oklahoma, Arkansas, Louisiana, and Mississippi. It also now includes detailed coastal shoreline from Texas to Mississippi, as well as, many new highly requested lakes. (Version 3)
Minnesota Edition – Features a whopping 2130 total lakes with 346 in high definition contours. In this latest version, 22 new high-definition lakes have been added, including Turtle River, Spider Lake, Pleasant Lake, and Grande Lake. (Version 4)
Minnesota Edition (Nov '16) - Boasts contours for a total of over 2,200 lakes with more than 425 lake maps in High Definition. Offers even more detail and resolution that previous versions, and also features many newly surveyed waters. (Version 7)
Northeast States Edition - Covers Connecticut, Massachusetts, Maine, New Hampshire, New Jersey, New York, Pennsylvania, Rhode Island and Vermont. It includes over 1500 lakes and ponds, as well as, over 80 High Definition surveyed lakes and over 30 Lakemaster High Defninition surveyed lakes. (Version 1)
Southeast States Edition (Jan '16) - Features many standard and high definition lakes for Florida, Georgia, Alabama, Mississippi, Tennessee, and Kentucky. (Version 4)
Western States Edition – The Western States Edition of the Lakemaster Digital Charts provides anglers with an extensive layout of over 1100 lakes in AZ, CA, ID, MT, NM, NV, OR, UT, WA, WY. With 77 lakes in high-definition, the Lakemaster Digital Charts Western States Edition provides detailed high-resolution images of popular bodies of water, like Clear Lake, Don Pedro Lake, Lake Oroville, and Shasta Lake. (Version 2)
Wisconsin Edition – Boasts contours for an impressive total of over 1,145 lakes with more than 230 lake maps in High Definition. Newly surveyed waters in stunning HD include: Beaver Dam, Barron, Big Round, Polk, and many more. This latest version also includes a break down of Lake Michigan in 5ft and 10ft contours, as well as, Green Bay, Big Bay De Noc, Little Bay De Noc, and Sturgeon bay in 3ft contours. Also included is enhanced data for Western Lake Superior, Duluth Harbor, Superior Harbor, St. Louis River and Fox River. (Version 6)
Woods Rainy Edition - Includes High Definition 1ft contours for nearly all of Lake of the Woods. The detail covers all US and Canadian water from Big Narrows through Big Traverse and Sabaskong Bays north to Sioux Narrows and west beyond Deadbroke channel (810,000 total surveyed acres). (Version 4)
Please Note: If packaging has been opened, we can no longer except product returns.
--------
This item is not available for order outside of the United States.
11 Colors
More From Humminbird Electronic Accessories
Customer Reviews
Comments: Recently picked up the great lakes card. I compared the maps of my home lake on Navionics and Lakemaster. The "HD" map on lakemaster of my lake is amazing. Way better detail than my navionics card on the same lake. It showed small humps and cuts I didn't know existed before and I fish the lake a lot. (I believe they claim they send out an actual sonar boat to get lake depth readings for their HD maps) The feature which allows you to set depth warnings is kind of neat but more of just a added in selling point. I've never needed it in the past... However, the bad, the list of lakes is extremely subpar. I believe there are like 12 to 15 Missouri lakes compared to navionics which has almost all public lakes of decent size. Another negative, once you buy the card you are done. If they come out with a new version(which they claim to do all the time) you are stuck shelling out another 125 bucks, where navionics allows you free updates for a year and discount to upgrade after that.

Bottom line - If they have your home lakes in HD, highly recommend, otherwise save your money.

Bottom line, check out the list of HD lakes, if the ones you fish most are on it, I'd highly recommend, otherwise, stick to the Navionics.

Comments: disappointing would be a good way to describe lakemasters sd card. The new features are great, but if the lake is not HD it's worse than paper maps. The non HD lakes don't show any typical marked structures, creek beds, road beds. Wish I wouldn't have sold my old navionics chips. The hd lakes are great, but like I said it is the basic outline of the other lakes.

From: Jeremy: IA