Lethal Weapon Lethal Precision Swimbait 3pk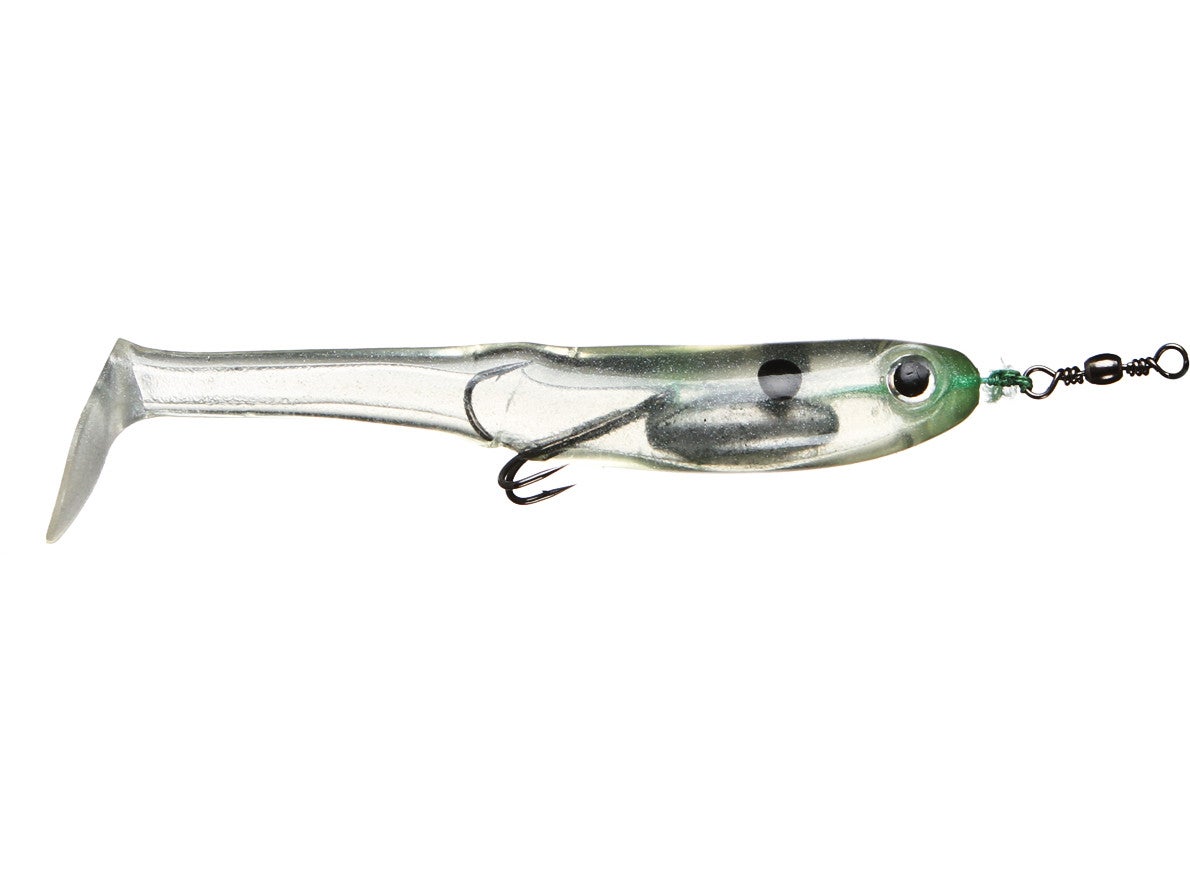 Hand tied and hand assembled to ensure the highest quality, the Lethal Weapon Lethal Precision Shad delivers a consistent, lively swimming action with a seductive tail flutter on the fall. Pre-rigged and ready-to-go out of the package, it doesn't get torn up right away either like most swimbaits in the hollow-bellied category. A swivel line-tie also ensures the Lethal Precision Shad won't roll over on super fast retrieves, and in conjunction with the bait's precise weighting and construction, helps it land upright every time - on short pitches or long-bomb casts. Available in several proven color patterns, whether you wake it near the surface or slow it down for deeper fish, the Lethal Weapon Lethal Precision Shad is a consistent performer at great price - with three fully rigged Precision Shads in each pack.
| | | |
| --- | --- | --- |
| Lethal Weapon Lures | Length | Weight |
| Lethal Precision Shad | 4-1/3" | 1/4oz |
7 Colors
More From Lethal Weapon Soft Plastics
Customer Reviews
Comments: I normally don't post reviews, so a product must be really bad or really good to cause me to be here! Well this product is amazing, but has a few minor flaws that i will explain. I bought the perch color. They are SOFT. this is a plus and a minus. The softness allows them to be lifelike and move great when in the water, however the tails rip easy and one was even ripped from damage during shipping. The second flaw is due to the treble hook size. WAY too small for the size of the bait. When i first received these i did a figure 8 in the water to test the swim appearance. well a LM bass came up and swallowed it but didn't get hooked. I had this problem many times until i changed to a larger treble hook. In total, great bait for the money. I WILL buy more, they catch fish and worked the second they hit the water. Even great color and designs. However consider they are not as durable as other baits and the hook size could use an upgrade. !
From: Justin: NJ 9/12/15

Comments: these things are great, i would prefer to use these on a medium action rod, because they are light
From: Cullan: Baton Rouge, LA 11/10/14

Comments: These are great solo for schooling stiper, decent for largemouth, and the best A-rig swimbait if you only have 3 rigs or use a 5 rig with a wide span as the way they swim they need more room to move than with a regular swimbait jig head.
From: Brian: Valley, AL 3/9/14
Comments: Pretty good bait. Immediately caught a largemouth bass in my secret spot in late April (still cold). However, I lost that bass when it jumped out- wish the treble hook was a little bigger. I want to see what I can do with a bigger hook.

From: Ralphy: MA

Comments: I went to Palm Harbour Saturday . I used 10 baits and nothing..then I used this bait. Caught 20 trout with it! Great bait

From: John: Winter Haven, FL

Comments: Great swimbait. Does well in sparse weed conditions. Does well swimming it fast or slow. Extremely sharp hook. Hook up ratio has been 100% so far with about 10 fish. Still using the 1st swimbait I started with, it has plenty more fish in it yet.

From: Josh: WI

Comments: I just tryed this bait today and it is awsome, cought 10 bass in an hour, one fish was the same size as the bait lol. but the others were in th 2.5 to 3 lb range witch is average for the small lake i was at today. I hope they come out with more colours and paterns. good bait get some. I used sexy shad.

From: Dirtybird: Toronto

Comments: Probably the best paddle tail swim bait on the market if you can afford to not be completely weedless when throwing it. The hookup ratio is almost 100%. The durability is very good as well. I only had one fish break the braided line between the swivel and treble hook, and that was after about 20+ fish on one lure. It also casts like a rock, making covering water a breeze. I stocked up last year and will probably do the same this year.

From: Joe: Deer Park, NY

Comments: These baits are really fantastic given the price, extremely durable (still on my first one after 6-7 fish and three days) and I get hit constantly on them. First time out got five bass, and I am sure a tarpon has hit at least twice (can tell- the treble tips go flat from their mouth, plus the rod is almost ripped out of your hands). That said, the hook could be bigger, lost a lot of strikes, and it does like to ride high when pulled a little fast. They wobble perfectly, just like a really struggling baitfish. NEED more, not want..

From: Craig: Sunrise, FL

Comments: The first time I used this lure I caught two nice northern. The next day I caught a few bass and walleye on the Mississippi. This lure ROCKS!

From: Matthew: Winona, MN

Comments: great swimbait my first time using them i caught a bass she inhaled it love the action and the sharp stinger hook just wish they made a bigger one like a 7inch

From: Del Rio, TX
Comments: Cast like a bullet, weighted perfectly for side to side belly roll! Most durable swimbait that I've used, withstands catching many bass without needing to replace immediately! A must have to fish around pre-emergent weeds!

From: Jamesmen: La Crescent, MN
Comments: Great action, excellent color selection and runs true out of the package everytime. Not sure what its made out of but its the most durable tube style swimbait ive ever used (and ive used most of them). Tip: When fishing thick vegetation I pull the pre-rigging out of the bait and fish it with a wieghted wide gap hook.

From: Jim:
Comments: a great value for what you get. three pre-assembled baits that work right from the package! they have that side to side belly roll that swim bait fisherman look for, and west coaster's know that smaller hooks can catch big fish!

From: Jimmy: La Crosse, WI