Lew's BB-1 Speed Spool Casting Reel - $128.88 to $159.99
MSRP: $159.99
Many anglers may still remember the Lew's BB-1 Speed Spool Casting Reel, also called the Lew's Speed Spool model BB1, introduced anglers to several firsts, including the low-profile design, narrow spool, fully disengaging levelwind, and no-knob palming side cover. It became famous for its rugged durability, casting distance and comfort. The ingenuity and craftsmanship of the Lew's BB1 reels developed a loyal following of anglers that still carries on to this day. Since the rebirth of the Lew's brand, anglers have been asking for the revival of the BB1 reels. Not ones to disappoint, Lew's has answered those pleas with the introduction of the new Lew's BB-1 Speed Spool Casting Reels, made even better than before with the use of modern technology and materials.
Features:
-One-piece die cast aluminum frame
-Machined forged aluminum, double anodized, U-shaped large capacity spool
-Premium 10-bearing system with double-shielded ball bearings and multi-stop anti-reverse (BB1, BB1L, BB1H models)
-Premium 10-bearing system with double-shielded ball bearings and zero anti-reverse (BB1HZ, BB1SHZ, BB1HZL, BB1SHZL)
-Six-pin, positive on/off centrifugal braking system
-Right-side aluminum tension knob with audible clicker
-Carbon composite drag system with 14-lbs. of drag power
-Bowed 95mm aluminum cranking handle with Lew's custom Soft Touch contoured paddle
-Oversized titanium line guide positioned further away from the spool to minimize line friction and maximize casting performance
-Quick release side plate mechanism provides easy access to centrifugal brake system

Click on the logo to read their review.
The Lew's BB-1 Speed Spool Casting Reel introduced several technological firsts for baitcasting reels - now it's back and better than ever - with the use of modern technology and materials.
Comments: I bought this Lews model in the 6.4:1 gear ratio for spinnerbaits, Carolina-rigging, etc. For the $$ this is a GREAT reel!! I know a lot of fishermen that spend much more for their reels than me, but I think this reel performs as well as any of my Curados. I use this reel for C-rigs, and I've had no issues yet with drag, braking, or defects. If the reel holds up as well as my Shimano products, I'll purchase another Lews model. I'm glad to see that Lews has made a strong comeback from the 70's when they were a leader in cutting-edge fishing equipment.
From: John: Knoxville, TN 10/15/14

Comments: Really, really good product, and Lew's service even better. Recently while fish with this great performer, was forced to renewed definition of long casting once more again. Battle proved for high resistance baits, and fiercely fighting fish - even from second hemisphere.
From: Pavel: Finland 9/9/14

Comments: Nice crankbait reel, solid and well made. Only complaint is the handle. The knobs are way too small for deep cranking and I am not going to spend $50 to replace it with a Lew's power handle.
From: Mitch: NJ 9/5/14

Comments: just got it today. the reel feels great paire it on a 13 envy 7.3 mh all I can say so far is bring on the bass. cant wait to fish it this week end ;)
From: MSB: Canada 7/29/14

Comments: awesome reel. got it in the 5:1 for cranking. casts a mile and tough and rugged gears for those deep diving crank baits. I have had abu garcia and shimano's picked up the lew's reels a few years ago and have never turned back. best reel for the money
From: Logan: Dallas, TX 5/10/14

Comments: Bought this reel in the 5.1:1 ratio for cranking. Love it! Will cast a mile even with a lighter crankbait. Smooth retrieve, hard to beat for the money.
From: Glenn: AL 4/16/14
Comments: I was turned on to Lew's baitcasting reels about 3 years ago, I own several now, all work great cast great also .......(The BB-1Speed Spool) Is an awesome reel, I can cast a DT 6 crankbait 60 ft into the wind on a 6ft 6" casting rod and the retrieved is smooth as silk ....not bad in my book!!!
From: MPR: 4/12/14
Comments: If you are looking for a lefty cranking reel? Look no more, this is it. The only other reel that can compare to this one for lefty cranking is the revo winch gen 3 which is good , but this one is better.
From: ED: BX, NY
Comments: For over 15 years I was a Quantum man. Then about 5 years ago I started venturing out to see what other reel manufacturers had to offer because I was becoming increasingly disappointed with what Quantum was putting out. Now I own 4 Shimano Curado E's, 4 Calcutta TE's, and 4 Lew's BB1's. They are all great reels. Smooth, castable, easy to maintain, and they have a more dependable braking system versus the Quantums, and yes I've owned PT's from the Accurist to the Tour. The Quantums are not as ergonomic either. After having fished with all of these reels, I can positively say that the Lew's BB1 is the best value in the low profile baitcast reel market out of these reels that I previosly mentioned. It is smoother out of the box and casts farther out of the box. Light line, heavy line, fluorocarbon, mono, braid doesn't matter. It handles it all very well. I'm not knocking Shimano because they are well made, but the shallower spool on the Curado's are not well suited for heavier mono or fluorocarbon lines, in my opinion.
From: B: LA
Comments: I just received this reel a few days ago and haven't gotten to fish it yet but I have been casting it around my yard and let me tell you what, this thing is legit. Started off the first cast with a major backlash, adjusted the brakes once and I haven't gotten another yet after about 500 casts. I have literally tried to cast the 1/2oz football jig I'm using straight into the ground to test out the brakes and I haven't gotten one backlash. The 6-pin system is amazing and this is yet another great reel by lew's.
From: Evan: MN
Comments: For $199.99 buy the Lew's BB1 Pro, it outcasts both Tatula reels and is very smooth. BB1 Pro is Only 6.5 ozs..... Daiwa copied Lew's handle knobs also. Lew's BB1 Pro is the BEST!!!!
From: Darren: NC
Comments: I purchased this reel last year, to replace a frogging reel. After a summer's use, I can honestly say that I will buy more. The reel fits in the palm of my hand perfectly, it's smooth, cast very long distances with light tackle. The 7.1:1 gear ratio is perfect for heavy cover applications as well. Don't let the price tag fool you, I was sceptical as I own many high priced reels, but this one is by far my favourite.
Thanks to TW for timely shipping to Canada!
From: Derek: Quebec, Canada
Comments: Well said Webber! In addition, Lew's has state of the art features on its new BB-1 Pro like an auto braking system, light weight handle, frame, and gearing found only on the upper end Shimano models (like Core & CI4 Chronarch) for $70 - $150 LESS. Shimano is definitely behind the curve on its mid price reels.

From: Ed: Champaign, IL

Comments: Out of box reviews arent worth as much as field reviews but first impression is very good. Solid, smooth and looks great. I like my gen 3 revo stx but if im spending 199 again....im getting one of these.

Comments: Ok, I got my BB1 last November, and after a full year of use, here is my opinion. This is a good reel, I wouldn't say it's outstanding, but it is GOOD! I'm an equal opportunity fisherman, meaning, I'll use any brand if it's a good product. I have several other Lew's reels and overall, Lew's is TOP NOTCH! Going back to the BB1, when I got my first one, I took it out of the box and started to turn the handle and it made an awful grinding noise, not only that, but the finish around the edges where the side plates meet the frame were all chipped and broken looking. SOO, I called TW and they told me to send it back and they'll send me a new one, NO SHIPPING COSTS, which is awesome!! I get the new one, and the finish is much better, but still I noticed a couple small chips in the same places, not enough for me to send it back again however. Anyway, I spooled up 12lb Maxima Ultra green and slapped it on a Powell Endurance Crankbait rod and I have my new cranking combo. This reel DOES cast a long ways with minimal to no backlash issues. The retrieve is pretty smooth, but not as good as my Tournament Pro's, very similar to my Super Duty's. After a year of use, the reel has held up very nicely! No issues what so ever, and I crank a LOT! Overall, I'd say I'm happy with it! For $160, this is a good reel, very similar to Shimano's E series Curado. If you're expecting this to be the smoothest reel ever made, something on par with a Shimano Core100MG7 or TD Zillion, you might be a little disappointed. But if you're looking for a long casting, reliable, durable, reel for a great price...I'd say this is it!

From: Keegan: Building Snowmen, IA

Comments: I've been partial on Shimano for a while and everyone is always talking about how great the Lews is so I gave this one a try. I would say it is comparable to the Shimano Cuardo 200 is use. The verdict is in! While this is a good real it is not all that an a bag of chips that everyone is chatting up. I like it but overall like the Shimano better. Feels better in my hand and is just a bit smoother casting in my opinion.

From: D. Bailey
Comments: Absolutely amazing reel, the braking system works perfectly. I have a gen 2 revo sx and this reel beats it by a mile. buy one, you won't regret it

From: Ryan: PA

Comments: Awesome reel!!! All my reels are Shimano Curados and Lews BB1. Casts beautiful- various baits and weights. Best reel for the $$$! You won't be disappointed!

From: Val: La Crosse, WI

Comments: One of Lews many great reels casts a mile super smooth, especially great crankbait reel but can be used for anything really. Lews man for life!!!

From: Cody: Binghamton, NY

Comments: I am always looking for one reel that can do everything. a reel that is the perfect blend of performance and price.I have 3 of these bb1's now and I believe it is the best option available. This is a no frills performer. It does the one thing that any reel should be good at, "cast and wind". it is very user friendly and a dream to cast. I have been looking for a very long time for a reel like this. It has three different retrieve speeds to choose from, which will cover every technique. I too have fished everything out there and they can't compare. the closest thing to it was the shimano curado 200e's. this reel cast farther and has been more durable for me. All of the Lew's reels i have bought are exceptional. I now own 7 lews reels and will be replacing everything i own eventually with the bb1.

From: Steve: Central Florida

Comments: Reeling is like Butter! Amazing reel, I have Revos, pro qualifiers and this reel blows them out of the water~

From: Joe: Kalamazoo Mi

Comments: I must say... paired with a Powell cranking fiberglass rod, this reel amazes me from casting the lightest crank baits/spinner baits with ease. With the work of the fiberglass rod to flick with little effort and the smoothness of this reel, I can cast all day long. If you crank, the 5.1:1 is all you need. Reel fast with shallow or reel slow with deep. You can accomplish both without fail. I've caught my biggest this year 5.4lbs on a spinner bait on 3 foot of water with this reel, in the nasty of all cover too with a MH fiberglass rod attached. Forgot to mention 5lb+ bass is hard to come by in the northern states? I started as a Shimano, skipped every other popular brand name reels and shot for Lew's. Oh I'll say it again, it amazes me every time I go out and cast.

From: Northern States
Comments: to anybody thinking about getting a new baitcaster in this price range get this one!! Trust me I have shimanos, revo stx's and premier...and don't get me wrong I love those reels but they are not as good as this reel... smooth as butter and I promise they cast even better!

From: Landon: TN

Comments: I bought this reel with a 'then new' graphite rod in the EARLY 70's and it works as well today as the day I first bought it. It casts smoother than most of the Abu Garcia reels I have bought recently and handles larger swim baits, light top water frogs, almost everything! Sure was a LOT more inexpensive then and by far one of the best fishing reels I have ever purchased. My recommendation: BUY ONE - at LEAST go get your hands on one and try it, you'l buy it!

From: Fred: Boyd, Texas USA

Comments: If you are not new to Baitcasters and you know how to set the brakes and spool tension then this reel WILL out cast the other reels by a large amount. You have to know what you are doing though. It is a great reel and very much worth the price. I am happy with the reel but I still like my Team Gold's better.

From: Kevin: LA

Comments: I have never written a review on any product but I felt I needed to for this reel. I've probably been fishing before most of you we born and with over 40 water and thousands of tournaments under my belt I believe I know a few things about fishing equipment. Bought one of these reels when they came out. I was excited to see that Lew's reintroduced the BB1 and now with a left handed model (been waiting a long time). I remember when the originals were introduced back in the 70's but no left hand were available. I have really put this reel to the test, I live on a 900 acre lake stocked with Florida and F1's. This reel is the reel deal so much so that I sold all my Core's and bought 14 BB1's in all three ratio's. I have never owned a reel that cast so far so easily. I had no problem adjusting the 6 pin brakes (clear instructions with reel) I did do a change out from the factory with carbon handles still 95 mm. Seven of these are paired with Loomis NRX's and the rest with GLX's. A little heaver than my Core's but the line capacity and casting distance has made me an ex Shimano man. Hope this helps

From: TW: MS

Comments: to anyone thinking about buying this real GET IT it is not just a crankbait reel and will throw lighter baits (fluke,small crankbaits) very far it is smooth and yes it is heavier than other bait casters but it casts a long way trust me I own quite a few of them I have mine on a cashion (great rod as well) and it is a very good combo... And the thing I like most about this reel is the price tag it is worth more... I hope this helps some people

From: Brandon: US

Comments: When I first got my bb1, the centrepital braking system seemed weird, and I wasn't that impressed with the casting distance. It seemed to cast the same distance as my Diawa Laguna ($60) and took more effort at that. then I did 2 things. 1, I backed the spool tension almost completly off, and 2, I cleaned and re-oiled the spool bearings. WOW. tonight I was tossing a 1/4oz red eye shad across the pond with a light toss! great reel!

From: Ryan
Comments: Does not outcast my stx 3rd gen or my cuarado 200e7. Good reel for the money. I would recommend but does not cast a long way k-short

From: Yang: Fresno

Comments: Great reel for the money, BUT it does not outcast its competition. Played with the reel and it does not outcast or undercast my curado 200E7 or my 3rd Gen STX. Maybe I gotten a defected reel and couldn't outcast my other reel. Disappointed when I played with the smartplus system and it didnt live up to its reputation. Maybe K-Short casted it a LONG WAY with the wind, but I couldn't do it. Save your money and get a super duty or a team pro.

From: Yang: Fresno

Comments: Dude, this reel iis by far my favorite Lew's reel and let me tell you why, it casts the lightest baits. My buddy's got a curado next door. we were throwing the same bait, same length rod, and I was outcasting him by at least 10 yards.

From: Yard Caster: canal street

Comments: All I can say is WOW! I use this reel for flippin & pitchin and it is the smoothest reel i have ever purchased. Paired with a St Croix Mojo 7'11" flippin rod it is one of my favorite setups

From: Justin: Lakeland, FL

Comments: This is a great reel ,but I am sorry to say it is no better to me then any of the other 5 lews I have from the (Tournament Speed Spool Casting Reel)(Tournament MG Speed Spool Casting Reel)(Speed Spool Casting Reel)(Laser MG Speed Spool Casting Reel).They all work AWESOME , love every trip out with them .I would say from the 6 lews I have , The best 1 out of them is by far the Tournament MG Speed Spool Casting Reel $129.95 .The BB1 is in no way better to me then any of these , It seems to have more advertizing is the only advantage I have found with it. They all cast a mile and feel amazing in the hand . Now if these new reels can just last is the ? I am looking for . Lets hope so because they are super nice reels .I really like the bb1 but if I get another Lews it will be the Tournament MG Speed Spool Casting Reel because it just seems to be the best out of the 6 new lews I own.

Comments: I finally got the BB1 and this reel is money. It cast like a bullet and is so smooth you can't believe that it's only $159.99. If you are looking for a reel to through big crank baits, this is the one to buy.

From: FishBell: SC

Comments: Its topwater and crankbait slinging machine. Smooth and strong. Get one and try it. You wont be sorry.

From: Mike: Norman Park, GA

Comments: Oh my goodness! This reel is a beast!!! All my friends are getting them(I got mine already!) I chucked a 1/4 oz plug pretty far with 12lb fluoro so anything heavier is gonna rocket out. This thing is also super smooth, like butter on hot toast! Awesome reel Lew's!!!

From: Mitch: MN

Comments: I own this reel in the 6:4:1 model. I love everything about it. The smooth retrieve, large handle for extra cranking power, far casting distance, great cast control and overall performance of this reel has made it my favorite reels that i own.

From: Mike: Pittsburg, KS

Comments: This is a nice smooth reel well built cast nice will cast 1/4 ounce up but of course when casting lighter baits a educated thumb is necessary. Dont buy the 100$ one spending the extra 60$ is well worth it . And i love the eye guide style on this . Definately satisfied for the price.

From: Jason: Hampton, VA

Comments: Got one of the for Christmas. I pitched and casted a 3/8 oz jig on 15 lb Yo-Zuri with it. As smooth as my well shaved head!! Lew's is beyond words and belief with their products!!

From: Angel: Calera, AL

Comments: After years and tons of wasted money I've finally put together the perfect cranking machine.A 5.1.1 BB1 on a GLX Heavy and a 6.4.1 BB1 on a med-heav G-loomis cranking rod with 14# sunline floro.I am amazed at how far both reels cast. The cranks get plenty of bottom grinding time. I was a die hard shimano guy, but this reel has no equal. Best of all its under $200. I will keep my cores on my flipping rods and c14 on my spinning but Lews is on all the cranks and swimbaits.The quantums are going in the trash. Do not hesitate to buy this reel.

From: Greg: AL

Comments: It's an ok reel. Its meant to cast heavy lures like half ounces and higher. casting light lure will either backlash or not fly far. Looks and feel awesome. Mine made a very loud noise during casting, will try to lube it and see if it goes away. I still prefer my tournament mg speed spool better.

From: Tim: NC

Comments: The multi-stop antireverse is not talked about enough! I believe this reel could make us all better crankbait fishermen.

From: D: VA

Comments: More of a question than a review.....how do these reels handle lighter weight crankbaits ? Anyone throwing 1/4 oz or even 1/8 oz plugs on these ? Also, how do they handle braid ?

From: Jeff: Cali Delta

Comments: Ive been a diehard Lews loyalist for years, but when i saw the style of the new BB1 i felt the same as i did when chevy re-introduced the impala as a front wheel drive! HaHa. But let me just say after being humbled by the performance of this reel, this reel has definitely won me over. If you are like me and love the feel of the old BB1N, you will really like this reel! This reel casts long and effortless. Buttery smooth. Fits your hand really well and compliments a glass cranking rod (my lamiglas sr705) perfectly. Great job Lews! I still want a "retro" BB1N though.. Hint Hint..

From: J.J.: Winder, GA

Comments: Great crankin reel cast deep cranks a mile another good reel from Lews.

From: Lance: Livingston, TX

Comments: Got the 6.4 ratio for lipless cranks and for when I might need to burn small cranks (can always slow down the the retrieve when needed). Man, this is one sweet reel. Smooth and it just launches those baits out there. Also feels great in the hand. Like the longer handle too. Good job Lew's!

From: Alex: Los Angeles

Comments: I have been using Curado 51 Es for my cranking needs because I need a small profile reel for a comfortable grip, but the 6:3:1 gear ratio is too high. I tried the Daiwa Lexa 100 in 4:9:1 and it was too bulky, so I purchased the Lews BB1L because of the 5:1:1 gear ration and its low profile, so far I am satisfied with the performance of the BB1L, it's super smooth,casts DD 22 a mile and most important for me is that it is comfortable to grip( The Curado 51 is a little smaller) So far it looks the BB1L is the smallest lefty low profile cranking reel available.

From: JF: NY

Comments: please don't review a reel when you only owned a silver max and you haven't fished with it yet. That's like reviewing a car you have yet to drive!

From: David: TX

Comments: This is a must get ,if u like to throw them crank baits.. casts a mile..

From: Joesph: Lompoc

Comments: First off I don't write a lot of reviews, but I had to put in at least a basic write up of this reel. This is only my second casting reels my previous being a Silvermax, not a bad reel if you buy realizing that it is a $60 reel and you get what you pay for. I haven't had a chance to fish this reel yet but straight outta the box I am getting 20+ extra yards on the cast with the same lure. Spooled it up with some 50lb Sunline FX2 and I have had a few backlashes, I set it a little too loose but no major backlashes..Very Very nice reel, butter smooth and I love the feel of the handles. Plus it is very quick and easy to adjust, though I found for the most part you just have to adjust the tension knob . I pair this reel with either a 7'11" Kistler Z-bone 'Bama or a 7' Kistler Medium glass composite

Comments: I've been fortunate to fish this reel several times with Lew's pros, and it is an awesome cranking reel. It casts great and with no one way bearings on the shaft, allows you to feel the bait, not the gears. They did a nice job on this reel.

From: DanO: Loomis, CA

***Note: If you have questions about this product or need assistance with an order please email your questions to info@tacklewarehouse.com
View Large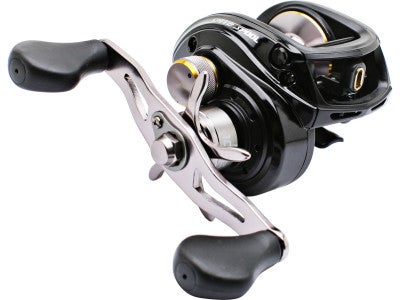 Place Your Order