Lew's BB-1 Speed Spool Casting Reel - $159.99
Many anglers may still remember the Lew's BB-1 Speed Spool Casting Reel, also called the Lew's Speed Spool model BB1, introduced anglers to several firsts, including the low-profile design, narrow spool, fully disengaging levelwind, and no-knob palming side cover. It became famous for its rugged durability, casting distance and comfort. The ingenuity and craftsmanship of the Lew's BB1 reels developed a loyal following of anglers that still carries on to this day. Since the rebirth of the Lew's brand, anglers have been asking for the revival of the BB1 reels. Not ones to disappoint, Lew's has answered those pleas with the introduction of the new Lew's BB-1 Speed Spool Casting Reels, made even better than before with the use of modern technology and materials.
Features:
-One-piece die cast aluminum frame
-Machined forged aluminum, double anodized, U-shaped large capacity spool
-Premium 10-bearing system with double-shielded ball bearings and multi-stop anti-reverse (BB1 and BB1L models)
-Premium 10-bearing system with double-shielded ball bearings and zero anti-reverse (BB1HZ, BB1SHZ, BB1HZL, BB1SHZL)
-Six-pin, positive on/off centrifugal braking system
-Right-side aluminum tension knob with audible clicker
-Carbon composite drag system with 14-lbs. of drag power
-Bowed 95mm aluminum cranking handle with Lew's custom Soft Touch contoured paddle
-Oversized titanium line guide positioned further away from the spool to minimize line friction and maximize casting performance
-Quick release side plate mechanism provides easy access to centrifugal brake system
The Lew's BB-1 Speed Spool Casting Reel introduced several technological firsts for baitcasting reels - now it's back and better than ever - with the use of modern technology and materials.
Comments: When I first got my bb1, the centrepital braking system seemed weird, and I wasn't that impressed with the casting distance. It seemed to cast the same distance as my Diawa Laguna ($60) and took more effort at that. then I did 2 things. 1, I backed the spool tension almost completly off, and 2, I cleaned and re-oiled the spool bearings. WOW. tonight I was tossing a 1/4oz red eye shad across the pond with a light toss! great reel!

From: Ryan
Comments: Does not outcast my stx 3rd gen or my cuarado 200e7. Good reel for the money. I would recommend but does not cast a long way k-short

From: Yang: Fresno

Comments: Great reel for the money, BUT it does not outcast its competition. Played with the reel and it does not outcast or undercast my curado 200E7 or my 3rd Gen STX. Maybe I gotten a defected reel and couldn't outcast my other reel. Disappointed when I played with the smartplus system and it didnt live up to its reputation. Maybe K-Short casted it a LONG WAY with the wind, but I couldn't do it. Save your money and get a super duty or a team pro.

From: Yang: Fresno

Comments: Dude, this reel iis by far my favorite Lew's reel and let me tell you why, it casts the lightest baits. My buddy's got a curado next door. we were throwing the same bait, same length rod, and I was outcasting him by at least 10 yards.

From: Yard Caster: canal street

Comments: All I can say is WOW! I use this reel for flippin & pitchin and it is the smoothest reel i have ever purchased. Paired with a St Croix Mojo 7'11" flippin rod it is one of my favorite setups

From: Justin: Lakeland, FL

Comments: This is a great reel ,but I am sorry to say it is no better to me then any of the other 5 lews I have from the (Tournament Speed Spool Casting Reel)(Tournament MG Speed Spool Casting Reel)(Speed Spool Casting Reel)(Laser MG Speed Spool Casting Reel).They all work AWESOME , love every trip out with them .I would say from the 6 lews I have , The best 1 out of them is by far the Tournament MG Speed Spool Casting Reel $129.95 .The BB1 is in no way better to me then any of these , It seems to have more advertizing is the only advantage I have found with it. They all cast a mile and feel amazing in the hand . Now if these new reels can just last is the ? I am looking for . Lets hope so because they are super nice reels .I really like the bb1 but if I get another Lews it will be the Tournament MG Speed Spool Casting Reel because it just seems to be the best out of the 6 new lews I own.

Comments: I finally got the BB1 and this reel is money. It cast like a bullet and is so smooth you can't believe that it's only $159.99. If you are looking for a reel to through big crank baits, this is the one to buy.

From: FishBell: SC

Comments: Its topwater and crankbait slinging machine. Smooth and strong. Get one and try it. You wont be sorry.

From: Mike: Norman Park, GA

Comments: Oh my goodness! This reel is a beast!!! All my friends are getting them(I got mine already!) I chucked a 1/4 oz plug pretty far with 12lb fluoro so anything heavier is gonna rocket out. This thing is also super smooth, like butter on hot toast! Awesome reel Lew's!!!

From: Mitch: MN

Comments: I own this reel in the 6:4:1 model. I love everything about it. The smooth retrieve, large handle for extra cranking power, far casting distance, great cast control and overall performance of this reel has made it my favorite reels that i own.

From: Mike: Pittsburg, KS

Comments: This is a nice smooth reel well built cast nice will cast 1/4 ounce up but of course when casting lighter baits a educated thumb is necessary. Dont buy the 100$ one spending the extra 60$ is well worth it . And i love the eye guide style on this . Definately satisfied for the price.

From: Jason: Hampton, VA

Comments: Got one of the for Christmas. I pitched and casted a 3/8 oz jig on 15 lb Yo-Zuri with it. As smooth as my well shaved head!! Lew's is beyond words and belief with their products!!

From: Angel: Calera, AL

Comments: After years and tons of wasted money I've finally put together the perfect cranking machine.A 5.1.1 BB1 on a GLX Heavy and a 6.4.1 BB1 on a med-heav G-loomis cranking rod with 14# sunline floro.I am amazed at how far both reels cast. The cranks get plenty of bottom grinding time. I was a die hard shimano guy, but this reel has no equal. Best of all its under $200. I will keep my cores on my flipping rods and c14 on my spinning but Lews is on all the cranks and swimbaits.The quantums are going in the trash. Do not hesitate to buy this reel.

From: Greg: AL

Comments: It's an ok reel. Its meant to cast heavy lures like half ounces and higher. casting light lure will either backlash or not fly far. Looks and feel awesome. Mine made a very loud noise during casting, will try to lube it and see if it goes away. I still prefer my tournament mg speed spool better.

From: Tim: NC

Comments: The multi-stop antireverse is not talked about enough! I believe this reel could make us all better crankbait fishermen.

From: D: VA

Comments: More of a question than a review.....how do these reels handle lighter weight crankbaits ? Anyone throwing 1/4 oz or even 1/8 oz plugs on these ? Also, how do they handle braid ?

From: Jeff: Cali Delta

Comments: Ive been a diehard Lews loyalist for years, but when i saw the style of the new BB1 i felt the same as i did when chevy re-introduced the impala as a front wheel drive! HaHa. But let me just say after being humbled by the performance of this reel, this reel has definitely won me over. If you are like me and love the feel of the old BB1N, you will really like this reel! This reel casts long and effortless. Buttery smooth. Fits your hand really well and compliments a glass cranking rod (my lamiglas sr705) perfectly. Great job Lews! I still want a "retro" BB1N though.. Hint Hint..

From: J.J.: Winder, GA

Comments: Great crankin reel cast deep cranks a mile another good reel from Lews.

From: Lance: Livingston, TX

Comments: Got the 6.4 ratio for lipless cranks and for when I might need to burn small cranks (can always slow down the the retrieve when needed). Man, this is one sweet reel. Smooth and it just launches those baits out there. Also feels great in the hand. Like the longer handle too. Good job Lew's!

From: Alex: Los Angeles

Comments: I have been using Curado 51 Es for my cranking needs because I need a small profile reel for a comfortable grip, but the 6:3:1 gear ratio is too high. I tried the Daiwa Lexa 100 in 4:9:1 and it was too bulky, so I purchased the Lews BB1L because of the 5:1:1 gear ration and its low profile, so far I am satisfied with the performance of the BB1L, it's super smooth,casts DD 22 a mile and most important for me is that it is comfortable to grip( The Curado 51 is a little smaller) So far it looks the BB1L is the smallest lefty low profile cranking reel available.

From: JF: NY

Comments: please don't review a reel when you only owned a silver max and you haven't fished with it yet. That's like reviewing a car you have yet to drive!

From: David: TX

Comments: This is a must get ,if u like to throw them crank baits.. casts a mile..

From: Joesph: Lompoc

Comments: First off I don't write a lot of reviews, but I had to put in at least a basic write up of this reel. This is only my second casting reels my previous being a Silvermax, not a bad reel if you buy realizing that it is a $60 reel and you get what you pay for. I haven't had a chance to fish this reel yet but straight outta the box I am getting 20+ extra yards on the cast with the same lure. Spooled it up with some 50lb Sunline FX2 and I have had a few backlashes, I set it a little too loose but no major backlashes..Very Very nice reel, butter smooth and I love the feel of the handles. Plus it is very quick and easy to adjust, though I found for the most part you just have to adjust the tension knob . I pair this reel with either a 7'11" Kistler Z-bone 'Bama or a 7' Kistler Medium glass composite

Comments: I've been fortunate to fish this reel several times with Lew's pros, and it is an awesome cranking reel. It casts great and with no one way bearings on the shaft, allows you to feel the bait, not the gears. They did a nice job on this reel.

From: DanO: Loomis, CA

***Note: If you have questions about this product or need assistance with an order please email your questions to info@tacklewarehouse.com
View Large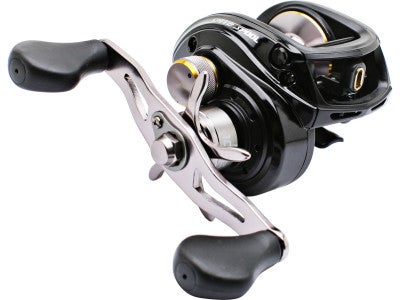 Place Your Order