Lew's Laser MG Speed Spool Casting Reel - $79.99
Lew's knows that not every angler wants to invest in a top-of-the-line reel right off the bat, so they introduced the brand new Lew's Laser MG Speed Spool Casting Reel. Designed to be a workhorse of a reel for any budget, it is manufactured in the same factory as all Lew's reels, and incorporates the same features, quality and engineering that Lew's reels are known for in the fishing world.
Eight premium double-shielded stainless steel bearings (7+1), housed in a lightweight, graphite composite frame furnish consistently smooth functioning and a rigid base of operations. A large Rulon drag system also offers the power to tame big fish, and an externally adjustable magnetic brake system allows you to easily fine tune braking for any weather conditions. Available in 5.4:1, 6.4:1 and 7.1:1 gear ratios for a range of bass fishing applications, the Lew's Laser MG Speed Spool Casting Reels deliver the performance and value that keep anglers coming back.
Additional Features:
-Zero-Reverse one-way stainless steel clutch bearing
-Die-cast aluminum drilled (12-hole) anodized spool
-Anodized aluminum handle
-Titanium line guide
-Quick and easy removable graphite palming side plate
*LS1SMG features high capacity spool and a longer 95MM "power crank" handle
The Lew's Laser MG Speed Spool Casting Reel delivers the winning performance and advanced features that anglers expect from Lew's - and they are available for an excellent price.
Comments: Great reel for the $$$. With that said, Spend the extra 20$ for the Speed Spool (SS1) The Drag is sticky on the Laser. Locked it down, and I still could pull 16 lb Floro off the spool easily.

From: Rusty: TX, Where else?

Comments: This reel is amazing for $80 bucks. Bought one here @TW and another elsewhere and they're the epitome of "bang for the buck".

From: Dave: Upperco, MD USA

Comments: Got this reel the other day, its my first lews and it wont be my last, as long as they are as good or better than this one this is crazy if you dont have one. this reel is so smooth and responsive its better than my 150 quantum smoke i have this on lews sl 7ft meadium heavy rod and 50 pound braid its an awsome setup your crazy if you arnt thinking about getting one

From: Dale: ontario,canada

Comments: wondering if anyone had trouble with drag on this reel? reason i just bought one and i had drag locked down and it was spinning like it was engaged. other then that the reel is a good reel cast very well even on windy days

From: Tom: PA

Comments: Lew's reels are the best and you get superior quality no matter which model you buy. I have a Laser MG and it is as good a reel as any I've used, and I've used pretty much every brand. The Laser MG is the best reel on the market for under $100.00, no question on that whatsoever!!

From: Toff: TN

Comments: Just got my new mg. The oversized reel handle helps (especially with reel grips) a lot so your fingers don't slip off. It feels pretty smooth and super durable. The only negative is its a bit heavy but it's made straight from metal parts(what I've heard) and has a huge spool so that explains it.

From: Trevor: MN

Comments: Love these reels!! I now own 5 of these. If you are looking for excellence look no further. These reels cast effortlessly and are smooth as a babies butt. Wanna take a chance on a different brand...Buy Lews.....You will not be disappointed!

From: Jason: TN

Comments: Just bought this reel a month ago. For the price you cant beat it! Very smooth, and cast a mile.

From: Doug: SC

Comments: The drag is pretty sticky. Even backed off all the way the drag isnt smooth. But for $80 this little reel will CHUCK a hardbait. Very impressed with the castability. Since I use moderate action rods on my hardbaits I'm not too concerned about the drag. Definitely will buy another for the deep crank stuff.

Comments: I bought this reel and it is phenomenal. I usely get Abu Garcia but this is so much better

From: James: IA

Comments: was wondering if anyone could tell me if this would be good for a bait caster drop-shot rod

From: Ian: AZ

Comments: i had tried this reel at my local tackle shop made werid noises

Comments: Just got this reel a couple weeks ago and all i can say is WOW. I'm an Abu Garcia guy but starting to think Lew's is a better deal pricewise and performance wise.

Comments: I bought this reel 6months ago, Great reel no problems at all an very low profile. A great buy an why wouldnt it be its Lews!!!

From: Resse: Toledobend Lake, TX

Comments: i love this reel its awesome,I recamend the abu garcia record

From: hayden: Orangeburg, SC

Comments: I do not deep crank every day, so I did not want to break the bank and spend a lot on a low gear ratio reel for it. This reel has more than met my expectations. It is so smooth and the 5:1 has plenty of power to throw a 6xd all day. Very light but sturdy and reliable. I have it matched on a 7'6" Veritas Winch and throw 12lb berkely fluoro. Highly recomend the 5:1 for deep cranking or just cranking in general

From: JP: MD

Comments: I just recieved the 2 reels, 5:4:1 for Cranking and the 7:1:1 for my lipless crankbait slash Spinnerbait..Both look Great love the smaller profile..Look forward to use at the Lake..

From: Travis: Burlington, NC

Comments: I live locally to tackle warehouse so i when one of the guys there told me to try this reel out i did and sure enough i love that thing its welll worth the money

From: Cody: Arroyo Grande, CA

Comments: just got it a couple days ago. Bought the 5.4:1 for crankin. TW shipped it to my door in ontario canada in two days! i took it over to my local tackle shop to have some 12# red label spooled on and the owner offered me $100 for it. anyway, got it paired with the powell diesel crankbait rod and it's super smooth and light. no complaints so far. if it holds up i'll be ordering the other two in the fall. my girlfriend's keeps yelling at me cause i spend more time on this website than i do with her. thanks TW

From: Basskoka: Ontario, Canada

Comments: This is the best reel out there for 80 dollars.I own this one ,and the original speed spool,they both are great reels.Lews is the only company i buy casting reels from.Pick this reel up and put it on a quantum energy pt casting rod,u wont regret it.I use swim jigs ,small flippin jigs and sometimes jerkbaits and cranks. the bottom line is .... get one of these reels.

From: Noah: IA

Comments: Fantastic reel. Casts a mile, practically no backlash issues whatsoever. I have a Revo STX and I find myself reaching for the Lew's just as much. I will be buying Lew's in the future for sure. May step up to the all aluminum one piece frame for the extra $20. But at this price point, this reel is a no brainer! Very impressive Lew's!!

From: Dave: Mendon, VT

Comments: Nice reels for the money. I picked up the 5.4:1 and the 6.4:1. The 6.4:1 I have had a hard time dialing in. The 5.4:1 casts a country mile and is smooth as can be. It's great paired up with a Powell Diesel Rod.

From: The Whiz: Henderson

Comments: I have 2 of these baby's, and you can't beat em for the price. Laser was a great choice for the name. Smooth, Cast a weightles worm a mile, good drag. Awesome reel, haven't noticed any real frame flex. Thanks LEWS and TW.

From: Chad: So Cal

Comments: Soooooo smooth, if you haven't tried them you wouldn't believe it. The cast controls on this thing is amazing to, it casts unbelievably well.
Comments: By far the best reel you can get for under 100$ it casts great and also fights fish really well with the drag system it has. I will use lews from now on im a firm believer in them!!!!!!!!!!

From: Jake: Tuscumbia, AL

Comments: Bought this reel to use in the bays here in San Diego for spotted bay bass. First impressions of the reel were great. Casts as good as some $200.00+ reels I have used, super smooth retrieve. Thats where the good stuff ends. You can feel the graphite frame flexing in your hand while hooked into a fish, even a little one pounder makes the frame flex. The drag is one of the worst I have ever used. Buttoned down the drag is fine anywhere else it is set and it slips and sticks really bad. To bad because the reel has potential but with a frame that weak and a drag that you can't rely on it is being left at home from now on. Sticking to Shimano

From: Bob: San Diego, CA

Comments: Been using this reel for about a month now and i gotta say i love it, very few backlashes (im a beginner to using casting reels) and casts like a dream. Got it paired with a E21 Wild Black Carrot Stix Casting Rod 7'3 Med Heavy. Love it.

From: Kurt

Comments: This is a great reel. Everything you need. I'm actually replacing my two lews tourney pros with these...why pay 200 for a reel when you can get the same thing for 80. Get this...it's great if you use braid just tie it through the holes on the spool, don't even mess with tape or mono backer this is way better!

From: Pete: VA

Comments: Lew's Laser MG Speed Spool Casting Reel this reel is awesome:)

Comments: Amazing reel. For 80$ there is no other reel out there that can beat this one. The paddle style reel grips add more stability in my opinion. It is lightweight, small in the hand, and smooth. For reels under 100$, probably in the top 5 for quality. I will buy more.

From: Boca: CA

Comments: for the money, best reel, I have an exo and smoke, this reel will compete with both. Lews was new to me but i'm highly satisfied with this reel!

From: Seth: Seminole, TX

***Note: If you have questions about this product or need assistance with an order please email your questions to info@tacklewarehouse.com
View Large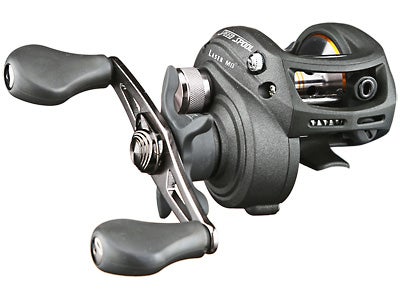 Place Your Order